Eighteen graduates of the All-Island Firefighter I/II course received their certificates Tuesday night, having completed 145 hours of training since last October.
This is the first time in several years the Dukes County Fire Training Council has graduated students from all six Island towns, Edgartown fire chief Alex Schaeffer said. In recent years, Covid precautions had segmented the program into town-based cohorts.
The event's sizable turnout marked a return to normalcy for the departments even as they embrace new industry norms.
The Firefighter I/II course includes classroom instruction, independent self-study, hands-on training and practical application. In the past, the training offered on-Island has focused more on the hands-on aspects, Chief Schaeffer said, but more recently has shifted to cover a wider breadth of knowledge.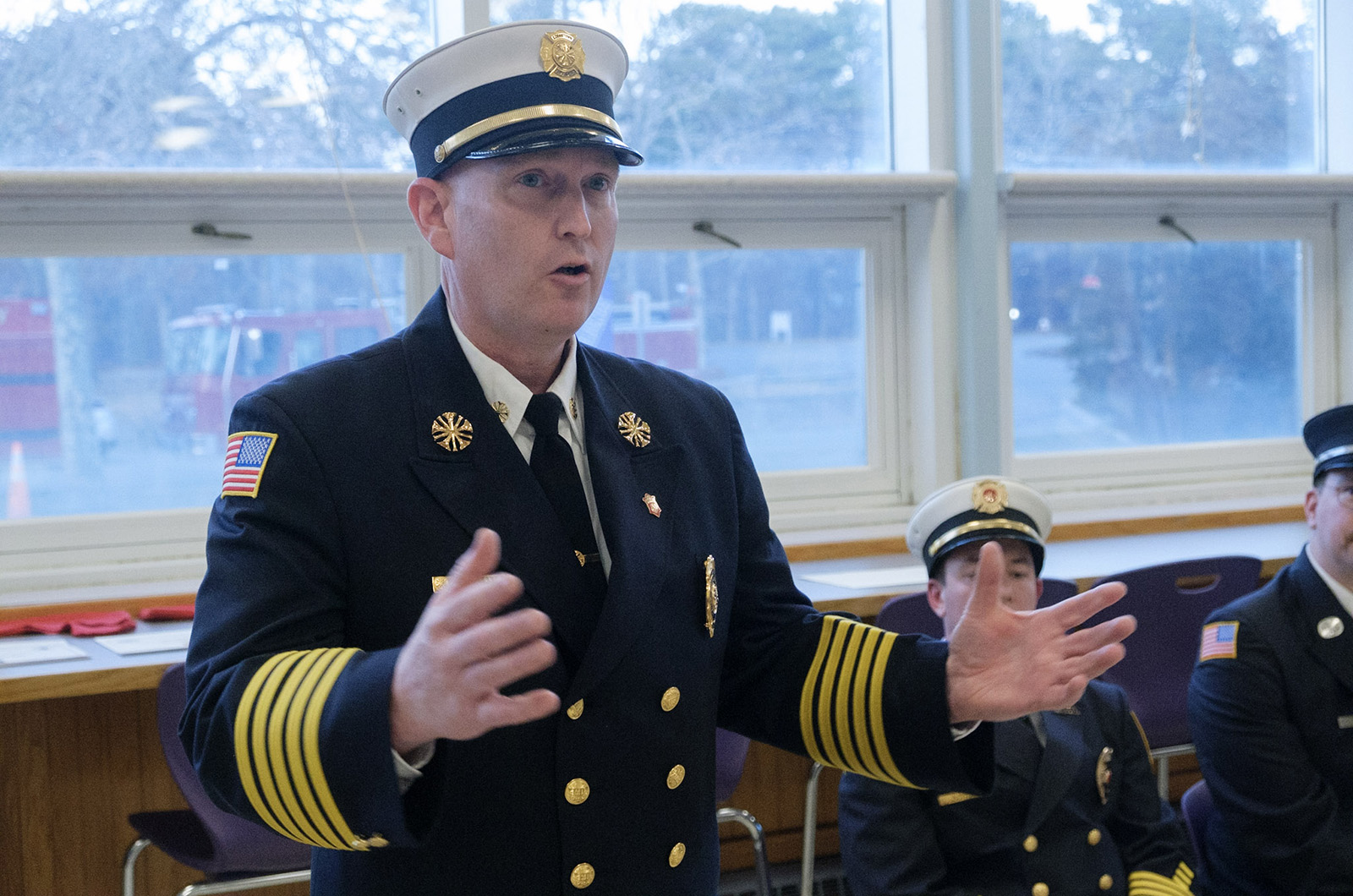 "The vocation has become more professionalized," he said. "Where previously you might be focusing on the hard skills, now the training is offering a more holistic view of what you're doing."
The training also reflects what Chief Schaeffer calls the ever-expanding scope of firefighting duties. While fire calls still make up the majority of the department's emergency requests, Chief Schaeffer pointed out that during the extreme freeze on Feb. 4, the Edgartown fire department received 16 calls for flooded basements alone. The industry has also expanded its focus on fire prevention, he added, working proactively with building inspectors to make sure all new and existing construction follow fire safety codes.
"The fire department has seemed to become kind of a catch-all for all hazards," Chief Schaeffer said.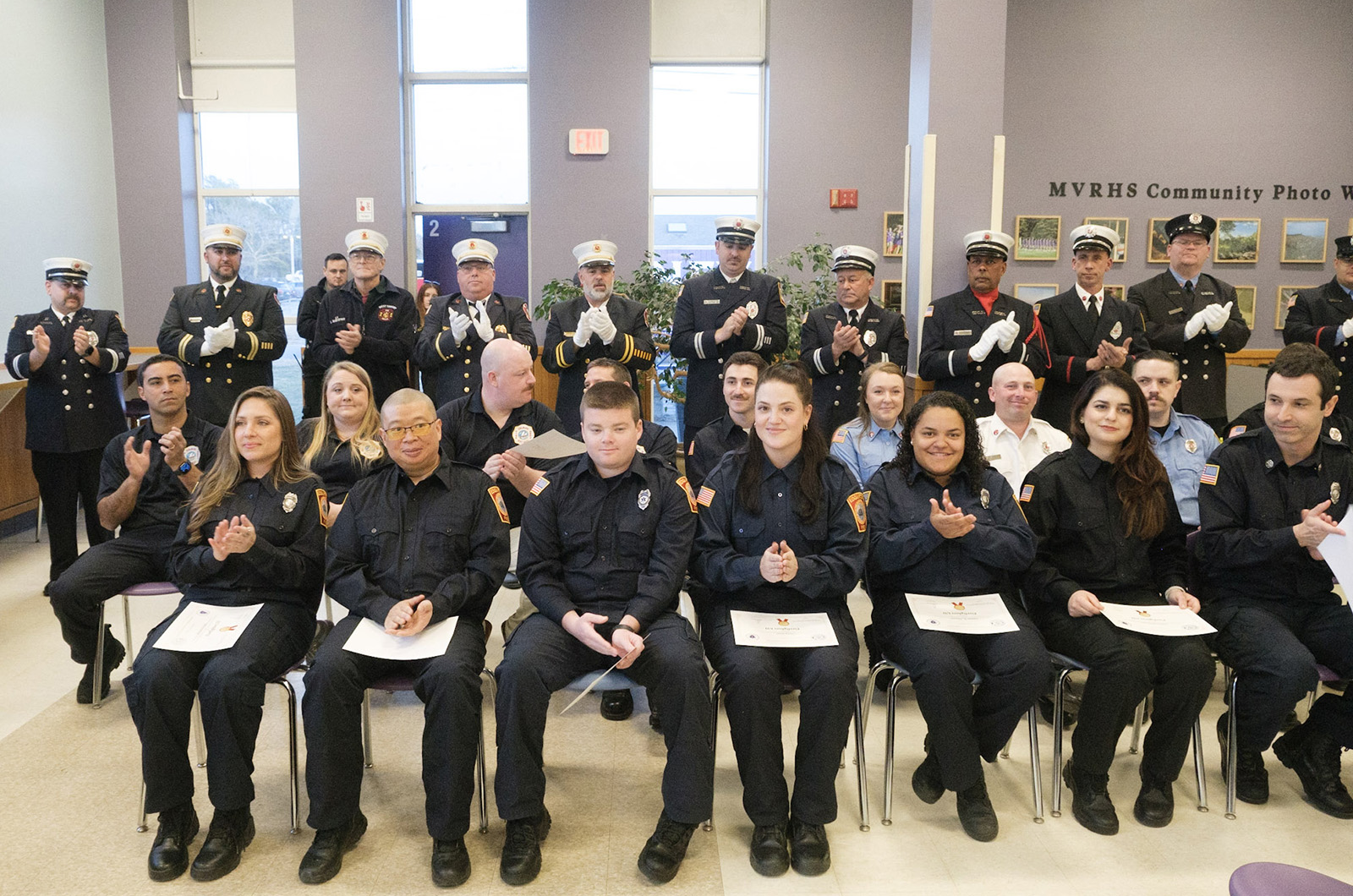 Tuesday night's graduation honored eight trainees from Edgartown, three from Oak Bluffs, three from Chilmark, two from Tisbury, one from West Tisbury, and one from Aquinnah. Lieut. Matt Gongola received the Student Achievement Award.
Most of the 2023 graduating class will return to the departments that sponsored their training, but first they will need to pass state board certification. For the first time in recent memory, state examiners will bring the exam to the Island instead of having applicants travel to the mainland.
"Nothing like that has happened since I've joined the department, and I've been here 26 years," Chief Schaeffer said. "It's a great opportunity."
Chief Schaeffer commended the instructors and students for their hard work and quick mastery.
"We're really proud of our students," he said.
There was one moment of tension in the evening, however. Chilmark fire Chief Jeremy Bradshaw felt the council treated Victor Silva, one of his fire captains, poorly at the event.
Mr. Silva had taken the course, passing the practical exam. But, according to Mr. Bradshaw, Mr. Silva struggled with the written exam because his first language is Portuguese. Without passing the written exam, Mr. Silva, who is Brazilian, was left off the program of graduates, though that wasn't relayed to Mr. Bradshaw or Mr. Silva, who both attended the ceremony, Mr. Bradshaw said.
When asked if he wanted to give any remarks at the event, Mr. Bradshaw said he stood up for his firefighter and he is now calling for tests to be available in other languages.
"The communication was terrible," Mr. Bradshaw said. "I was hurt."
Mr. Bradshaw said that the Island fire chiefs would discuss what happened at an already scheduled meeting on Tuesday.
List of graduates: Christina Colarusso, William Johnson, Travis Tack, Ryan Bottary, Joe Delory, Paulo DeOliveira, Olivia Hart, Ashlee Moreis, Renata Rovani, Rich Soo Hoo, Vanessa Vacharasovan, Chris Manning, Belle Dinning, Matt Gongola, Shawn Trepanier, Yuliya Bilzerian, William Ledden and John McCarthy.
Ethan Genter contributed to this story.