Before Sherry Sidoti was an author and yoga teacher, she was a studio manager, sweeping, framing and fetching supplies for her artist grandmother. It was in that New York City studio, at 12 years old, that she smoked her first cigarette.
Singing to Ella Fitzgerald at the tops of their lungs, a young Ms. Sidoti twirled through aromatic clouds of rose, turpentine and tobacco while her grandmother painted. Every day at closing, they shared one cigarette — their little secret.
Almost two decades later, pregnant with her son, Ms. Sidoti became wistful for her own childhood and called her grandmother.
"I really wish I were at the studio having a smoke and a song with you," she said.
This story is one of many included in Ms. Sidoti's debut memoir A Smoke and a Song about three generations of women in her family. Ms. Sidoti said she found healing through writing about many aspects of her life, including her mother's terminal cancer diagnosis during Covid.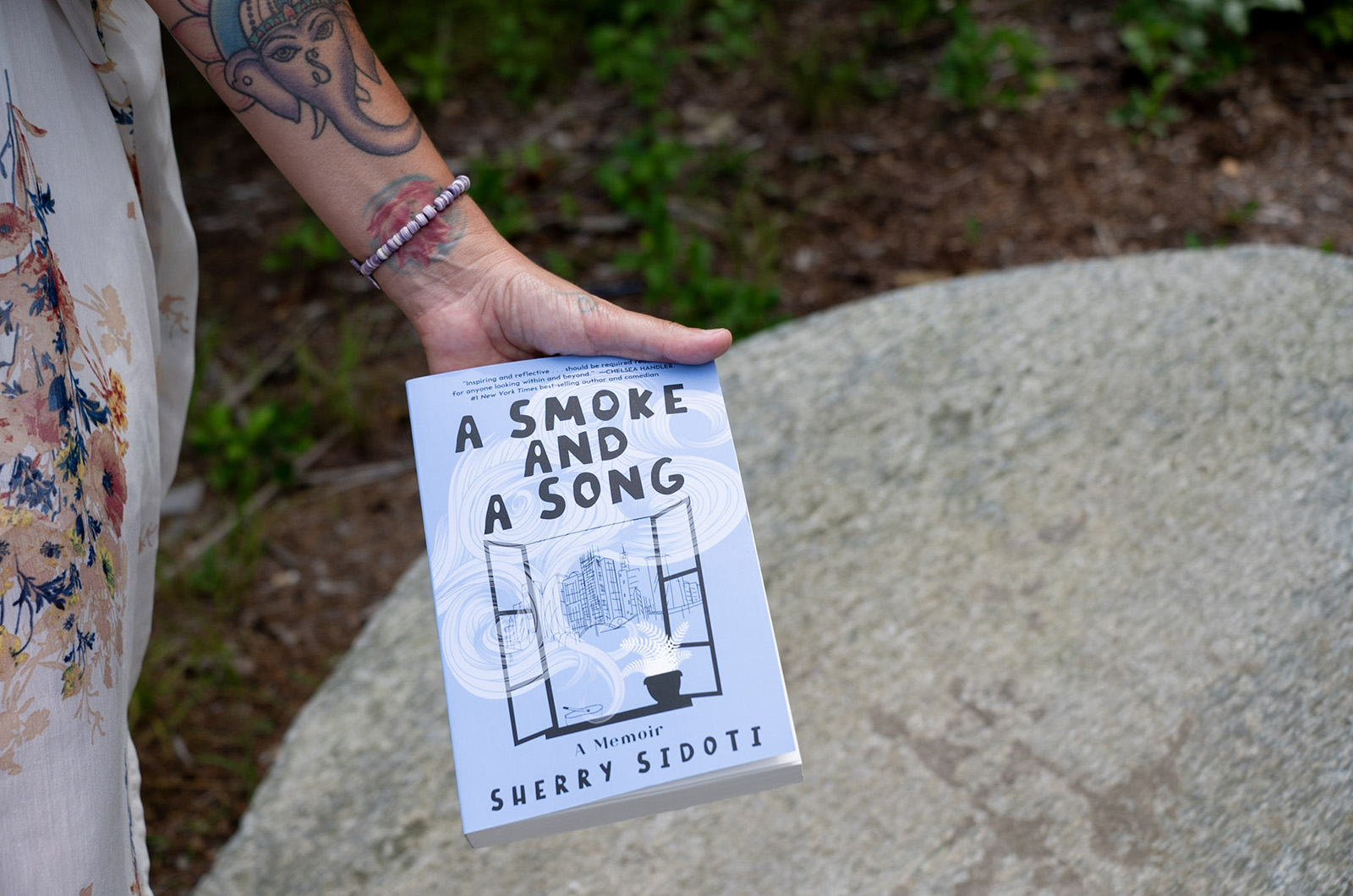 "From my experience, we aren't just gifted the big lessons in life," Ms. Sidoti said. "Healing happens so tenderly and so in the everyday, little things."
Much of Ms. Sidoti's healing philosophy comes from her yoga practice. After moving to the Vineyard 21 years ago, she trained as a prenatal yoga practitioner to provide the Island with a service she benefited from during her own pregnancy. As expectant mothers became mothers of toddlers, Ms. Sidoti continued leading their practice.
Today, Ms. Sidoti is the founder and director of FLY Yoga School, a yoga training program, and FLY Outreach, a nonprofit organization that offers yoga and meditation for trauma recovery on-Island. She is also a certified labor doula, addiction recovery coach and continues to teach yoga classes, teacher trainings and spiritual retreats locally and globally.
Inspired by her grandmother and looking to make art of her own, Ms. Sidoti enrolled in a remote memoir-writing class during Covid. Writing personal essays each week, she identified a throughline in her work. Her stories were about daughters, mothers and grandmothers. They were about what it means to grow and heal in the present moment, and to arrive at the next stage in life.
Ms. Sidoti wove her essays together, creating a body of work while continuing to heal from her own trauma.
"When you write a memoir, you process a lot of the things in your life that you may not have processed in the past," she said. "I used a lot of my meditation and yoga practice to go into the writing space and then the stories came back to me and unfolded in the present tense. It felt natural that I was still in the story and, as I wrote, I pulled out all the teachings and the learnings and the lessons and combed them through the story. I am trying to learn through the stories, not to teach."
Ms. Sidoti penned each of her stories between the hours of three and seven a.m. on her porch, wrapped in a blanket during winter, watching the sun rise in summer. Having moved into her then-fiancé's home during Covid, she woke up restless at the same time every night.
Instead of ruminating in bed, she would get up and write.
"It's a real liminal space, writing before life starts," she said. "In some mystical teachings, it's the hour of lung — when you breathe best. Breathing is inspiration, that's where the word breath comes from: inspirar. I was gifted that, the ability to write this book."
Ms. Sidoti published her memoir through She Writes Press, which she selected for its commitment to amplifying women's voices and stories. A Smoke and A Song was published on August 1, despite Ms. Sidoti almost delaying the release after her mother went into hospice care.
"It's a very tender time for my family — for my sisters, for my mother, for her sister," she said. "The idea of the book coming out and her potentially passing within a few week's span felt too vulnerable and too tender."
Ms. Sidoti turned to her family for guidance. She read the stories to her mother — something she never thought she would do — and received her blessing.
"All the stars are aligning and it's kind of perfect timing in a way," Ms. Sidoti said. "Part of writing was trying to figure out what's left undone, what's still unhealed and what could be done before she goes. But I hadn't wanted to share with her because I didn't want her, at the tail end of her life, to have any regrets. When I finally showed her, she didn't have even an inkling of that feeling. She only had support."
Ms. Sidoti's mother, who she called a powerhouse, has outlived a prognosis that underestimated her grit. This is a gift, Ms. Sidoti said, in part because sharing A Smoke and A Song with her deepened their relationship, recollecting the moments when a mother and a daughter did the best they could to care for each other.
"Memory is not a timeline of events," Ms. Sidoti writes. "Memory lives in layers of gooey marrow, porous bone, slippery synovial fluid. It hides in soft connective tissue, in bunioned feet, inside the creases of our knees and hair follicles. The mind often forgets. The body remembers."
Sherry Sidoti will host a book signing on August 5 at Edgartown Books from 11 a.m. to 1 p.m., just one of many events scheduled in the coming weeks.