At the Island Grown Initiative farm hub, a venerable old beast is slowly spinning. An ever-turning drum made from 14 tons of metal, this massive hollow cylinder has processed around 1,000 tons of organic waste into compost since 2019.
But now, as its white paint chips away revealing a rusted, mossy body, and as its mechanical systems gradually fail, this in-vessel composter is reaching the end of its life. By the end of the summer, it will be time to retire the drum.
Even as one system reaches the end of its lifecycle, though, composting activists on-Island are envisioning a bright future for local organic waste management.
"This was a great pilot project...but that's really what it was, a pilot project," said Woody Filley, manager of the Martha's Vineyard Vision Fellowship Organics Project. "We need to be pushing from all different directions. There needs to be different catalysts that hopefully, when they all gel, good things will happen."
Mr. Filley has long had a passion for waste management, arriving on the Vineyard in 1985 to manage the embryonic recycling program. After 20 years as the technology director at the high school, he has now returned to the garbage game, spearheading a movement to dramatically expand the Island's composting capacity.
"The irony, in my mind, is that we collect all this trash and we ship it off-Island," he said, "Then they take those trucks and ship back compost."
Garbage constitutes 15 per cent of all Island exports, Mr. Filley said, amounting to around 36,000 tons a year. About 34 per cent of that exported waste could be composted.
But building the capacity, and the will, to compost that material has proven challenging.
"We've got sort of a chicken and egg syndrome here," Mr. Filley said. "We'd love to really get out there and get more people separating their waste getting it over here, but we can't handle it."
Composting systems across the country ­— and the world — are going through similar growing pains, said Meredith Danberg-Ficarelli, who consults on Island organic waste projects. Mrs. Danberg-Ficarelli has been involved in such initiatives for over a decade. She started by organizing a local composting system in Beirut, Lebanon in 2011, before moving on to do similar work in New York City.
"Composting was my gateway drug to waste management," she said.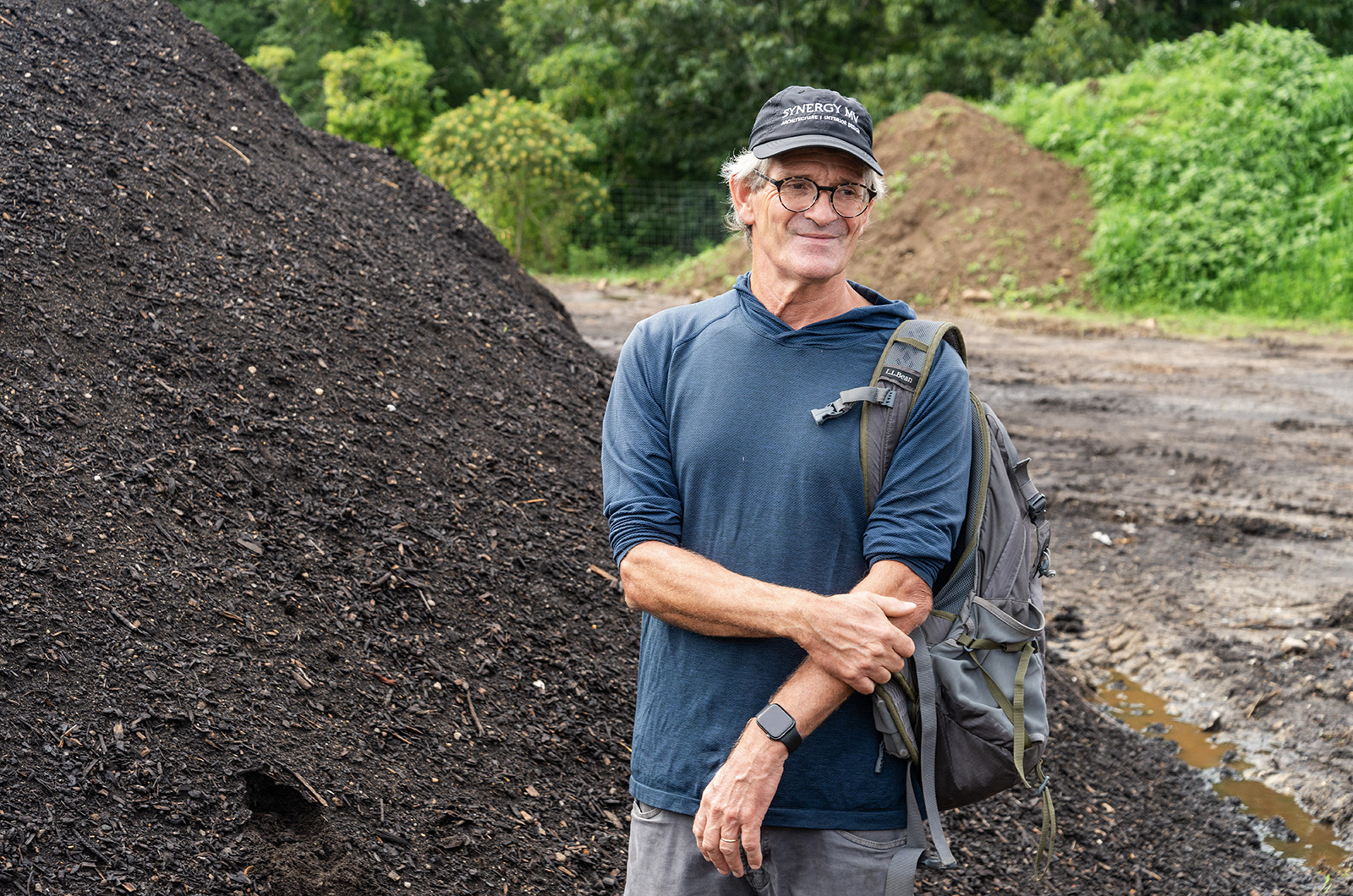 The primary bottleneck for scaling up, Mrs. Danberg-Ficarelli said, is the difficulty of acquiring land to compost on in the face of a "not in my backyard" attitude. Few people want a massive compost pile next door, and on an Island with limited space, high land values and neighbors in close proximity, that problem is exacerbated.
One way to ease the issue is by using technology, employing an in-vessel composter like the one at the IGI farm.
"It's really a simple machine, when you look at it," said Tim Connelly, farm director at IGI.
Essentially, the machine is a giant spinning barrel. It accepts food waste in one end, rapidly breaking it down into semi-finished compost much faster than it would in the open, keeping it away from the hungry mouths of rats and seagulls.
"It's just a really small motor turning a very big drum," Mr. Connelly said. "It's just a bunch of gears, one big chain and then that's all it does."
This deceptively-simple machine vastly increases the amount of compost that can be processed in a given area, while also making it more appealing to neighbors by mitigating pests and odor.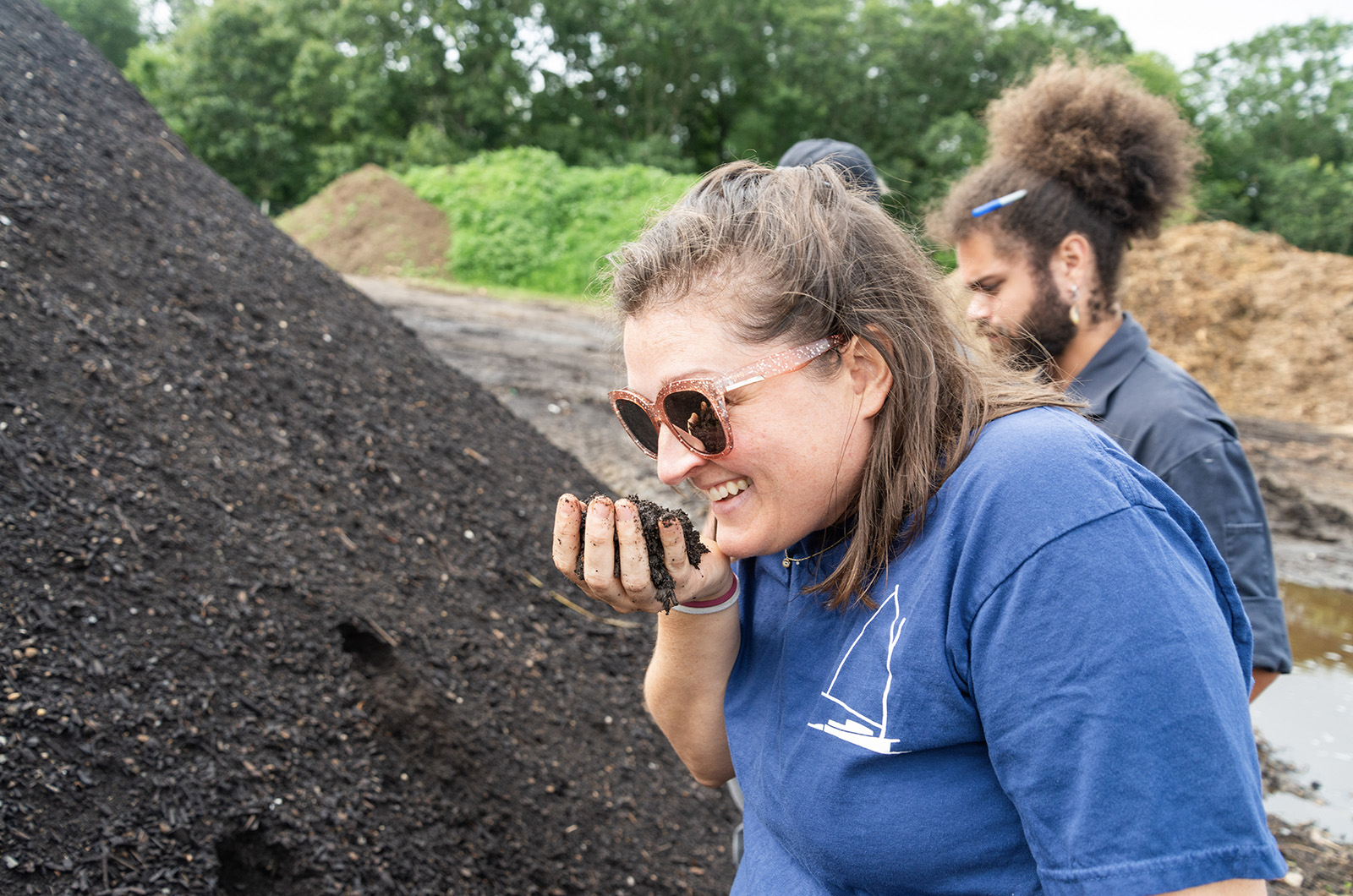 And, as IGI's composting manager Faul Durand noted, the ability to work primarily with food waste boosts the fertility of the end product.
"I'm not trying to besmirch anyone," he said, "but this is nice compost, usually nicer than what you can buy."
But the drum is far from state of the art, Mr. Filley said, purchased used in 2019. Newer in-vessel composters make the process even more efficient, not only reducing time required for maintenance, but also supplying more data to effectively tune-in the composting process.
"It's kind of like baking bread," he said. Newer drums have built in sensing technologies which help them (the bakers) know what is going on inside the drum.
Getting that equipment, though, requires significant capital, and political will to raise those funds is sometimes lacking. A previous study on installing such a system at the Martha's Vineyard Refuse District came up with a $10 million price tag well beyond the means of the refuse district.
While pursuing grant funding to compost at the Oak Bluffs Waste District, Mr. Filley is also initiating a new tactic for expansion: pitching composting as a for-profit endeavor.
"This could even work as a private business," he said.
While composting in other communities might result in a net economic loss, the conditions of the Island economy and transport make it potentially profitable here.
"With economies of scale, it's cheaper to compost, and we need the compost," Mrs. Danberg-Ficarelli said. "This makes economic sense. And that's not always the case."
Mr. Filley is beginning to approach nurseries and landscapers with the land and capacity to set up a composting operation, with the potential to charge for pickups and sell the finished product. Though the process is still in its early stages, Mr. Filley said he sees a bright future for Island composting.
"The beauty of this is that we have a community that really, I think, responds to these things," he said.