Last weekend's events were largely kept under wraps. If asked, attendees donning name tags and color-coded wristbands were told to say they were gathering for a family reunion. It was, in some ways, true.
On Sept. 9, almost a year to the day since 49 migrants landed on Martha's Vineyard unexpectedly, Islanders hosted a quiet reunion for the asylum seekers who have since scattered across the country. There outside St. Andrew's parish house, volunteers and migrants reunited over food, music and lawn games — a far cry from the emergency response that had initially brought them together.
Although the people and the place were the same, the atmosphere was very different from last September. In lieu of the hordes of cameras and microphones that had descended on the church the year prior, only two local journalists and one private photographer were allowed to attend Saturday's gathering. As a condition of attending, the Gazette agreed to hold the story until Tuesday, after attendees had a chance to return home.
The goal was to create a comfortable, relaxed environment where individuals could catch up among friends, organizer Lisa Belcastro said.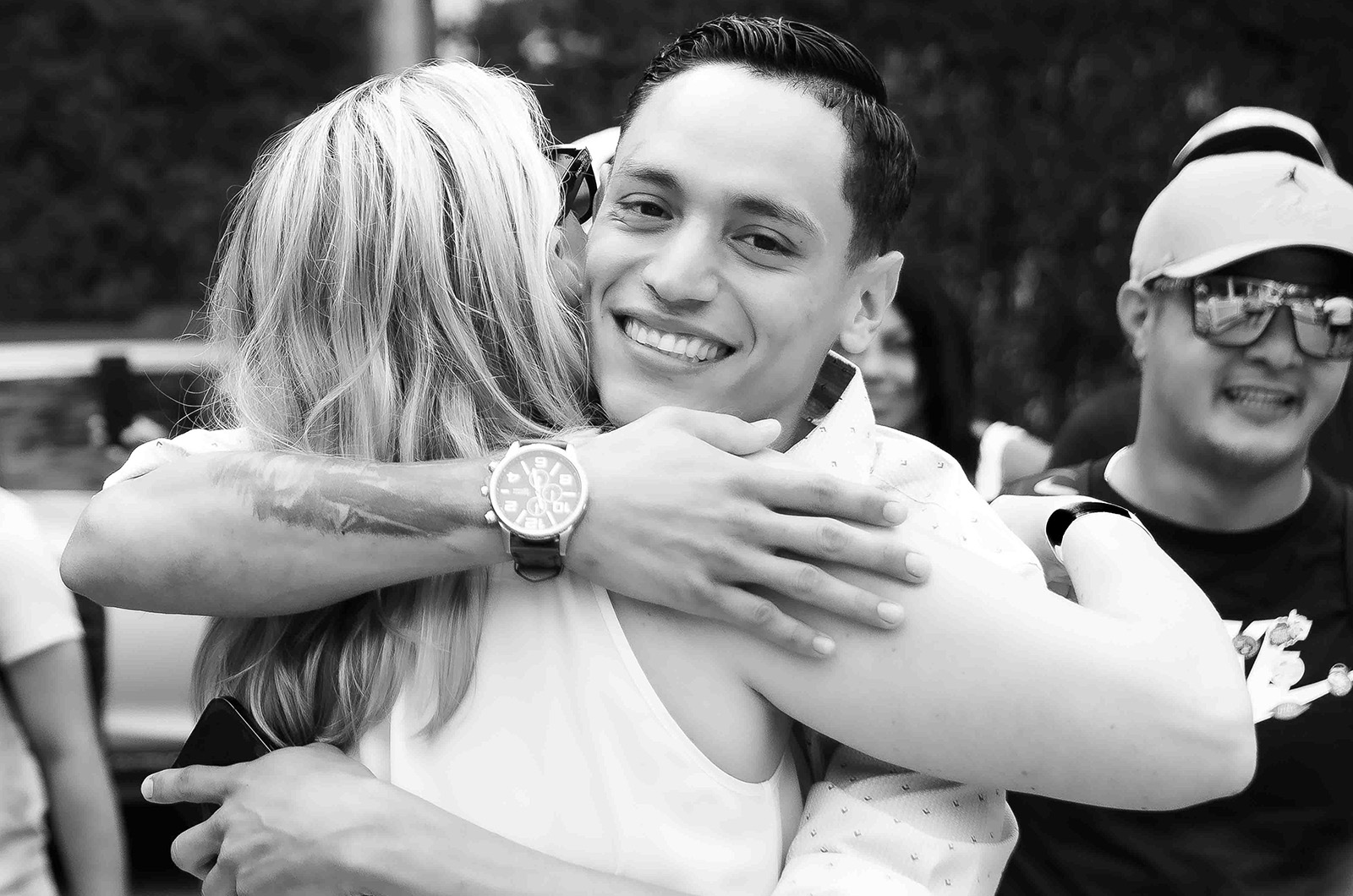 "We wanted this to be a sacred time," Ms. Belcastro said. "We didn't publicize it, we didn't ask anybody for money. All of the donations came from the people involved."
Ms. Belcastro is the shelter coordinator at Harbor Homes and was one of the volunteers involved in the Island's community response. Just more than a month ago, she had been discussing with a group of volunteers how best to commemorate the event that had thrust them into the national spotlight. Over time those discussions evolved, she said, as volunteers settled on a quiet weekend, kicked off with a potluck dinner and service at St. Andrew's Church, followed by a day of sightseeing and a pizza send-off on Sunday.
Co-organizer and Island-based immigration attorney Rachel Self said she was taken aback by the interest.
"We thought maybe five of them would want to come back," she said. "All 49 said they wanted to come back."
Within a few weeks, the organizers had been able to secure enough host families to house every guest, and enough private donations to cover travel expenses. Some migrants invited their families in the United States along, expanding the RSVP list to 62 people. Because of travel delays and work conflicts, that number decreased to 36 attendees.
"Getting people here was the hardest part," volunteer Katrina Lima said on Saturday. "When you have a group this large, you're bound to have a couple of issues, especially when you're traveling to the Island and dealing with the nightmare that is traveling now."
"But now that everyone's here, it's been easy."
As attendees trickled into the potluck, many hugged, laughed and showed off their improved English or Spanish. Some remarked how tall the children had gotten as they played rounds of cornhole in the parish house parking lot.
"I feel like everybody's more relaxed," Ms. Lima said. "You're not getting to know their tragic story, now you're like, 'Oh, what do you do for work?'....It's really nice to chat with everybody."
Migrants Deici Cauro, Eliud Aguilar and Jhorman Vasquez have been living on the Island since October and had not seen some of their fellow travelers since Joint Base Cape Cod. Their relative and fellow Islander, Daniel Cauro, could not get off work in time to attend the reunion.
"It's very different weather than the last time they were here," Ms. Lima added.
The last time the asylum seekers had been to the Vineyard, the autumn air had just crisped. This weekend, many host families had plans to hit the beach with their guests on Sunday.
"When I picked people up in Woods Hole, everyone was saying in English, 'It's so hot,'" she said.
As dinner wound down, attendees moved inside St. Andrew's Church to watch the short film Waiting to Continue, which closely follows the first 48 hours migrants spent on-Island last year and includes interviews with many of the invitees. Directors Tim Persinko and Ollie Becker also attended the dinner and were nervous about the film's reception.
"You always hope that you got the story right, but they were the ones who lived it," Mr. Persinko said.
The loudest feedback came when Florida governor Ron DeSantis appeared onscreen, and the audience erupted in jeers and boos. Later, jeers turned to laughs when attendees began recognizing their friends and family on screen, elbowing and ribbing each other on their 15 minutes of fame. As the credits rolled, the film was met with thunderous applause.
"Thank you so much," one migrant, Rafael, went to the podium to share. "My people – I love you."
A multilingual church service followed, led by St. Andrew's pastor Father Chip Seadale, Brazilian pastor Vander Trindade and Rev. Cathlin Baker. David Mintz served as interpreter for the evening. Each spoke about the power of community, and the power of taking something positive out of a difficult and harrowing situation.
"May all of us find our place of peace," Father Seadale said in Spanish.
"Amen!" members of the audience replied.