Snowflake had been advertised on the Wooden Boat Magazine website for six months when my partner Ana, the artist Ana Sargent, and I decided to go take a look at her, where she was stored in a shed at the yard where she was built in 1945, on Mount Desert Island in Maine. In April we really didn't have that much going on. We were also motivated, with summer approaching, to find a boat of our own, something a little easier to live and travel on than my old Folkboat.
By the middle of July the offer I had made was sufficient. But Ana and I were both working, and in the process of helping Ana's mom move out of the home in Aquinnah she had grown up in so we couldn't go right away.
The first week of August, while Ana accompanied her mom on the actual moving days, I went up to Mount Desert Yacht Yard, where I painted the boat and launched it. We figured Ana, between jobs at weddings, could meet me somewhere easier to get to than Mount Desert, and help me deliver the boat back to Vineyard Haven.
In the meantime, my recently-retired dad, the lawyer Walter Ricciardi, traveled up to the boatyard with me.
For two days Dad and I sanded and painted the 36-foot boat. We didn't paint the transom, where the name had been painted in red by hand in a nice simple style. Dad insisted on taping off the red cove stripe to save it. In my hurry I wouldn't have bothered, but I appreciate it now.
On the third day, in the pouring rain, John Butler dropped us in the water. He has been running the Mount Desert Yacht Yard since 1971. He took over from his father, the guy who designed and built Snowflake. Between all the sheds there was space for hundreds of boats.
"It was all full until a few years ago," John said.
He had looked for somebody else to run the yard, "but they would all rather spend time with their families," he said with a smile, acknowledging it was something he understood.
John is 75 years old. His siblings and generations of grandchildren all still live in the neighborhood but the yard is nearly shut down. It's hard to hire anybody when property on Mount Desert Island, like a lot of places favored by the richest people on earth, is impossible for somebody working at a boatyard to afford.
Snowflake was one of the last boats in any of the sheds. John's father had built her to cruise with the family.
"I sailed on her when I was four," John said. "East. We only went east."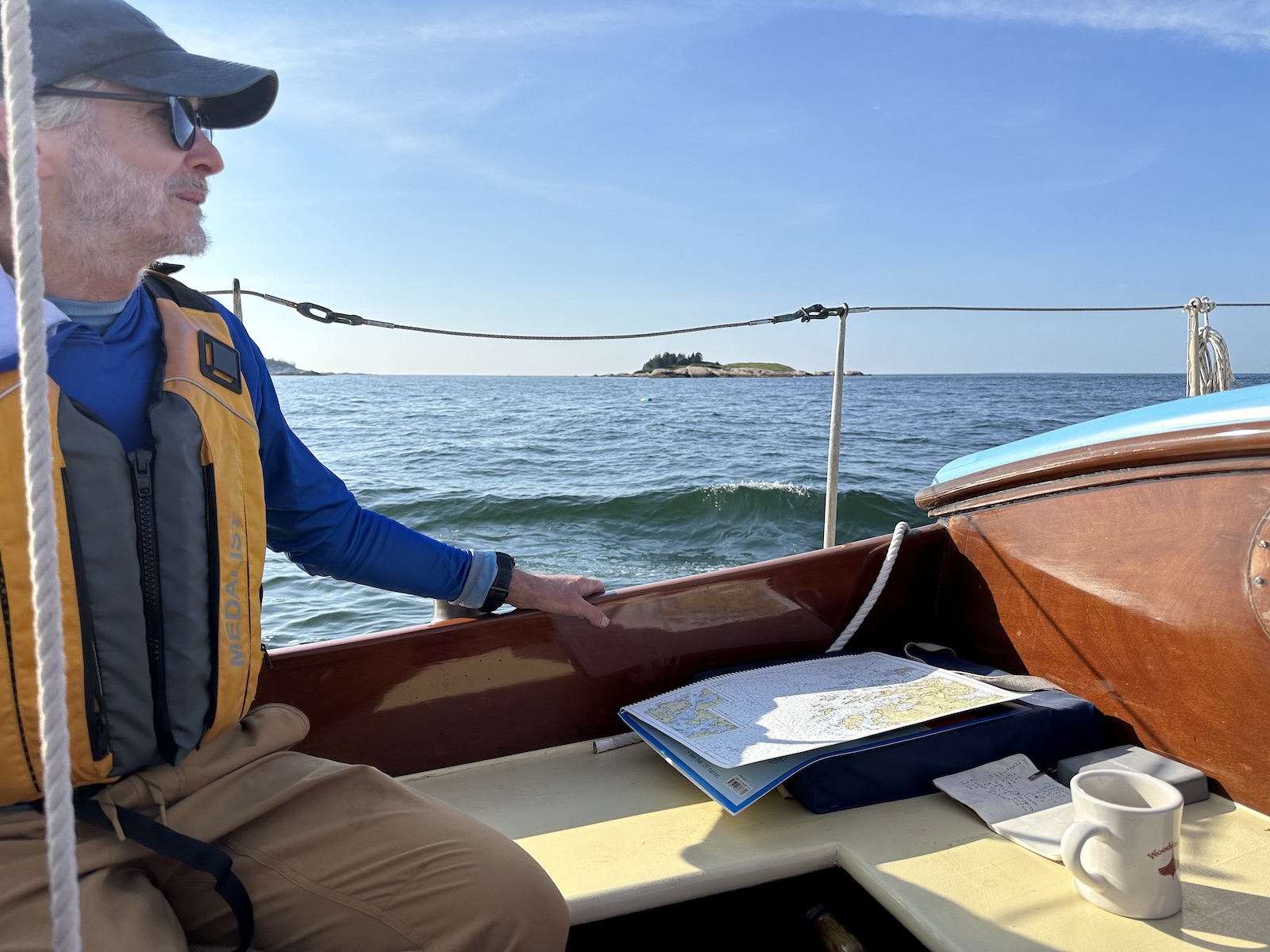 In the pouring rain we tried to start Snowflake's engine. A sharp knock coming from the heart of the old diesel scared John off. Afraid to do any damage, he helped set me up to spend the night aboard the boat. He brought me an extra battery and an extra bilge pump and wished me luck.
I called Brad Abbot, boatbuilder, mechanic and co-owner of Gannon and Benjamin Marine Railway, for advice.
"Sometimes when an engine has sat for a long time, it just needs to run," Brad said. "Marine diesel engines are amazingly resilient."
He was right. Snowflake's engine eventually started running normally.
That night, trying not to cringe every time the pump ran, I mapped out the leaks in the cabin, always wondering which betrayed rotten spots or hardware that just needed to be rebedded. I used the garbage bags John had used to cover my bunk cushion, when we had brought it out in the rain, to make a tent over my bunk.
That night, my father's last in a hotel with ample running water, he did a load of laundry that would get me all the way to Portland weeks later, for which I will forever be grateful.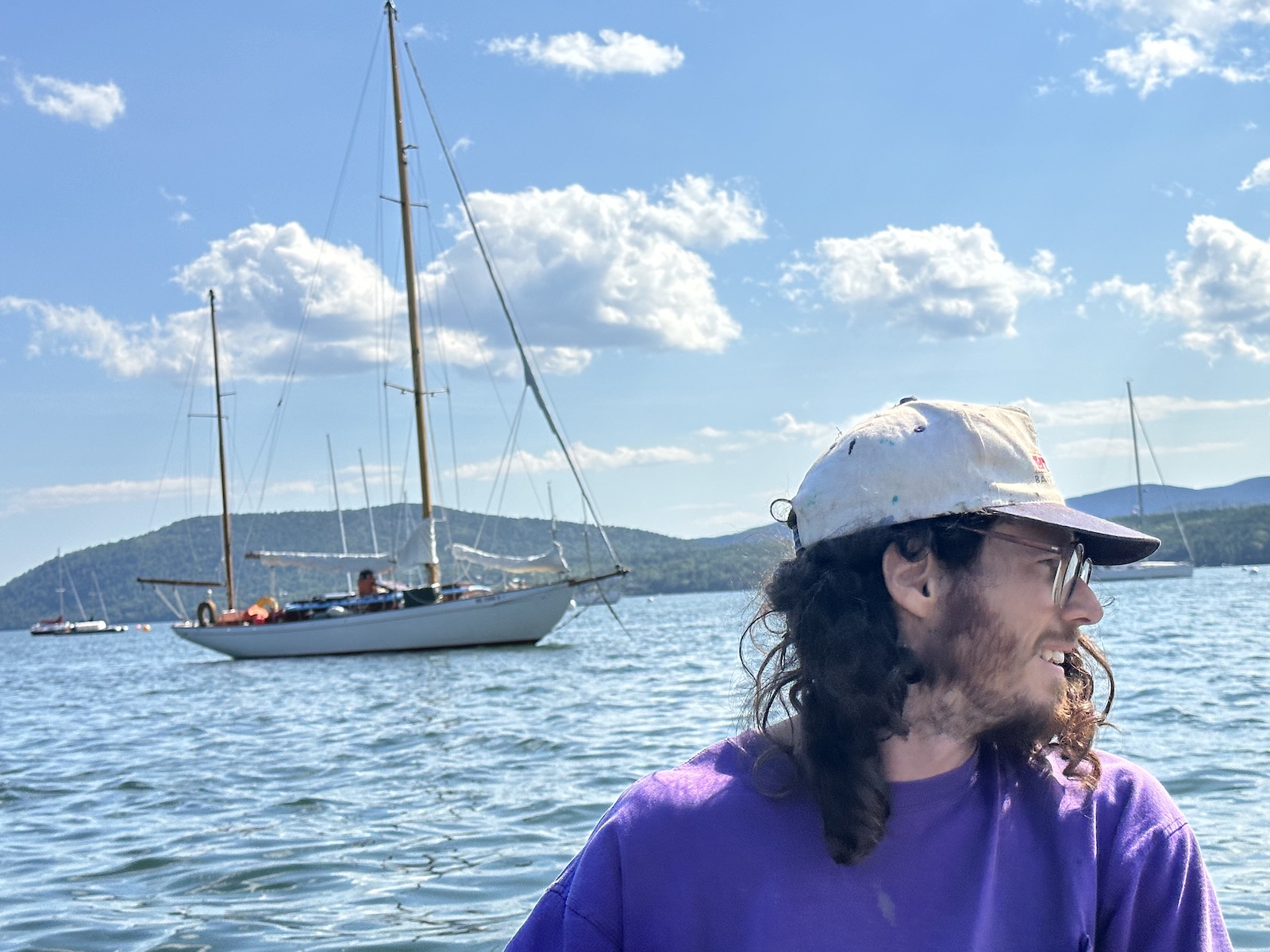 In the morning the boat was still floating, the pump still spinning, the battery alive.
"She always leaks when she goes in, but she usually slows down," John said when he came out to check in the morning.
The leaks hadn't slowed down but with the yard shuttered and John leaving on vacation, we took off anyway. Through a maze of lobster pots, between seals and porpoises, Dad and I were able to motor down the Somes Sound, between northeast and southwest harbors, across the bottom of Blue Hill Bay and over to Brooklin, at the eastern end of the Eggemoggin Reach.
My dinghy had already been delivered and stashed there by a crew from Vineyard Haven, including but not limited to the boatbuilders Olin and Ross Gannon and the Island electrician Cole Powers.
The teacher and sailmaker Gretchen Snyder, working at the Wooden Boat School, helped us get a ride for supplies we couldn't get in Mount Desert.
After a few day trips, Dad got off the boat in Tenants Harbor. He had a lot of detailed advice about how I might be a more effective captain when Ana squeezed her only time off to get on board. But we had fun. I think both of us learned a lot about everything. I love him as much as I did when I was a kid.
Harry Ricciardi lives in Aquinnah.