Tax revenue from short-term rentals and hotel stays on the Vineyard reached an all-time high last year, and the first quarter of 2024 is already off to a sizzling start.
In the 2023 fiscal year, the six Island towns collected $8.8 million in rooms tax, the highest since the legislature passed a local-option short-term rental tax in 2018, according to data from the state Department of Revenue. The first quarter of the 2024 fiscal year, which covers July, August and September of this year, brought in $4.3 million – the most of any single quarter.
A total of 3,840 properties are now registered as short-term rentals on the Island, up by more than 500 from a year ago. That doesn't mean bookings are at an all-time high, however. At the start of the season, rental agents reported through-the-roof demand during the heart of the pandemic had come back down to earth.
Though demand is still above pre-pandemic levels, several people in the vacation rental industry said the volume of bookings is similar to or slightly lower than past peaks; tax revenues continue to rise because of the rising cost of a vacation on the Vineyard.
"I really think it's not that we have that many more homes that are being rented, but the prices of the homes have escalated," said Joan Talmadge, the co-owner of WeNeedaVacation.com, which manages rentals on the Cape and Islands.
The company's Vineyard bookings were slightly down from the height of the pandemic, when people flocked to the Island and home rentals jumped by about 25 per cent between 2019 and 2020.
But prices continue to climb. After years of annual increases in the 3 to 4 per cent range, 2020 saw rents rise 5 per cent, Ms. Talmadge said. They jumped by 12 per cent in 2021, 7 per cent in 2022 and 13.3 per cent in 2023.
Across the company's Vineyard listings, the average price of a rental is 66 per cent higher now than in 2019, she said.
Wendy Harman, the managing director at Point B Realty, said the number of vacation home rentals in this fiscal year are on par with last year's, but the dollar value is tracking at nearly 10 per cent higher.
Anne Mayhew, the owner of Sandpiper Rentals, which manages about 600 properties on the Island, echoed Ms. Talmadge, saying demand is falling back towards pre-pandemic trends, but the tax revenue continues to rise as rental rates increase.
"Our rental tax isn't showing a downturn because the pricing is up," she said.
Vacation rental managers interviewed by the Gazette pointed to a shift in the market toward higher-end rental properties.
"We continue to see higher demand from renters who are looking for an overall hotel-like experience," said Ms. Harman at Point B.
Homes with new, upscale furnishings and extra amenities such as pools and firepits draw higher demand and higher rates, she said. But having high prices can also prove detrimental.
"On the pricing front, we are also seeing owners who are pricing their homes above what the market will bear for overall location, aesthetic and features – and where just one unbooked week will reverse any gains the owners may have anticipated getting by setting their rates too high," Ms. Harman said.
The number of short-term rentals on the Island has also risen this year, with the Island now hosting about 3,800 rentals registered with the state, an increase of 1,288 since March 2022.
Properties that are rented for less than 30 days must register with the state and are subject to the rooms tax, which formerly applied only to hotels and motels. Short-term rentals such as AirBNBs and VRBOs, were included in the tax starting in 2019, allowing towns to tax them up to 6 per cent.
While much of the increase in room tax revenue is attributable to short-term rentals, the state Department of Revenue could not immediately provide a breakdown between short-term rentals and other lodging.
Edgartown does, however, have the figures differentiated. Of the $1.7 million it collected in the first quarter of this fiscal year, $1.1 million came from short-term rentals. With 1,300 short-term rentals, Edgartown routinely takes in the largest amount of rooms tax on the Island.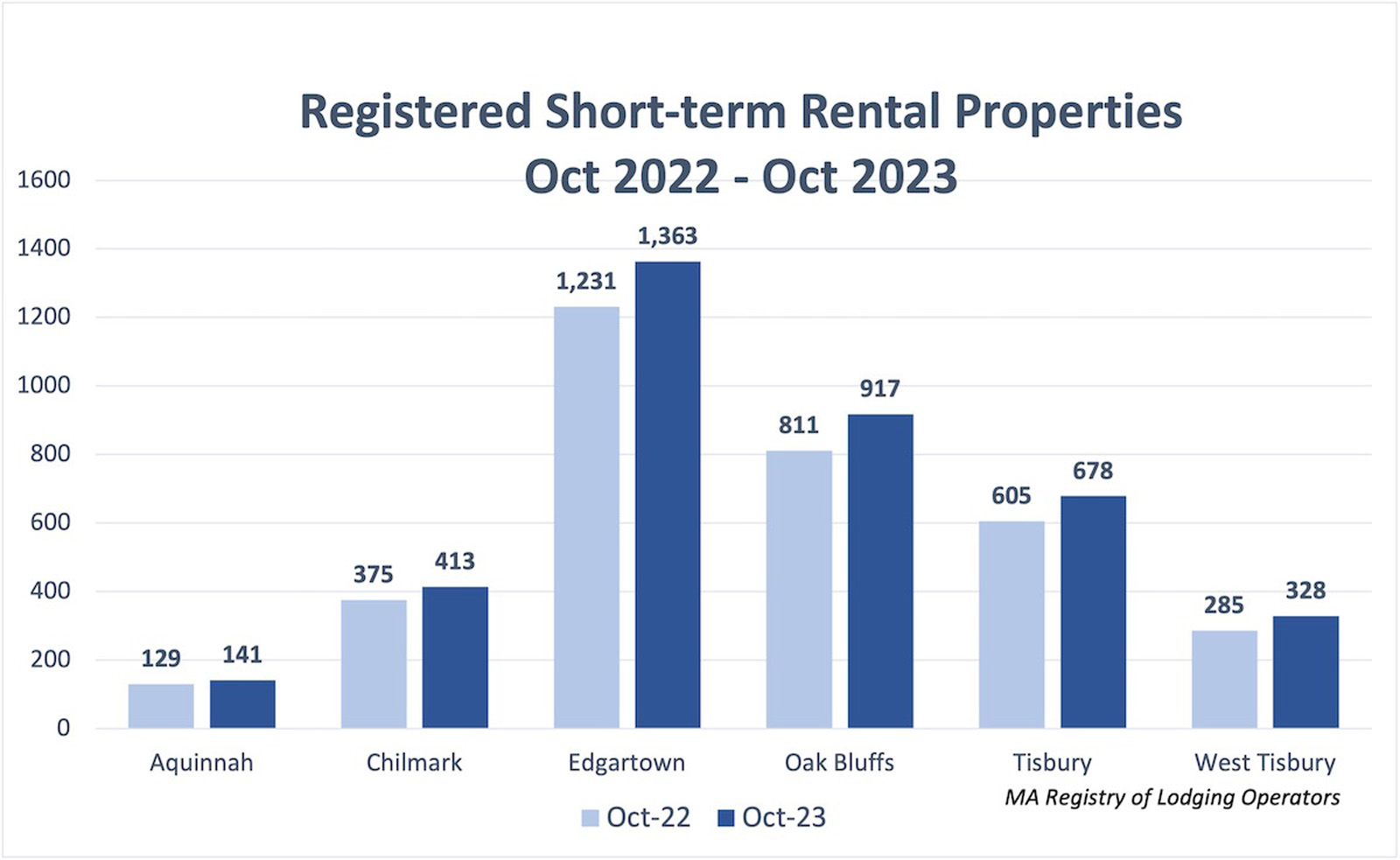 The rise in revenue comes as some towns consider more rules on rentals. West Tisbury is currently looking at a draft rental bylaw that could put stay limits on properties.
Chilmark is also considering raising its rooms tax to the upper limit of 6 per cent.
As bookings come in for next year, both Ms. Talmadge and Ms. Mayhew said things are looking strong, but the high bookings of the pandemic years likely won't return. There were times then where if a booking was canceled, it could be refilled within hours.
"That was unsustainable," Ms. Talmadge said. "We're not going to see that again."
Patty Leland, the owner of Martha's Vineyard Vacation Rentals, has seen a surge in early bookings, with some people scheduling their stays more than a year in advance. Demand during the shoulder season seems to have quieted compared to 2020 through 2022, she said.
A major indicator for the coming season occurs when the Steamship Authority opens vehicle reservations, rental managers said.
"If you're not getting much activity at this point for next season, you might want to change your rates," Ms. Mayhew said.