From the white clapboard whaling captains' homes of Edgartown to the Victorian gingerbread cottages of Oak Bluffs to the shingled farmhouses of up-Island, the distinctive architecture of Martha's Vineyard is one of its signature attractions, preserved through a patchwork of local regulatory bodies.
The challenge of keeping history alive while accommodating changing lifestyles has been a point of discussion since the 1970s, when the Island's first historic district was created.
But the realities of maintaining the Vineyard's often picturesque past have become increasingly complex, as voluntary boards grapple with insufficient resources and occasional resistance from homeowners who want amenities never imagined by their forebears.
Today, there are 2,390 buildings on Martha's Vineyard that are considered historic, according to the Martha's Vineyard Commission. Roughly 930 of these are located within one of the Island's historic districts. The rest are at least 100 years old, putting them under the scrutiny of the MVC.
In a series of articles, the Gazette will explore the challenges and stakeholders seeking to strike a balance between the Island's architectural past and present. Tisbury in 1975, followed by West Tisbury in 1982, Edgartown in 1987 and Oak Bluffs in 2003 encompass the historic districts around the Island, each with its own set of bylaws and rules.
The Martha's Vineyard Commission joined the cause in 1987, and now must review any proposed demolition or substantial renovation of a building over 100 years old as a development of regional impact (DRI).
The Island's interest in historic preservation began in earnest in the 1970s, part of a nationwide trend.
Today, Tisbury's historic district is the smallest on-Island, but it is the first. The motion to create the William Street Historic District, encompassing 55 properties in downtown Vineyard Haven, was approved at town meeting in 1975. Its size was dictated by the fire of 1883 that destroyed much of the downtown. The homes that make up the district, the oldest dating back to the 1830s, were all that remained from the fire.
Once the district had been approved and a historic commission set up, William street residents received a letter apprising them of the change: "Congratulations on your recent purchase . . . Building permits will not be issued by the Town of Tisbury without Commission approval," the letter read.
Efforts in Edgartown proved more challenging. In the early 1970s, Edith Blake, a prominent Edgartown resident and the second wife of Gazette publisher Henry Beetle Hough, launched a grassroots campaign to create a historic district, drawing up her own proposed map of nearly 200 properties. The plans failed to pass at town meeting three separate occasions.
At the time, opposing residents voiced many of the same fears held today — concerns that increased municipal oversight would drive up costs, stretch out project timelines and stifle property values.
Real estate developer and hotel proprietor Robert J. Carroll voiced his opposition at the 1974 town meeting, concerned that the proposed district would encompass 17 of his buildings.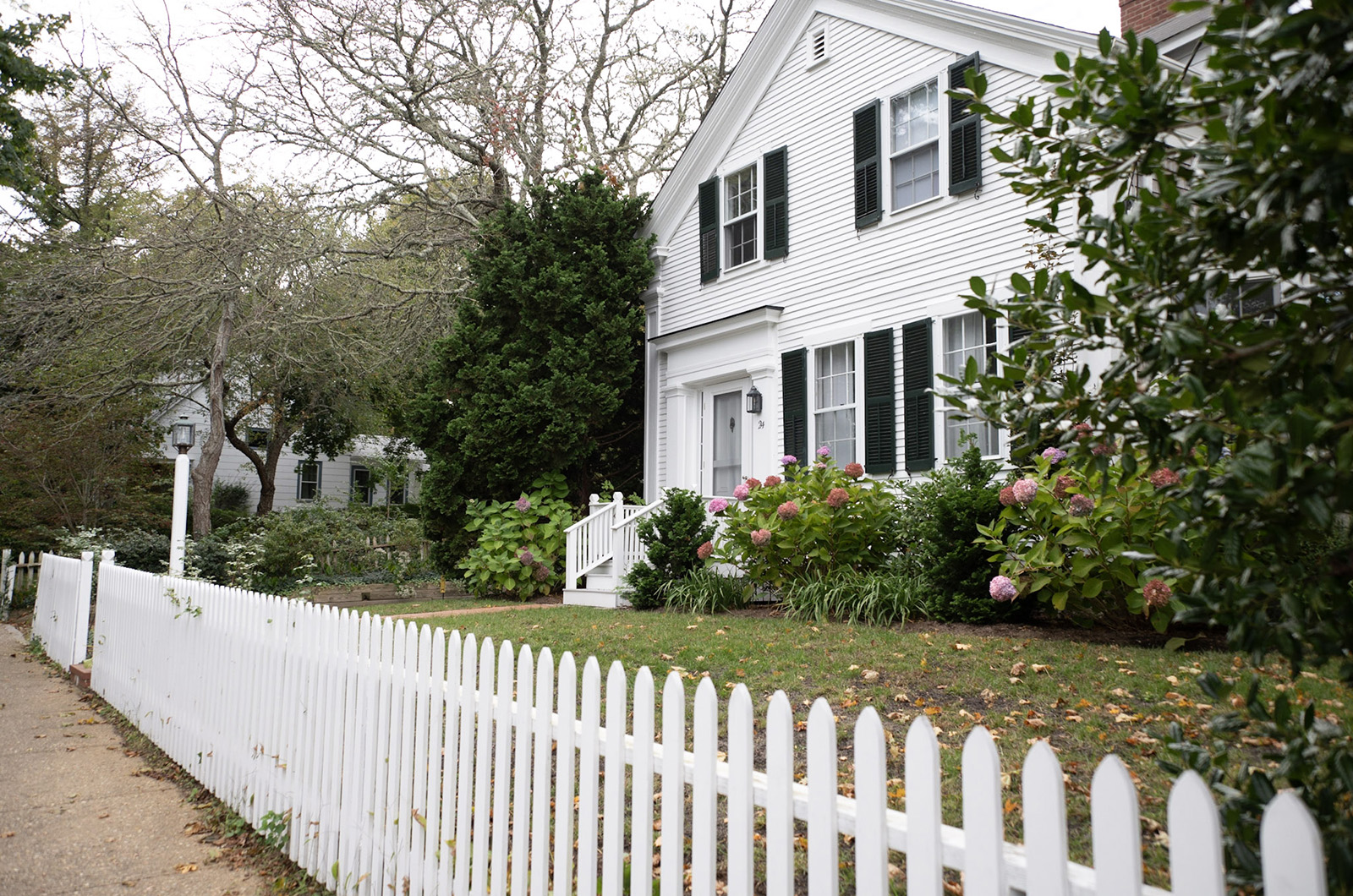 "This is a very restrictive by-law," Mr. Carroll said. "And there is a serious question about what it does to a man's property."
By the time voters did approve a historic district in 1987, the event did not even warrant a mention in the Vineyard Gazette's Edgartown year-in-review. A letter to the editor by commission vice chairman Arthur Railton sought to correct the oversight.
"By their approval of the historic district, Edgartown citizens took a major step toward preserving that character," Mr. Railton wrote. "It is unfortunate that the Gazette's review of major actions during 1987 totally ignored it."
Other towns moved at their own pace. West Tisbury established a historic district in 1982, limited to its immediate "downtown" on State Road. Oak Bluffs did not establish its Cottage City Historic District until 2003, since most of the town's center was already protected by a preexisting order from the Martha's Vineyard Commission. On top of emerging so much later than the other towns' districts, Cottage City is particularly unique because it does not include the majority of Circuit Avenue or one of the town's oldest neighborhoods, East Chop, historic district commissioner Shelley Christiansen said.
"They just didn't want one," she said.
The Martha's Vineyard Commission's jurisdiction is more sweeping, encompassing all homes across the Island that are more than 100 years old. Originally, any plan to demolish a building over 100 years old required review by the MVC. In 2013, the organization briefly changed its criteria to specify any building built before 1900, but then changed back to the 100-year rule for its new preservation policy. In 2023, that covers some 1,460 buildings that are not part of a historic district.
The move to return to the 100-year rule marked a shift to a more proactive approach to historic preservation, commissioner Fred Hancock said, who helped rewrite the policy last year. Under the new policy, historic renovations of more than 25 per cent change must automatically go to commission review.
The new policy also establishes two layers of review, allowing the commission to more efficiently determine whether a building is of historical significance before subjecting it to full commission review.
"It gives us a process to cast a wide net, but then throw stuff back that doesn't apply," Mr. Hancock said.
The change also comes at a particularly contentious time for the commission. Between 2020 and 2021, the commission reviewed more DRI applications than the past three decades combined. Of the demolition plans reviewed, only a handful had been denied, Mr. Hancock said, but nearly every denial was met with legal challenge.
"We even saw litigation from a project we had approved," he said with a laugh.
About 20 per cent of DRI applications requesting demolition are private homes, Mr. Hancock said, and the renewed wave of development has also shown a shift in what people want out of their houses. Overall, the past five years have seen more and more applicants wanting larger homes with more amenities, he said.
"And I understand why people want those amenities," he said. "But our prime directive is to preserve."
As real estate values continue to soar and projects become more ambitious, the MVC and Island historic district commissions alike are reexamining the balance between changing lifestyle standards and historic preservation.
A balance that, Mr. Hancock noted, has been made more complicated by another trend that has accelerated the past few years.
"Obviously there's a lot more deep-pocketed people in this business," he said.
This is the first article in a series.