All across the Island next week, chefs will fire up burners and delivery drivers will start their engines to make sure no one on the Vineyard goes without a Thanksgiving meal.
For many local organizers, the focus is on the Vineyard's older population in the holiday season, and reaching out to anyone on the Island most likely to feel isolated this time of year.
"A lot of people don't realize it, but the majority of the Island population is elderly, and it's also a segment of society that we tend to lose touch with," said Sgt. Jeremy Rogers of the West Tisbury police department.
Mr. Rogers is a lead organizer of the annual Friendsgiving with Cops event, hosted at the Howes House in West Tisbury at noon on Nov. 20. Now in its third year, the event is a collaboration among the three up-Island police departments.
"The people in the P.D.s, we do all of the cooking, all the serving and whatnot," he said. "Everyone gets together, and we have a good time doing it.... There's never a lack of food, but there are never any leftovers either."
A host of Island businesses donate to the event, including Morning Glory, Wise Owl, North Tabor, Ghost Island and Beetlebung farms, Chilmark Coffee, Scottish Bakehouse, Vineyard Grocer, Cliffhangers, Orange Peel Bakery and Cash & Carry.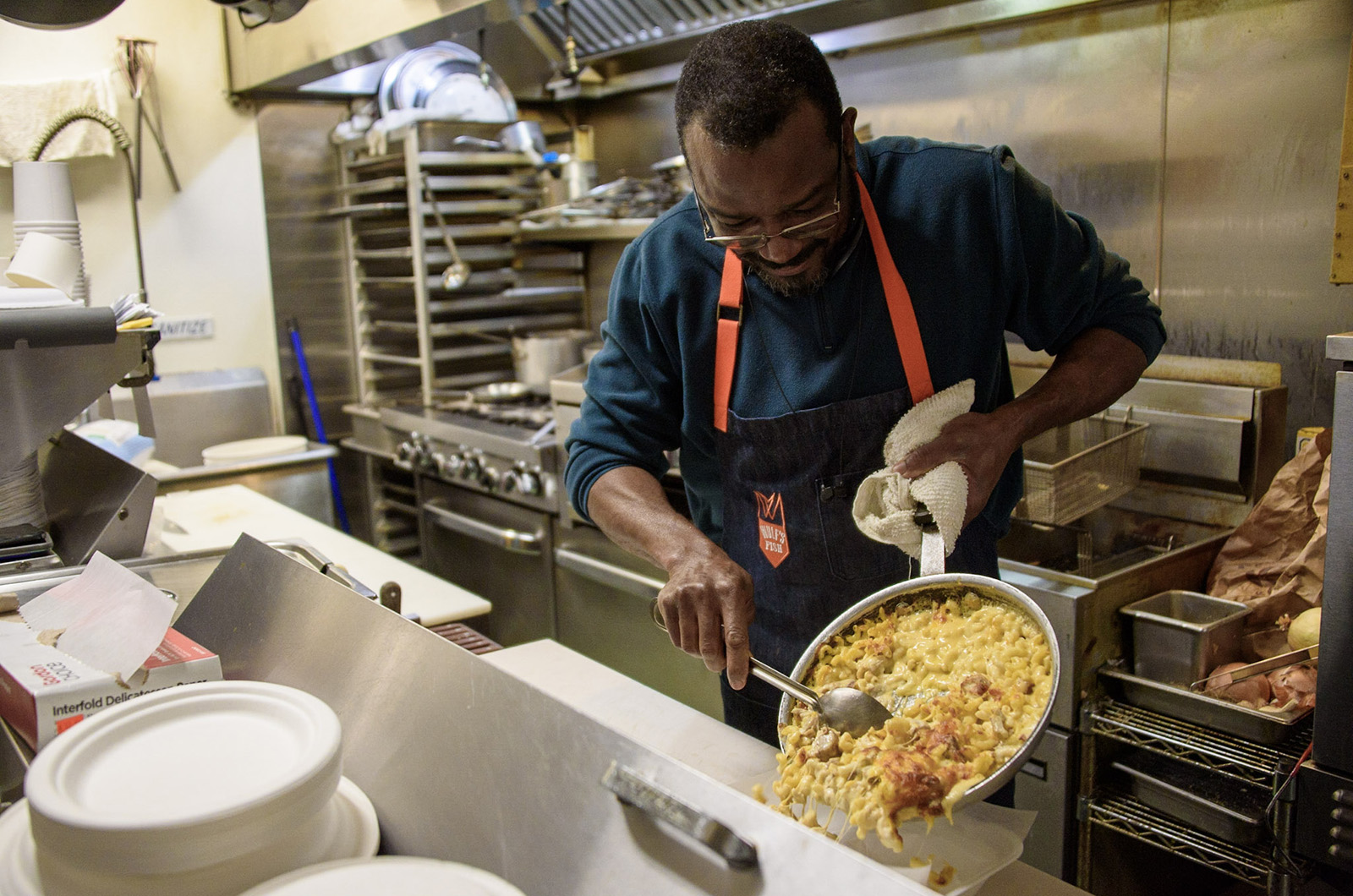 Perhaps most anticipated among the spread, Mr. Rogers said, is Chilmark police chief Sean Slavin's butternut squash soup, a major hit last year.
"Everyone, when they heard about the event this year, their first inquiry was whether or not he was making the soup again," Mr. Rogers said.
But more than the food, Mr. Rogers said, the event is cherished by organizers and up-Island seniors as a community gathering.
"These people don't really get out a lot, they don't really get seen by us," he said. "This gives them the opportunity to get together with everybody and get more of a family feel."
Efforts are also ramping up to supply seniors with meals at home for the holidays through a coordinated effort among Island councils on aging, the Martha's Vineyard Center for Living, the Martha's Vineyard Hospital and a fleet of Meals on Wheels volunteers.
"It's a wonderful community effort," said Leslie Clapp, executive director of the Center for Living. "We really depend on the volunteers, and it grows every year."
Last Thanksgiving, Ms. Clapp said, the coalition delivered 123 Thanksgiving dinners to Island seniors, and another 287 over Christmas and Easter.
All the meals, she said, are "beautifully prepared" by chef Chris Porterfield at the hospital kitchen and delivered by volunteer drivers. "They go to older people in our community who are alone, or who don't have family around the holidays," she said.
Registration is closed for Thanksgiving meals this year, but still open for
Christmas and Easter meals. Center for Living administrative assistant Katie Viera added that volunteers are always needed, and those interested should call their town's council on aging.
"It's a great way to spread the holiday spirit," she said.
Elder Services of Cape Cod and Islands senior services also sponsors a Thanksgiving Meals on Wheels program, and this year delivered 200 meals on Thursday, Nov. 16. Turkey, mashed potatoes, cranberry sauce and pumpkin pie were all on the menu.
Meanwhile, at his kitchen at the VFW in Oak Bluffs, chef Deon Thomas is continuing his 15-year effort to cook hundreds of warm meals for Islanders this Thanksgiving, an effort that has grown from a small holiday tradition to a massive community undertaking.
"We served 500 meals last year," Mr. Thomas said, with food and volunteer efforts from the Island Grown Initiative food pantry, as well as Vineyard Grocer and Morning Glory Farm.
Built on the foundation of an existing Thanksgiving program at the VFW, Mr. Thomas said his efforts were inspired in part by his experience making holiday meals for VFW regulars.
"The guys that sit at the bar, they would go to the pantry," he said, but often didn't have a kitchen where they could cook turkey or ham they received.
"Where's the best place you're going to go with it? You go to the 'V,'" Mr. Thomas said. "I'll take it and I'll roast it and I'll put it out for them to eat."
That effort has exploded since its humble beginnings, with Mr. Thomas and a host of volunteers preparing 42 large turkeys — roasted, barbecued, fried and prepared Caribbean jerk-style — along with a variety of side dishes.
"We do a full spread," he said, with mac and cheese, mashed potatoes, orchard stuffing and fresh-farm greens all on offer.
"It takes days of preparation, but thank god we put the word out and people volunteer," he said.
After the potatoes are peeled and the prep work is done, they fire up the ovens at 2 a.m. on Thanksgiving morning for the turkeys, "then we're off to the races."
"It's a lot of work," Mr. Thomas said, "but all in all, the community response is great, and I look forward to doing it every year."