Lynne Irons stood in the kitchen, plate in hand and eyes wide. It was dinner time on Lambert's Cove Road, but the Vineyard Haven gardener stood still, starstruck by the bowls heaped high with root vegetables, the pots of various sizes simmering on the stove and, the crowning glory, the roast pig nestled by backyard potatoes and sprigs upon sprigs of rosemary. Ms. Irons's was the hand that slaughtered it.
The smell in the room was intoxicating and, as she surveyed the scene, Ms. Irons seemed drunk on it. "You just can't buy a better dinner than this," she said before regaining her senses and plopping a forkful of marinated Allen Farm kale onto her plate. The kale, the pork, the pots on the stove — this was just the beginning of the dishes which crowded the table at the Slow Food Martha's Vineyard monthly potluck dinner and meeting last Thursday.
It was an evening dedicated to Slow Food, a movement which has grown in recent years to celebrate and preserve the uniqueness of local food, but Ms. Irons had to hurry to catch up with the other members. A platter of oysters from Katama Bay was empty and only grease stains remained on a plate which had, just moments before, been piled high with Island pork-filled dumplings.
Thalia Scanlan, a founding member of the group and president of the Community Solar Greenhouse (COMSOG), had volunteered her home as the location for this month's meeting and she laughed as she surveyed her kitchen. Guests ate standing up. They tore into loaves of bread to sop up juices straight from the pots. They reached over one another to snag the last spoonful of squash. One man was literally sweating. Yet, for such a crowded kitchen, the living room was empty. Not a soul dared to let the food out of their sight. "People never make it out to see the rest of the house," she chuckled.
The official Slow Food movement began in 1986, although anyone at the potluck would say the mentality embraced by the group is nothing new. "This is what I grew up eating," said Gail Tipton of West Tisbury. "When I heard about Slow Food, I just smiled and thought, 'Okay, they've just given it a name.'"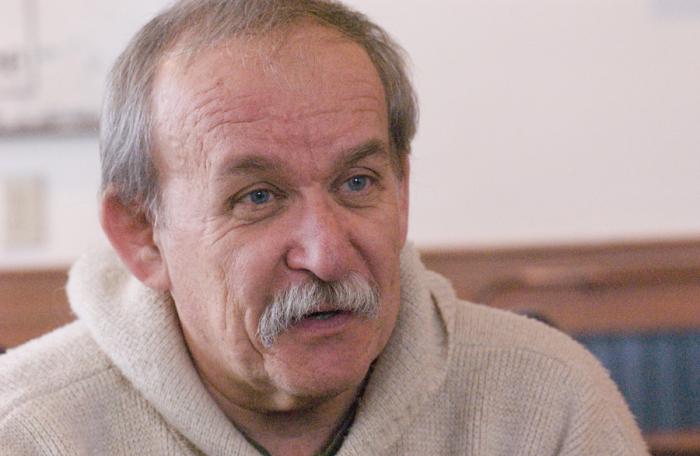 As he watched a new McDonald's restaurant open near the historic Spanish Steps in Rome, Carlos Petrini decided it was time to reach out and educate consumers about their food choices. Since then, his organization has grown to include over 83,000 members — 15,000 in the United States alone — in 130 countries.
The tradition of locally grown food runs deep on Martha's Vineyard. "Not that many years ago, we were self-sufficient for food on this Island," said Rick Karney, founder and, as of last week, former president of Slow Food Martha's Vineyard. Mr. Karney, now the group's vice-president, is the director of the Martha's Vineyard Shellfish Group. "It's deep in the bedrock here," he continued.
Elizabeth Germain, a personal chef and food writer living in Chilmark, agreed. "There's no supermarket open 24 hours a day here," she said. "People cook dinners regularly." Ms. Germain, former vice-president of the group, has taken over Mr. Karney's presidential duties. The two sat together on a cafe couch the day after the potluck dinner, both a bit bleary-eyed. The culprit was a chocolate cake, laced with espresso, which had rounded out the dessert offerings the night before. Neither had slept, yet both became absolutely animated as talk turned to food.
"If a society can control its food, it can control its destiny," Mr. Karney said. In 2004, the marine biologist was an invited guest specialist at Terra Madre, a conference in Italy for Slow Food members. He went having never heard the term Slow Food before. He returned a changed man. "I came out of that meeting thinking how important food is to a culture," he said.
Mr. Karney and Ms. Germain met shortly afterwards at a dinner of local foodies organized by Ali Berlow, executive director of the Island Grown Initiative, a group which also formed that same evening. Elsewhere on the Vineyard, other like-minded folk were working to open the FARM Institute in Katama. "The Vineyard was rich and ripe for this to happen," Mr. Karney said.
s
He and Ms. Germain soon realized they shared a similar commitment to food. Mr. Karney was raised in New Jersey where his father grew peaches in their backyard. "Those peaches," he mused. "I remember going out, picking one from a tree. They'd still be warm from the sun." Ms. Germain had similar memories of a childhood spent in Brooklyn, N.Y. Her grandfather made his own wine from grapes growing in their gardens. The two decided to start an Island chapter of Slow Food. They needed 20 members to begin, but soon discovered many Island residents — including Mrs. Scanlan, Abigail Higgins of the Martha's Vineyard Agricultural Society, local chef and author Cathy Walthers and Suzan Bellincampi, director of Felix Neck — were already members of the worldwide group. "We had no idea there were other Slow Food members on the Island, but there they were," Ms. Germain said.
The group began hosting monthly meetings, held on the third Thursday of each month and always conducted after a potluck dinner. The location rotates from house to house and members always bring a dish with at least one Island ingredient, their own plates and their own forks. The dinner provides an opportunity, even for those devoted to eating consciously and responsibly, to come together for a home-cooked, local meal. "There's so much more going on. People sit down in front of the TV and eat dinner," Mr. Karney said. "The solution is to bring people together over food."
In the three years since they formed, the group has continued their monthly meetings and has also hosted annual summer potlucks at the agricultural hall in West Tisbury. They have brought guest speakers, had vinegar tastings and sponsored film screenings. "There are two prongs to what we do," Mr. Karney said. "One is the celebrating of food and the second is the advocacy of bringing this to the larger community." The group promises many more events for the public in coming months including potlucks hosted on Island farms, displays at local libraries and a springtime walk at the Polly Hill Arboretum with wild foods expert Russ Cohen. "We want to do even more to bring food and people and inspiring speakers to the plate," said Ms. Germain.
"Part of what we want to do is show how people can actually play a role in this," Mr. Karney said. When not cultivating shellfish, Mr. Karney indulges his passion for gardening. In his backyard he grows tomatoes and blueberries and even kiwi. "But I'm not a grower," he insisted. "This is what I do in my spare time." Likewise, Ms. Germain believes every little bit counts. She does not have the space to plant a real garden at her home, so she does what she can, growing herbs, sprouts and wheat grass. She cooks with local food and takes time to enjoy the meals she prepares. "In the very end, it's celebrating that connection to the local environment particularly through local food and using the food to preserve cultures," Mr. Karney said. "It's about keeping those taste memories alive," Ms. Germain chimed in. "It's three words: Good. Clean. Fair."
The next potluck and meeting of Slow Food Martha's Vineyard will be at 6:30 p.m. on the first day of spring, March 20. Please call 508-645-9466 for location and directions.