Mermaid Farm meatballs, stuffed scallops with garlic, local beef pot roast, fresh vegetable lasagna, Morning Glory Farm corn and tomato salad, roasted beets, berry crisp, apple pie. Those were just a few of the mouthwatering dishes that filled the tables of the sixth annual Slow Food Martha's Vineyard potluck dinner Tuesday night.
Nearly 300 families and friends of all generations entered the Agricultural Hall in West Tisbury balancing food in one hand and a picnic basket hooked over the other. The evening was to benefit Slow Food MV, a chapter of Slow Food USA, which promotes sustainable and local eating. And it was a zero-waste event; everyone brought their own plates, utensils and cups; some even brought their own bottles of wine.
"This evening is about communities coming together for a thoughtfully put-together meal," Jan Buhrhman, vice president of Slow Food MV and a private caterer, told the audience of eager eaters. "It represents the joys and challenges of how our food came to our table."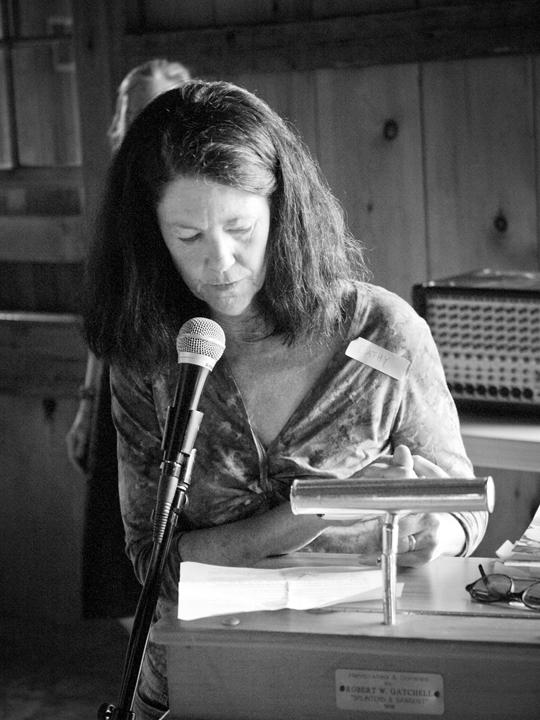 After handing off their pies, mashed potatoes, salads and the like to Slow Food MV organizers, people then searched in the grand hall for their dishes. It was the same feeling that will come in a month in that very location at the Agricultural Fair, wondering where their entrees may be displayed.
Julie Jaffe was setting a table for 10 of her family members and friends after she had handed over her baba ganoush and pita bread to the appetizer station. There were a few bottles of wine, sparkling water, coordinated place settings, and even a bottle of bubbly.
"It's great to see the growth of the idea," Ms. Jaffe said of her fourth time coming to the annual dinner. "I love seeing people who didn't know about it before get it."
While the dessert line was 50-deep at the end of the night, the real treat of the evening was cookbook editor and keynote speaker Judith Jones. Mrs. Jones discovered Julia Child and brought Mastering the Art of French Cooking into American homes. She has gone on to edit authors and cooks such as John Updike, Marcella Hazan, James Beard and Vineyarder Joan Nathan.
"Wasn't she amazing?" Ms. Nathan said of the keynote speaker. "She pushes you . . . but she lets you do what you want." Ms. Nathan's newest cookbook Quiches, Kugels and Couscous comes out in November.
"Do you really like garlic?" Mrs. Jones said her mother asked her as a child in their traditional New England home. "Yes, I had to admit I did. I was a lost cause," she recalled. Mrs. Jones spoke about her life in food, which started as a young woman living in Paris, where she lived from 1945 to 1948. "In France, cooking is an art," she said of writing home to tell her parents about her new passion. It was there she fell in love with the pleasures of eating, the French lifestyle and her future husband, Evan.
In one of many stories recounted, she remembered walking into a boulangerie in Paris where the baker was handing out pieces of bread to a joyous group of customers, the flour from the fresh bread dispersing in the air. When Mrs. Jones asked what was going on, she was told they were celebrating the return of white flour to France. Parisians had their treasured baguettes back, and all was well again in the world.
It was at this time after World War II, she explained, that Americans were coming back from serving abroad with open palettes ready to try new things. It was perfect timing for Mrs. Child's book, and Mrs. Jones continued to usher in new tastes over the past 50 years, adapting international cuisine to fit the American kitchen. "It's a great adventure," she said of her journeys in food. "It's never ending."
Mrs. Jones autographed two books during the evening: The Tenth Muse (with nine muses for dancing, astronomy, history and the like, she thought gastronomy deserved to be the tenth), and her most recent, The Pleasures of Cooking for One.
"Treat yourself well," she told the audience. "It's the best indulgence there is," someone responded. "You have only yourself to please," she added.
Ed Wessel brought his own books that Mrs. Jones had edited, including Mastering the Art of French Cooking. He thumbed to specific pages he wanted her to sign, recalling his first experiences cooking from them. Back at his table, Mr. Wessel uncorked his homemade wine.
"I was pretty excited to hear that she was coming," he said. "It's pretty cool."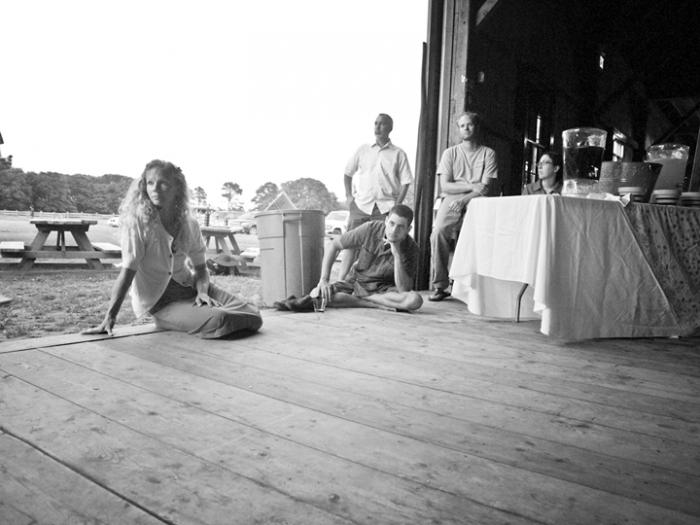 It was a convivial affair, as people chatted with neighbors and enjoyed a raw bar provided by the Martha's Vineyard Shellfish Group. There were designated buckets for empty shells as people slurped down icy cold cherrystones and oysters. "It's so uplifting!" one person said, the saltwater from a fresh oyster running down her chin.
There was homemade lemonade and iced tea with fresh mint.
"I love the annual gathering in this hall," Slow Food MV president Cathy Walthers said. "There's a great speaker and incredible Island food."
Brushing crumbs from faces one last time, diners headed out to the front porch of the hall to collect their serving dishes. Empty picnic baskets in hand, people left with full stomachs and happy hearts.