The worst-kept secret of the summer is out: the first family will return to Martha's Vineyard to vacation at the end of August.
The White House confirmed on Friday what Islanders in the know have been whispering for weeks now: a year after their much-hyped and ultimately anticlimactic first presidential visit, the Obamas will return to the Vineyard on August 19 for a 10-day vacation. The current plan calls for the Obamas to leave the Island on August 29.
Although the reports have been varied about where the Obamas will stay, at the moment the odds-on favorite location for the Summer White House is again Blue Heron Farm, the 28-acre estate in Chilmark overlooking Tisbury Great Pond where the family stayed for eight days last August.
Behind-the-scenes preparations are well under way on the Island for the president's return; members of the Secret Service have reserved blocks of rooms at local hotels and have completed advance work in preparation for the first family's visit.
Blue Heron Farm is owned by William Vandevender, a seasonal resident and Mississippi businessman. Mr. Vandevender rents the house out in August through the Edgartown real estate concern Wallace and Company.
Islanders remember well the hullabaloo attending President Obama's first visit as vacationers lined streets to ogle his speeding motorcade and businesses pushed presidential menu items and paraded T-shirts bearing his likeness. But the President's public appearances were limited to meals at the Sweet Life Café and Nancy's Restaurant in Oak Bluffs, as well as a bicycle tour of Lobsterville Beach and the Aquinnah Lighthouse before his vacation was interrupted by the death of friend and colleague Sen. Edward M. Kennedy. Mr. Obama and his wife Michele left the Vineyard to attend the Kennedy funeral and returned for another day and a half. The president appeared at Alley's General Store and Garcia's Deli and Bakery before leaving the Island on Sunday, one week after he had arrived.
Vineyarders expecting a more public visit by the President this year may be disappointed. In an e-mail to the Gazette yesterday, White House press spokeswoman Moira Mack said only: "Further details will be released at a later date."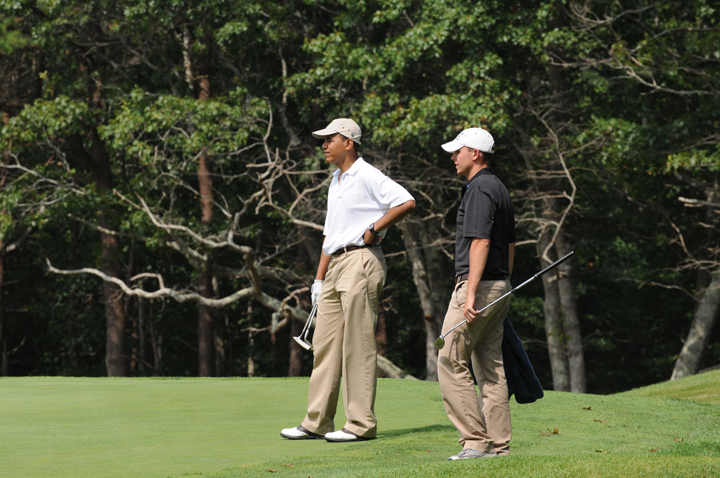 Sean Flynn, manager of the Martha's Vineyard Airport, was similarly taciturn.
"The president's coming in August?" he said yesterday. "I hadn't heard."
On the other hand Peter Martell, owner of the Wesley Hotel in Oak Bluffs which has accommodated Secret Service agents during each presidential visit going back to Bill Clinton's first visit in 1993, confirmed that he is renting a number of rooms to the agency, as are businesses around the Island although he would not disclose much more.
"They're very icky about info getting out, especially with this president," Mr. Martell said, "and justifiably."
He said he looks forward to hosting the Secret Service with whom he has built a considerable rapport.
"I've been dealing with them for 18 years," Mr. Martell said. "They're great. They come down, they do their job, they bring a lot of business and they take off."
On Circuit avenue, Sharky's Cantina bartender Tatiana Pavlenko could personally testify to the economic boost provided by the Secret Service. Although President Obama himself never dropped in to throw back one of their trademark Obamaritas, Ms. Pavlenko confirmed that Service agents were frequent patrons.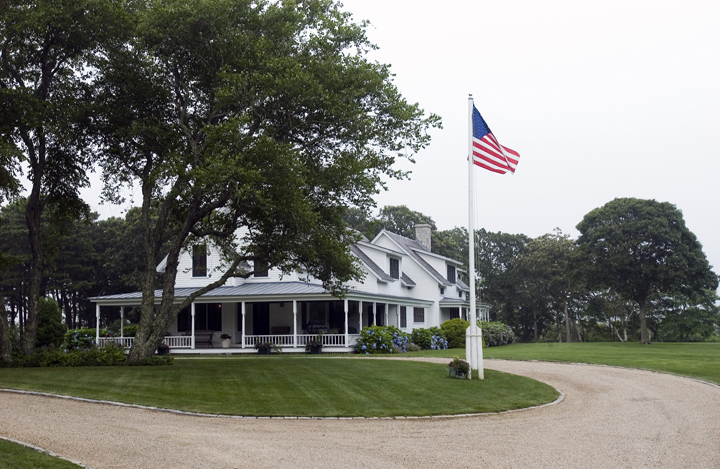 "The president's coming back?" Ms. Pavlenko asked excitedly. "Of course we will bring back the Obamaritas. People went crazy trying to see him when he was here," she said, adding that business benefitted from the crowds of hopeful spectators.
President Obama's first visit was received warmly by Vineyarders. And the Island, with its long history as a summer community for upper middle class blacks in the town of Oak Bluffs, seemed a perfect fit for the first African-American president in U.S. history. This time around, as word has leaked about the president's return, response has been more muted.
Karin Welch, who owns the Nautilus Gift Shop in Oak Bluffs as well as Waves T-Shirts and Gifts with her husband Christopher, said she is honored that the President would choose the Vineyard as a place to relax with his family. Last year she sold out of T-shirts commemorating his visit, but in what may be an indication of the more fractious political landscape, she said she does not plan to order more shirts this year, at the risk of seeming "too political."
"We're just kind of staying out of it," she said.
Vineyarders have gained a reputation over the years for their respectful and discreet treatment of visiting public figures (with the notable exception of former Defense Secretary Robert McNamara who was nearly tossed off of the Islander ferry by a furious passenger in 1972), and the Obamas have warmed to the Vineyard's easy charms over the years during visits to close friends and seasonal residents, including presidential advisor Valerie Jarrett and Harvard Professor and notable non-burglar Henry Louis Gates Jr., who both rent homes in Oak Bluffs.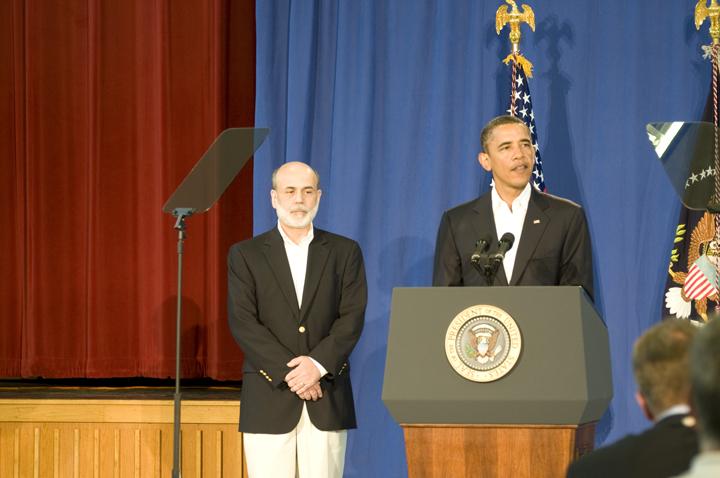 In their first trip as first family, the Obamas maintained a low profile compared to President Clinton and attracted a media circus that had little to do but compulsively check its collective Blackberry. From the makeshift press center set up in the Oak Bluffs School, national reporters labored to describe life outside the Beltway. Between the obligatory and sometimes embarrassing portraits of "local flavor" reports were mostly relegated to breathless analyses of half-seen drives through the trees of Farm Neck and interpretations of the muted cries of "Fore!" volleyed from the president's general direction.
The president did make at least one major policy decision during his vacation last year, though, in reappointing Federal Reserve Chairman Ben Bernanke from the improvised media room in Oak Bluffs amid the ongoing financial meltdown. Combined with the death of Ted Kennedy, the vacation was on the whole more eventful, and somber, than Mr. Obama may have preferred. Undoubtedly the president is hoping for a duller trip this year when it comes to international news, but that prospect may be unlikely in a still young but turbulent presidency in which oil rigs explode without warning, storied financial firms crumble and bombs echo in distant war-torn kleptocracies. As deputy press secretary Bill Burton admitted last year when he predicted a news-less vacation: "[It was] wishful thinking."