Photographer J. A. French (died ca. 1899) took many historic pictures of the Island during the years 1861-1898. Mr. French called his cottage Westmoreland, named for his New Hampshire birthplace. It was located on Wendell avenue in front of Twin Cottage in the Oak Bluffs Highlands, and just behind our family's cottage. When his house burned down some years ago, my uncle rescued some of his old photos from the ruins and others I have found at the Cheshire County Historical Society in Keene, N.H., where Mr. French's photographic studio was located. Among the collection are two of a footbridge over what was then Squash Meadow Pond (now Sunset Lake across from Oak Bluffs Harbor) and therein lies a mystery. What is that bridge all about? When was it used and for how long? I've unearthed some of the story, but several questions remain unanswered.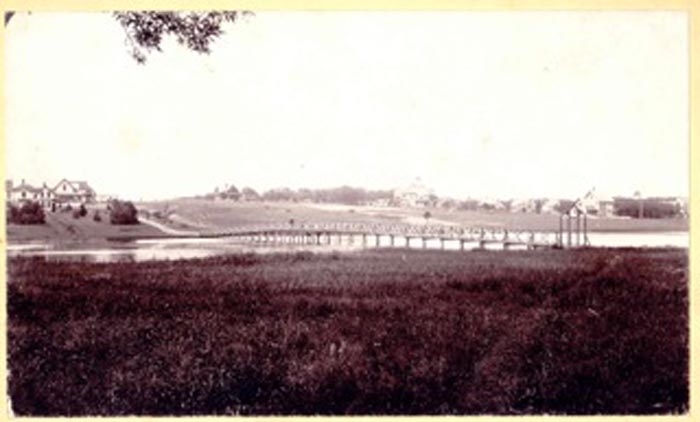 My mother used to talk about the "straight and narrow path" used by the Methodists to walk from Norris Wharf in Eastville directly to the Camp Ground. The goal was to avoid contamination from the sinful village of Oak Bluffs. I haven't found much information about either the Norris Wharf on the east side of Vineyard Haven harbor or about the path itself. Yet there are some clues. The path would have followed what is now Eastville avenue toward the Camp Ground, ending at the bridge located near the foot of what is now Simpson avenue, where there are still remnants of a paved foot path. When I asked, some of the neighbors along the way spoke of an easement beside their property but they knew no details. Between some of the lots there does appear to be an overgrown depression which might once have been the location of the path.
The assessors office in Oak Bluffs had no record of an easement, nor does the town clerk. Oak Bluffs would have been part of Edgartown at that time, and perhaps hidden in some storage closet there are yellowing papers that would provide more information. Or possibly in someone's grandmother's attic. I would be very curious if anyone has more information.
Philip Chapman lives in Oak Bluffs and Burlington, Conn.