If you are looking for a successful measure of the bay scallop season, which ended this week, the results can be found in large piles of shells in three down-Island towns.
There was a huge pile of shells next to a fish shack at the foot of Skiff avenue in Tisbury last week, as well as similar piles at the old Edgartown dump and in Oak Bluffs at Madeiras Cove. It was a good year, though there are many who have memories of better ones.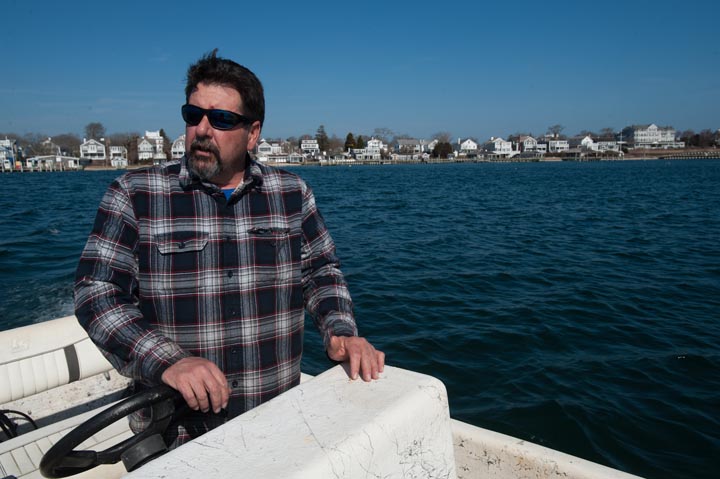 Edgartown leads the Island with the most landed this past winter, just under 5,000 bushels, said shellfish constable Paul Bagnall. There were over 80 commercial shellfishing licenses sold last year, and as many as 35 of them were out on any single day.
Tisbury came in second with under 4,000 bushels, three times better than a year ago, according to Danielle Ewart, shellfish constable for Tisbury. Thirty commercial fishermen fished through the season. A total of 73 recreational shellfishermen were out on Lagoon Pond on opening day, way back in November.
Oak Bluffs came in with half the number of bushels of Tisbury, fewer than 2,000 bushels. But Oak Bluffs barely had a commercial season the year before. Even more pleasing, Oak Bluffs scallop "meats" (the edible part) were bigger than Tisbury's bivalves and considerably bigger than those landed in Edgartown. Oak Bluffs meats, also called "eyes," were twice the size of those landed in Edgartown.
Chilmark had a lackluster season of 600 bushels, but those who were out felt grateful, primarily because their next-door neighbor, Aquinnah, had a small recreational season and no commercial season.
The retail price for bay scallops on the Island ranged from $15 to $25 a pound. It was often higher on the mainland. Last week, the price on the Island reached $25 per pound.
Bay scallops are the meat and potatoes of a winter economy for many Martha's Vineyard and Nantucket residents. The two islands still have the most viable fishery of the region, though there are indications it is slowly coming back on the Cape and in Long Island waters.
From October through March, more than 100 commercial shellfishermen on the Vineyard depend on the fishery to pay a lot of their bills. They leave the dock early in the morning and are usually back by noon. But their work isn't done. They spend the early part of their afternoon shucking their bay scallops to sell to wholesalers.
Shellfish constables put bay scallops at the top of their shellfish restoration and cultivation efforts.
Rick Karney, director of the Martha's Vineyard Shellfish Group, said while it was a mediocre year overall, there are some positive trends worth noting. Oak Bluffs shellfishermen not only did considerably better than last year, the town hasn't done so well in years. Sengekontacket Pond is showing some improvement, though it has been poor in the past, Mr. Karney said.
Lake Tashmoo also had a significant improvement over past years too, though it remains a fragile pond, he added.
Mr. Karney said he is pleased with the abundance of bay scallops coming out of Lagoon Pond, a pond that has troubles. "It is weird. This is a pond that in many respects is a failing pond. Nitrogen levels are high. But it can produce bay scallops," Mr. Karney said.
Sengekontacket has been dredged more than once through the years. It has two significant openings to the Sound, to provide flushing. But it still has a poor eelgrass population, essential to bay scallop habitat. Still, there are signs that the pond may be coming around.
Mr. Karney said he is disappointed in the shellfish coming out of Cape Pogue Pond, which is considered the most pristine of coastal ponds in the region and usually is the highest producer of bay scallops.The pond is responsible for most of the nearly 5,000 bushels landed in Edgartown, but Mr. Karney said the adults were small, almost too small.
Mr. Bagnall said there were plenty of bay scallop juveniles the previous year, which pointed to a good fall in 2011. But many of those animals didn't make it. Those that did were undersized. The counts were 100 animals per pound. For comparison, Oak Bluffs bay scallops were closer to 50 animals per pound.
Mr. Karney said he believes the undersized animals could be linked to stress from a rust-colored algae bloom, called Cochlodinium polykrikoides, that has been showing up for the last two summers in the pond. The algae bloom is not harmful to humans but it has been shown to be harmful to shellfish, by stunting their growth and possibly killing them. But local shellfish constables and scientists say it it is not harmful to humans. It has shown up in August, but it was also found in evidence in Sengekontacket Pond and Lagoon Pond last year.
It has been watched in Nantucket waters too. In the overall tally of bay scallops, Nantucket came out on top. Martha's Vineyard may have the better varsity football team, but Nantucket beat this Island for landings this past winter, again. As of last week, Nantucket fishermen had landed 17,300 bushels, according to Dave Fronzuto, marine superintendent. In contrast, the four Vineyard towns totalled 11,600 bushels.