In a dramatic reversal of fishing fortune, the last few weeks have offered the best squid fishing in years.
This has been a wonderful season for catching Loligo squid. Recreational anglers have been passing stories back and forth for weeks about the abundance of one of Nantucket Sound's most valued resources, which has been in decline or out of reach for years. On nearly any clear night, and even some rainy nights, Memorial Wharf in Edgartown hosts a gathering of squid jiggers. The numbers can range from one to more than a dozen. They usually gather around an hour after sun down.
Fishermen are hooking squid all along the Joseph Sylvia State Beach. They've caught squid at Bend in the Road Beach. They've caught them off the big and little bridges.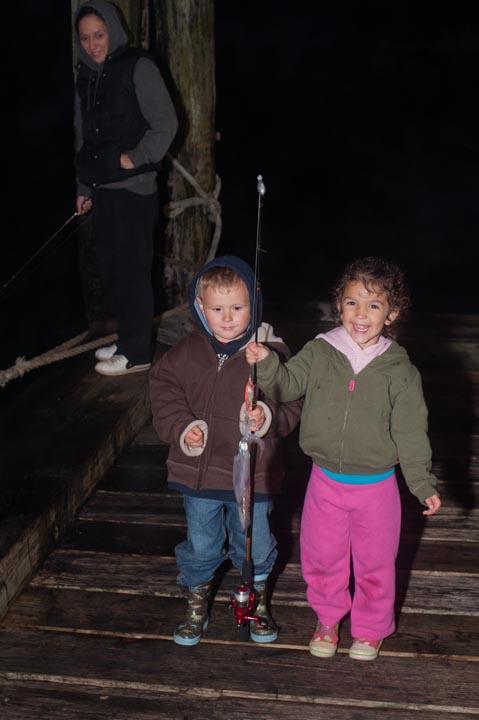 Ed Jerome, a charter fisherman out of Edgartown and the president of the Martha's Vineyard Striped Bass and Bluefish Derby, said it has been at least 25 years since he saw Edgartown Harbor with such a bounty.
It is customary for squid jiggers to show up well after sunset and fish from the docks, usually near or under a bright parking light. But this spring is so rich in squid, anglers are reeling in the creamy colored, transparent creature in broad daylight.
Last Sunday morning, a charter fishing boat loaded with at least five anglers came all the way from Hyannis to fish off the side of the boat a few dozen feet from Memorial Wharf. The side of the boat's yellow hull showed plenty of evidence of squid ink. Local anglers said there have been other boats coming here from the Cape.
"I've never seen Nantucket Sound so full of squid," said John Potter, captain of the party fishing boat Skipper, out of Oak Bluffs.
"I am hooked," said Mike Noonan of Vineyard Haven. Mr. Noonan was fishing Memorial Wharf on the night of May 16. He said he rediscovered fishing for squid the previous week and has been catching and eating squid through the week. "It is so tasty, fresh," he said.
Farther down the dock, there was 3 1/2-year-old Jackson Munson of Edgartown. The youngster, who never caught a squid before, wore a smile on his face that was almost as big as the squid he caught. He shared his enthusiasm with Lyla Patricio, 4, of Oak Bluffs.
Gregory Mayhew, co-captain with his son Todd of the Menemsha fishing boat Unicorn, has been out in Nantucket Sound, off and on for several weeks. He echoed the positive squid situation. "One of the dealers I unloaded with commented that he landed more in just the first few weeks of the season than he landed all last year," Mr. Mayhew said.
The commercial season in state waters is expected to close on June 9.
Steve Purcell of Larry's Tackle Shop in Edgartown said the squid fishing has been part of a great fishing season overall. Only in at least the last few days it has started to slow down, he said. He theorizes the decline may be due to the arrival of striped bass, which break up the schools of squid and consume some of them. dividing it up.
Last Sunday, this reporter watched during daylight as a school of what looked like squid were driven to the surface, chased by bigger fish. Mr. Purcell said he thinks the striped bass have entered the harbor and are dividing up the schools.
On one night a few weeks ago, squid were so thick at the Bend in the Road Beach that they were driving themselves up on the beach.
Prior to this year, Mr. Purcell said the Bend in the Road beach was one of the best kept secrets of spring. Fishermen have found squid near the shore for years. To catch a squid, Mr. Purcell said anglers should cast a slow sinking jig out and retrieve it slowly. "Reel it in slow. You'll catch a squid. It will fight like a fish and you'll reel it in," he said.
Once in a while, a striped bass will swim up to that squid, caught on a hook, and ingest it. In such instances the angler not only retrieves the squid, they get a nice looking striped bass too. "That has happened plenty of times," Mr. Purcell said.