With each shout of "Pull!" came a loud crack as the competitors tried to find their target at the Martha's Vineyard Rod and Gun Club's annual skeet shooting championship Sunday. With guns loaded, ear plugs in and glasses on, Bill Damora, Brian Reed, Laurence Clancy, Bill Shanok and Brian Welch hoped they had luck on their side as they sought glory in the competition's first flight.
Mr. Damora, last year's champion, was the man to beat on Sunday, but he pulled out another win, hitting 48 of 50 targets. Mr. Damora's second round was perfect and, barring a miraculous performance by his competitors in the second and third flights, assured him of victory. His secret to success? Classic rock. Mr. Damora dons headphones and jams to Steppenwolf and The Bog Men among others while he shoots.
Looking over Sengekontacket Pond with Beach Road traffic in the distance, the shooters used steel rounds as they aimed at biodegradable black targets — the better to protect the pond, which becomes the final resting place for these birds, commonly called clay pigeons. The wind added to the challenge of hitting the surprisingly small, spinning discs as they shot out of either the high house or the low house, and sometimes both at once at 45 miles per hour.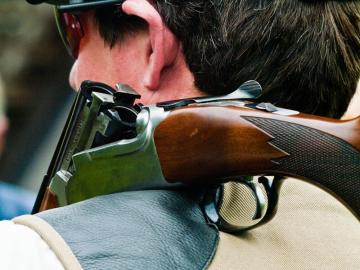 There was much talk of Kimberly Rhode's achievement at the skeet event at this summer's Olympics. Ms. Rhode shot 99 out of 100 clays to win gold and enter the history books as the first American athlete to win an individual medal at five consecutive Olympic Games. Sunday, however, saw no gold medals awarded. Instead, Mr. Damora received a hat emblazoned with the club's insignia, a plaque to take home, and his name carved on a separate plaque hanging in the clubhouse. Mr. Reed, who finished behind Mr. Damora with a score of 42, also received a hat. "You get a plaque, a hat, and an Atta boy!" said Mr. Damora before he began his second round. "It's just for fun."
Though talk was limited to the short breaks between shooters, the mood was jovial and good-natured. Rain began to fall just before 1 p.m., but the competition wore on. "Hardy bunch of guys here. All weather," laughed Mr. Clancy. "I didn't know De Lisle [Bob De Lisle, club president] meant it rain or shine," retorted Rick Carlson, who shot in the second flight, but kept a keen eye on his competition in the first flight. Mr. Welch, whose performance improved in the second round, was ribbed by Mr. Clancy. "You should've shot a practice round," he said. The afternoon felt less like a competition and more like a group of friends shooting the breeze, so to speak.
Mr. Reed explained some of the game's particulars to a Gazette reporter who, prior to Sunday had only shot an air rifle: "Some of these shells hold 500 BBs, but sometimes one's enough [to break the target]. Doesn't mean you were very good, but a hit's a hit."
Mr. De Lisle watched the competition from the clubhouse. "For the last 16 years we've had it, as far as I know," Mr. De Lisle said of the annual competition. The club presides over other competitions in trap shooting and fishing as well. Mr. De Lisle thinks of the club, which celebrated its 100th anniversary last year, as a sportsman's club because it offers so many activities. "We just put in a regulation horseshoe court," he said. Bows and arrows mingle easily alongside shotguns and rods on club grounds. "People can be doing different activities at the same time," Mr. Delisle said, adding:
"A lot of the people here are shooting better than they were 10 years ago. They're practicing better. They're training better." While not citing any discernible rivalries in the annual competition, he acknowledged that everyone wants to do their best, which pushes them to practice more. For Mr. De Lisle, skeet shooting presents an even playing field. Competitors of any size can shoot against each other, as it's skill, not bulk, that proves decisive. "You can be five feet two inches and 120 pounds, 110 pounds, and beat the pants off these guys."
With the first flight put away, Mr. Shanok took a moment to teach this reporter how to shoot like the best. With the gun butt resting on my shoulder and against my cheek, my feet planted firmly and my gun aimed up and ready to follow the clay, I yelled, "Pull!" He let me shoot twice and I hit both times.