Mushrooms are the richest and meatiest food I know of outside the animal kingdom. In the past few weeks, following a number of torrential rainstorms, mushrooms have begun popping up everywhere on the Island. On a visit to a friend's house off of Middle Road two weeks ago, friends and I stumbled upon a yard filled with chanterelle mushrooms and the black trumpet variety. We harvested the chanterelles first that day from underneath a maple tree, leaving the black trumpets to grow larger. They were delicately cleaned and made into a soupy ragout using leeks and butter, with eggs scrambled into them, and served as breakfast to friends; a family getting ready to say goodbye and others we ran into at the post office and invited that morning. These mushrooms are rare on the Island, and I would not have gone after them if I weren't with someone I trusted: Charlie Hallowell and Austin Holey, two incredible chefs, who spend vast amounts of time in the woods foraging for edibles in California.
I do not consider myself adept enough at mushroom identification to actively walk the woods looking for mushrooms to eat. But some very common varieties pop up on old oak stumps, in the elbow of live trees and in fields and meadows. I have enjoyed eating lobster mushrooms, hen-of-the-woods and chicken of the woods mushrooms plucked from places all over Chilmark. All mushrooms I know are greatly improved with the addition of butter. The most complete flavor is reached when starting with a hot pan of oil to achieve color on the mushrooms initially before they start to release their moisture into the pan. Once the mushrooms have purged their liquid and it has been cooked off, butter is added to the pan to bring all the complexities of flavor developed onto center stage.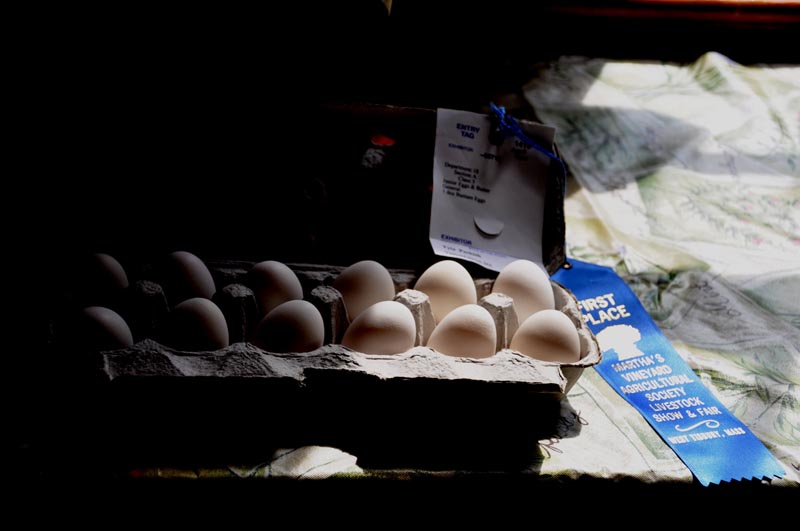 Mushrooms cooked like this, blanketing a freshly-grilled steak, provide a woodsy, creamy and complete topping to an already luscious dish. The char from the grilled steak is mellowed and married to the butter, giving it smoothness like the orange glow of a sunrise on the horizon over the ocean at Stonewall Beach. The different shades of orange make their way into the sharply-contrasting baby blue ocean, with clouds offering a blending point for the two worlds as seabirds play in the surf and fly low over the water. A seal occasionally bobs its head in the surf, inviting us in for a swim, and ducks bob up and down just outside the breaking waves. The sunrise melts into the ocean just as the butter melts down the side of the steak, creating something entirely new from the red juice of the meat. Each bite feels like diving into the ocean, popping out on the other side of a wave, knowing that you will be hit with another sense of delight in the next wave — or the next chew.
We returned to the same spot later that week with empty baskets and high hopes. We left with black trumpets overflowing and spilling all over the back of our car. We took great care to clean them, soaking them continually in water. We served them three different ways: over polenta, alongside soft-cooked eggs, and into a pasta sauce with crabmeat and copious amounts of thyme. I gave a handful of black trumpets to my friend Abbey, who cupped them in her hands as she sat in the driver's seat of her minivan and inhaled deeply to give herself a full immersion into their aroma. The smell evokes childhood memories of haylofts, getting lost in the woods and the smoky smell of a dwindling campfire on the beach. The mushrooms were eaten for breakfast, lunch and dinner. And when the last black trumpets were gone, it meant waiting and dreaming about the day that same spot would push up new fungus for us. If you find a good mushroom spot, remember where it is and visit it frequently, taking note of how quickly they return. The same varieties will most likely pop up in the same spot year after year.
My favorite mushroom meal that week was with crab and pasta. Just like the mushrooms' beautiful relationship with steak, when the brininess of crab is blended with the depth of the woods, something special happens. Chunks of crabmeat swam alongside slivers of mushrooms in a pool of butter. They splashed each other and body-surfed, playing like children in this warm broth as we slowly simmered them together. When starchy pasta water was added from our hand-cut fettuccine and the quickly-cooked noodles were dumped in, we tossed them vigorously and spooned it onto our plates with crispy bread crumbs sprinkled generously over the top. Eating it was perfection. The woods and the sea came together in the dish to create a balance. And those eating it were filled with a comfort and warmth deep inside their bellies and souls. When my plate was empty of pasta, I licked it clean and took in the last indulgent pools of sauce left behind.
We ate mushrooms and more mushrooms all week until they were gone and went to the fair on its opening night to ride the Ferris wheel, count our ribbons and play games. Every year my sister dunks the clown after my friends and I are unsuccessful. I won a giant stuffed bear by playing basketball that I gave to a 10-year-old girl named Turtle, and broke even on the quarter game set up in the corner for those inclined to gamble. I fished a quarter out of my pocket and without much thought dropped it into the slot of what should probably be an outlawed machine at a county fair; a different quarter was knocked off the ledge of the machine for me to play with again. But I fought the very human urge to press my luck and walked away with the cheap thrill of victory, savoring my new quarter.
---
Recipe for Sauteed Mushroom Ragu
1 pound mushrooms, cleaned and cut into strips
2 ounces olive oil
1 onion, minced
2 cloves garlic, minced
salt and pepper
1/2 stick unsalted butter
1/4 cup thyme, picked from stems
Get a large sauté pan very hot over high heat on the stovetop. Add oil and wait until it begins to smoke. Add mushrooms and toss to coat in oil. Cook for five minutes over high heat, stirring to get even color on them. Add onions, garlic and salt and cook for another 30 seconds; remove from heat and stir in butter and thyme. Serve over your favorite medium: polenta, pasta or eggs.
---
Roasted Mushrooms with Cherry Tomatoes and Basil
2 pounds mushrooms, left whole or cut into 1-inch pieces
olive oil
salt and pepper
2 pints cherry tomatoes
3 cups loosely packed basil leaves, washed and dried
Preheat your oven to 400 degrees. In a large mixing bowl combine mushrooms and tomatoes and season generously with salt and pepper, tossing with olive oil to coat them. Put in a large, heavy-bottomed baking pan and place into the upper portion of your oven. Cook for 20 minutes, remove from oven and toss to evenly distribute juices. Repeat two more times, cooking the mushrooms and tomatoes for a total of about an hour. Remove from oven and combine with basil leaves in mixing bowl, tossing well; check for seasoning and serve hot or cold.