Paul Curran, 48, of Vineyard Haven, won the Pat West Gaff Rig Race last Saturday. Mr. Curran was sailing his 32-foot wooden Bahamian smack called Mary Eleanor. Mr. Curran is a long-time figure on the waterfront, along with his boat and his first mate and co-owner Jill Walsh. The couple has been sailing the Mary Eleanor around Vineyard waters for many years.
Jim Lobdell, who is the co-organizer of the 15-mile race with Nat Benjamin, used to own Mary Eleanor and knew the person the boat is named for.
"It is so good Paul won," Mr. Lobdell said afterwards.
A gaff-rigged sailboat is distinctly old-fashioned. The sail is not a triangle. It is a four-sided sail, with a boom at the bottom and a gaff, a spar that runs along the top of the sail. Schooners and catboats and many varieties of sailing workboats from the 19th century used these sails.
Mr. Curran said he is proud of his crew of five and the green and pink colored boat. The boat was built in 1950 and has resided in Vineyard Haven harbor since 1974.
Mr. Curran said the race had an interesting and charged start. Everyone was prepared for a light breeze out of the north, from 5 to 10 knots, he said. But within minutes of the start, a fast moving cold front approached.
"It got squally. We had winds from 15 to 22 knots. Nobody was reefed. We were ready for light air. We were railed down," Mr. Curran said. "We went to Tarpaulin Cove and we had the wind behind us. We were pinching. We had to stay hard to the wind and not get swept by the current on the way back."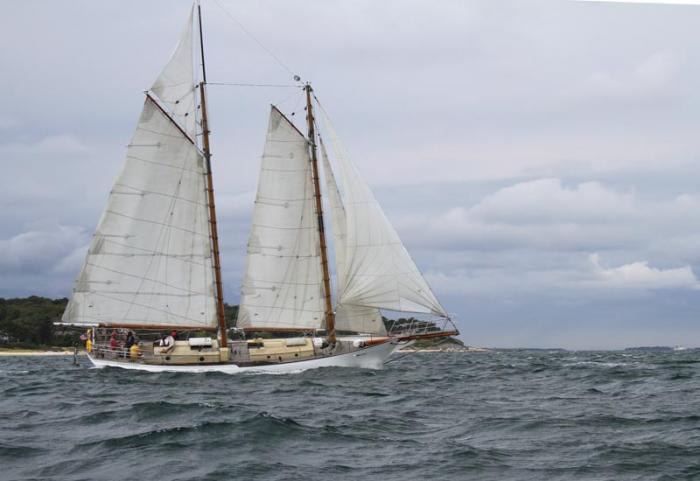 Coming back, Mr. Curran said they sailed closer to the North Shore side of Vineyard Sound. "We came up taking advantage of the back eddies behind Middle Ground. Then the wind got really light." Mr. Curran said a number of sailboats fell back without the much-needed air because of the opposing current. "When the wind came up again, we had a powerful finish."
Mr. Curran may have had another reason for doing so well. "We had a brand new sail," he said.
There were actually two races that took place on Saturday. In addition to the gaff rig race, there was the schooner race. The five schooners were Juno, Perception, Charlotte, Ishmael and Estrella.
Mr. Lobdell said that many of the schooners, but not all, qualified to com pete in both races. Brock Callen of Sail Martha's Vineyard helped officiate the start of the race, just off East Chop. He was in the Gannon and Benjamin powerboat Patrol. The start was at 11 a.m. All of the boats raced to Tarpaulin Cove and back. The schooner winners were: 1, Juno; 2, Perception; 3, Charlotte. The second and third place winners in the gaff rig race were: Perception and Charlotte.