While most of the regional high school's sports teams have been busy contending with league play and thinking ahead toward their final games of the season, the golf team was quietly securing a place in the Massachusetts Interscholastic Athletics Association tournament. The team's season ended Wednesday with a 38-18 match play victory over Cape Cod Regional Tech, but they locked up a tournament spot last Thursday, defeating Falmouth for their 10th win. The golfers finish the regular season with an 11-9 record.
Head coach Doug DeBettencourt has been guiding the Vineyard golf team for 16 years — this is his 10th year leading the varsity squad. A former golf pro at Farm Neck Golf Club, Mr. DeBettencourt took up coaching shortly after he started teaching math at the regional high school. He estimates he's taught "all but about two of the [current] team" this year.
"Doug's awesome," senior Andrew Hakala said. "It's a lot of fun being on the team." Andrew joined the team just this year, but is one of six players traveling to state sectionals this week. He'll be joined by fellow seniors Mike deBettencourt, Matt Marchand, Brendan Maseda and Justin Smith, as well as junior Kat deBettencourt (Mike and Kat are siblings, but aren't related to Mr. DeBettencourt). Smith and both deBettencourts are also competing in an individual tournament today on Cape Cod.
"It's a veteran team," Mr. DeBettencourt said of his players. Senior Mike Piland and junior Ben Lukowitz round out the upperclassmen on the team, while freshman Kaitlyn Marchand is the lone varsity freshman. Golf is one of only two sports at the high school (the other being sailing) in which teams are co-ed.
And like sailing, golf's home base isn't at the high school. Practices and matches are mostly at Farm Neck, although later in the season, the team moved to the Vineyard Golf Club in Edgartown.
"I'm really appreciative of the golf courses on the Vineyard," Mr. DeBettencourt said. "Giving their time, providing courses . . . they've always been so wonderful to the kids."
"A lot of people think it's easy to be on the golf team," he said. "But you have to be on your best behavior every minute . . . [there are] a lot of adults that are members that are playing to pay. It makes more of a difference than if you were just out on a field."
In addition to paying extra attention to surroundings, "It's mostly a head game," Mike deBettencourt said. "If you lose your mind, it's so hard to play . . . you have to stay focused and patient."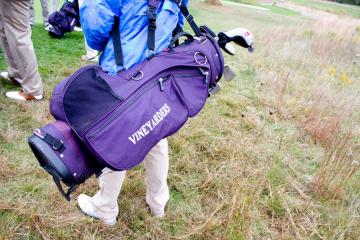 And seeing the results after putting in all the work is the best part of the game, said Kat deBettencourt ("We actually do practice," she said. "People think we don't practice.")
Mr. DeBettencourt noted that a shift in high school golf in the past decade from match play, when players go head-to-head during the nine-hole round, to medal play, when the lowest scores of each player on the team are tallied for a group score, has benefitted the sport.
"If you have a bad hole, you can't just say you lost the hole," he said. "So I think medal play leads a high school golfer to become a better player."
And better play in high school has far-reaching implications. The most satisfying part of coaching golf, Mr. DeBettencourt said, is that he's able 
to "help teach [the team] something they might be doing for another 70 years."
Golf, like math, is a lifelong game.