Roasted chicken is a comfort food I enjoy any time of the year. It is a simple pleasure that is accessible and easy for nearly all home cooks and provides a cost-effective meal for the whole family or for the individual with leftovers to be eaten for days and a carcass to be coaxed into a stock with endless potential. Even when purchasing a local bird for the average price of $5 a pound and up, the price per serving, with leftovers and soup included, is still in most shoppers' price range. Simplicity is always ideal for me and the better quality you start with, the less you have to do in the kitchen.
Roast Chicken and Other Stories, by Simon Hopkinson from England, is a beautifully-written recipe book that contains a recipe for roasted chicken that lives up to its top billing on the cover. He smears room-temperature butter all over the bird with herbs, lemon juice and garlic before placing it into a hot oven. What he ends up with is a uniformly golden and juicy chicken with great simple flavors brought out by the lemon juice and salt. Another even simpler method that I love came from Christopher Kimball's team at Cook's Illustrated. I have misplaced my copy of the recipe, though it is too basic to forget. Preheat your oven to 325 degrees, salt your chicken and place it into a heavy Dutch oven with nothing else, then cook for about an hour and 45 minutes. The chicken basically releases its juices in the pot, then as it continues on in the oven reabsorbs these juices as they concentrate and braise the meat. What you get is chicken that literally falls off the bone and falls apart in your mouth before even chewing.
Jonathan Waxman is the owner of Barbuto in the West Village of Manhattan who has cooked and owned more restaurants than I can keep track of, and his influence has trickled down to chefs on both coasts since the 1970s when he was earning his stripes at Chez Panisse in Berkeley. The roasted chicken that comes out of his wood-fired oven is pretty close to perfection. His restaurant cranks chicken out for lunch and dinner every day. And I can attest that if you eat at Barbuto on a warm day, with the garage doors flung open to the world, enjoying his chicken served with salsa verde and a bottle of ice-cold Vermentino Toscana, you will have a huge smile on your face.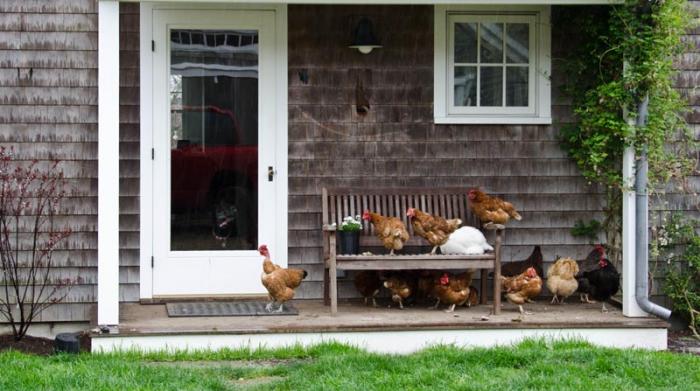 His chicken is great, the best I have ever had in a restaurant and nearly perfect. Perfection is hard to attain, and when it comes to a meal there are so many different influences that can nudge a meal toward greatness. I can say with confidence that the perfect chicken in my world comes from the oven of Kristin Maloney. Kristin is a longtime librarian at the Chilmark Public Library and Chilmark resident. Her son Kieran and I are about three months apart in age and we have been friends for at least 30 years. I have been eating at the Maloneys for as long as I can remember, and going over to their house for dinner means you will be treated to a fire in the wood stove and a house filled with mingling aromas of the meal to come.
I cannot claim to know the origins of her favorite chicken dish, as she is on vacation as I write this, but she has created the perfect balance of flavors and technique over the years that puts her roasted bird over the top. Kristin has always been conservative when it comes to the degree of heat used in cooking (Kieran and I used to joke that she would cook hot dogs over the pilot light; either way it took way too long to reheat this already cooked product). To cook her chicken, Kristin preheats the oven to 350 degrees, surprisingly hot for her, and places the chicken in a clay baking dish. A lemon is then squeezed over the top of the chicken then placed into the cavity; garlic powder is equally distributed all around, a half cup of water is added to the pan with an equal amount of tamari, and two white onions are quartered and placed around the bottom of the pan. The chicken goes in the oven and is basted thoroughly every 15 minutes for three hours. Yes, three hours!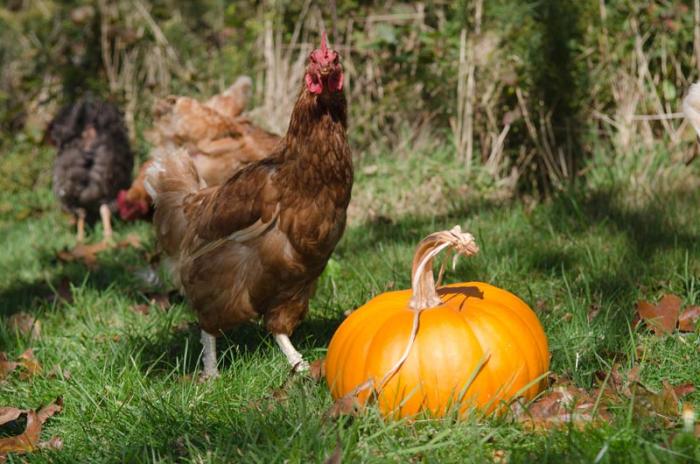 Kristin is not a trained cook, but she obviously is intuitive and has created a dish of great beauty and balance. No salt is added or needed. This is taken care of by the tamari that reduces and glazes the bird in the basting process. The garlic powder could be seen as a cheap and easy substitute for the real thing, but its deep, even, woodsy flavor would be hard to attain with cloves of garlic that would also pose the risk of burning during the extended cooking time. The chicken is essentially braised, and much like Christopher Kimball's recipe, the braising liquid comes from inside the bird during cooking process.
On the menu at the Italian restaurant I used to work at we served Sicilian Lifeguard's Calamari. When asked about the origin of the dish, the chef/owner admitted he had made it up and there was no story behind it. He just thought it sounded good and it did. I would have named this dish Librarian's Chicken. I have been fortunate enough to eat this dish many times, with each time offering a new gem to savor. She almost always serves it alongside a simple stuffing followed by a salad. The skin is golden and almost sticky, the meat has shrunk down significantly but the basting ensures that it is always moist. If I never eat another chicken in my life I will be sad, but count myself as one of the lucky ones who has had the chance to eat Kristen's chicken.
---
Recipe for librarian's chicken and stuffing.
Chicken
1 whole chicken, between 4 and 5 pounds
1 lemon
2 tablespoons garlic powder
1/2 cup tamari
1/2 cup water
2 onions, peeled and quartered
Preheat oven to 350 degrees. Place chicken in a heavy-bottomed baking dish big enough for onions to sit around bird. Squeeze lemon over the top of the chicken, season with garlic powder and add tamari and water to the bottom of the pan. Place onions around chicken and place in oven on lower rack. Baste the chicken every 15 minutes and cook for three hours. Allow to rest for 10 minutes before serving and do so alongside stuffing enhanced with onions from pan, followed with a salad.
Stuffing
5 cups of bread cut into 1-inch cubes, crusts left on
1/2 stick salted butter
2 cups celery, roughly chopped
3 cloves garlic, diced finely
2 cups parsley, leaves picked from stem
Black pepper
Preheat oven to 350 degrees. In a large saute pan set over medium-high heat melt the butter then add the bread. Toast on all sides, tossing frequently to attain even coloring. Once the bread is evenly toasted, about five minutes, add to a large mixing bowl with the celery and garlic. Toss well and place in a baking dish or casserole. Bake for 35 minutes, adding water from time to time to keep the stuffing moist. Remove from oven and allow to cool for five minutes. Return the stuffing to a mixing bowl, add parsley leaves, fresh ground pepper and onions from chicken dish. Check for salt and add as needed, serve hot.