What was once a conservative enclave has given way to a reliable liberal stronghold. And the place where Franklin D. Roosevelt reportedly earned the respect of Islanders (if not their votes) by caring more for his boat than he did for electioneering is now known as the summer vacation spot for presidents whose ice cream shop visits and golf games make headlines.
As around the country, the political landscape of Martha's Vineyard is ever shifting. There are some things people seem to agree on: the Island is home to a well informed and politically active population whose members take their passions from the town meeting floor to the ballot box.
And Islanders now tend to vote in large numbers for Democrats in national elections.
But town leaders, voters and elected officials add caveats: though politically involved, Vineyarders are an independent bunch who often look beyond party lines and passionately support issues they care about.
"I find really they march to their own drummer," said state Rep. Tim Madden of his constituents. "I think that comes from a bit of an Island mentality . . . [Islanders are] more self-sufficient, more aware of what's important to you because you live on an island."
Mr. Madden, a Democrat who was first elected in 2008, said Islanders tend to turn out to vote in large numbers, usually opting for Democratic candidates. But "they don't hesitate to vote for someone based on the individual as much as their politics," he said.
This recognition of the Island's independent spirit was echoed by others and shows in voter registration. For the September 2012 state primary (the most recent data available), 53 per cent of Dukes County voters were unenrolled.
Tisbury selectman Tristan Israel said that while it's true the Island trends Democratic, "I think the Island has a very involved, well-informed population, I don't think it's automatically going to vote Democrat."
"I think the biggest point, at least locally, it's more important what the people in office are doing for us than party affiliation," he said.
The truth is, a Democratic-leaning Vineyard is a relatively new phenomenon.
Gazette's archives, with voting data going back to the election of 1832 (Democrat Andrew Jackson, the eventual winner, supposedly got only two votes in Dukes County), show that for years, voters overwhelmingly favored Republican candidates.
From 1860, when the Island voted for Lincoln, to 1964 (1904 election results are missing), the Island consistently went for the Republican presidential candidate. Even John F. Kennedy did not win over Vineyarders in 1960: he got about half as many votes as Richard Nixon.
But in 1964, Mr. Kennedy's successor, Lyndon Baines Johnson, had the distinction of being the first Democratic presidential candidate (at least in the 20th century) to carry the Island. He beat Barry Goldwater by more than 1,000 votes. But the Island went back to favoring the GOP; in 1972, the Vineyard broke with the rest of Massachusetts and voted for President Nixon over George McGovern.
"The voters of sea-girt, rock-ribbed Republican Dukes County, the rocks progressively eroded in recent years by Democratic political tides, go to the polls on Tuesday to affirm or deny a traditional allegiance at national, state and county levels," a Gazette editorial said that year. The allegiance was confirmed, but the sands were shifting.
In 1976, Jimmy Carter won in every town except Edgartown and Gosnold, the two towns that consistently have the highest percentage of Republican voters. And since then, the Vineyard has gone Democratic in every presidential election, a change that some attribute to population growth and younger residents.
As the Island shifted politically, there were other social changes along the way. "Mrs. Henry H. Jernegan was the first woman in Edgartown ever to cast a vote for the President of the United States. Mrs. Jernegan's ballot dropped into the box when the polls opened Tuesday morning," the Gazette of Nov. 4, 1920 noted. In 1870, Gay Head had the vote for the first time.
Joseph E. Sollitto Jr., the Dukes County Superior Court clerk and a former Oak Bluffs selectman, said when he was first elected as clerk in 1976, there were rarely Democratic candidates for any local offices. He said Chilmark used to be very Republican. Rumor has it there was one Democrat in town during the 1930s and 1940s: the postmaster, who was appointed by a Democratic president.
One of Mr. Sollitto's roles is to certify county election results; at the Edgartown courthouse Thursday, he flipped through a book containing decades of results. He pointed out the sheet from 1980, when he said John Alley made history as the first Democrat elected to county office.
"Most of my friends tease me, saying I'm probably the only Republican they've ever voted for," Mr. Sollitto said."I get that from a lot of people."
But he sounded a familiar refrain: "On the Island, I don't think it makes a difference what your party is. People vote for the person."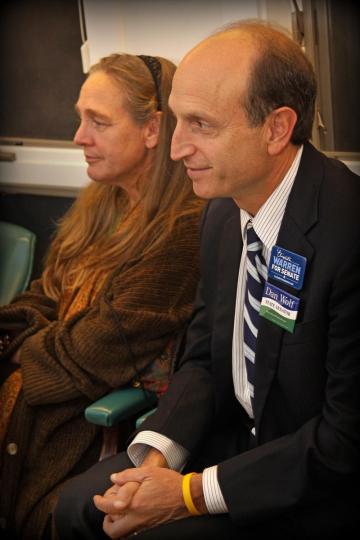 Marty Linsky, a professor at Harvard University's Kennedy School of Government, said in an email that while he hadn't taken a close look at the numbers, he assumed the Vineyard's partisan trend was a combination of a statewide transformation to an overwhelmingly Democratic state and "the Vineyard becoming home to a younger non-native crowd."
Others echoed the theme. "The population really exploded . . . a lot of new people, they bring with them their ideas." said Jim Powell, a West Tisbury Republican town committee member. "Politics swing like a pendulum."
He said he likes being a Republican on the Island. "It's really fun because you get involved . . . you really have to know why you are a Republican," he said.
Others see things differently. "I don't ever feel comfortable letting people know what I am on the whole Island," said Carolyn Flynn, the secretary of the Martha's Vineyard Republican Club and the chairman of the Edgartown Republican town committee. She noted awkward political discussions at church choir practices and a fear of putting stickers on cars or campaign signs in lawns.
"We have a lot of closet Republicans, and that's why," she said. Last May, the Republican club sponsored a party at John and Joan Potter's East Chop home, with 200 people in attendance. "We didn't even know half of them were Republicans," Mrs. Flynn said. "We had no idea, and they would come to the party and they would say, 'Oh, I didn't know you were a Republican!' Because everybody keeps kind of a low profile."
But bridging party lines, some say Vineyarders share a sense of political engagement.
"It's an extremely well-informed citizenry," said William D. Delahunt, who represented the Vineyard in Congress for 14 years. "It is a place where people give very thoughtful consideration to the issues, and it's a venue where debate and discourse are embraced. It's unlike the stridency that one notices elsewhere, not just in Massachusetts but around the country."
"I think part of it is the nature of the Vineyard itself, it is an Island and there's a real sense of community," Mr. Delahunt said this week from his Boston law office. "It's exceptional. And it was always exhilarating to campaign, to go on the Island to discuss issues and to listen to very well-informed opinions that were based upon facts and empirical data.
"I always, when I went to the Vineyard and left, I felt that it wasn't me just simply articulating my position on issues. It was adding to my education."
In the last 20 years, the Island has become famously linked with Democratic presidents: Bill Clinton vacationed on the Vineyard several times during his presidency, and President Obama and his family vacationed on the Island in 2009 and 2010.
The Vineyard had, of course, been visited by presidents before. Franklin Delano Roosevelt, the four-term president who never got a majority of the Vineyard vote, made an unplanned stop in the Edgartown harbor when he got caught in a squall while bound for Nantucket.
Vineyarders were said to have lined the docks in the drenching rain for a glimpse of the president aboard the schooner yacht. He did not greet the crowds, but instead was focused on the ship, a Gazette article said.
"The Vineyard is, as always, nautically-minded," the article said. "There was little that a president or other man might do which would so impress a Vineyard crowd as that simple deck inspection made by FDR. The action of a man who was sea-wise and not content to relax until he had seen for himself that all was shipshape aboard."
The stories about presidential visits bely a more passionate interest in politics.
"There is such community interest in politics, no matter the level, whether it's local or state or federal," said West Tisbury selectman Cynthia Mitchell. "It is always a hot topic."
"I didn't have that sense in other places that I lived," she said. "I think people's interest on the Vineyard . . . is really supported and fed by involvement in the local scene. And in Massachusetts and in New England where town meeting is the form of government, people are much more naturally involved in the local political scene, so there's kind of a relationship between the interest in local and politics on higher levels.
"Everybody has an opinion, every day . . . so why not have it about national politics as well?"
Islandwide and on a more national level, "obviously issues involving transporting of people and goods to the Island are very important to us," Mr. Israel said.
Mr. Madden said he gets feedback from Islanders "on a bevy of different topics," including health care, the economy, the environment, agriculture and the fishing industry. "People seem to really pay attention to their own focus points," he said. "They are well-informed and educated about issues that are most important to them."
One of the primary local issues is the environment, he said, though he also hears concerns about the economy. "Quality of life and how to take care of their fellow Islanders, health care issues . . . once again because there is kind of a factor of having to take care of your neighbors, so to speak, more because of the isolation."
Mrs. Flynn concurred that the economy is a key issue for both local and national races. "Economics I think are very important to the Island. If people don't have money there are not going to be tourists, and we depend a whole lot on the tourist industry. And if we don't have people with money, we're not going to be building big houses," she said.
"Vineyarders are understandably and incredibly conscious of environmental issues, and so those energy and climate change I think have huge importance," said Mrs. Mitchell, who is involved in Democratic politics."People are very possessive of the Vineyard environment and protective of it," she said.
For the 1908 race between William Taft and William J. Bryan, Capt. William M. Randall (once the master of Vineyard Haven bumboat Susie D.) supported Mr. Bryan, while John E. White, president of the Martha's Vineyard National Bank, "was all for Taft," according to the Gazette. When Mr. Taft won, Captain Randall paid the bet by making a tour of the town wheeling Mr. White in a wheelbarrow from the corner of Main and Union streets, down to Water street and back to Union. "A band followed the bettors, and automobiles and pedestrians did all they could do to add a festive note," the Gazette reported. More than a century later, though the political tides have turned, neither political passions nor a willingness to get beyond them seem to have ebbed. "We're used to disagreement, we go to town meeting and we duke it out and we live together . . . it's understood that people will disagree politically," said Mrs. Mitchell. "It's politics. There's something a whole lot deeper that binds us together."