Jesse Sylvia took second place in the 2012 World Series Poker Wednesday morning after a marathon all-night session. The 26-year-old West Tisbury native won $5.29 million in prize money. Throughout the contest Mr. Sylvia stayed within striking distance of the eventual winner and new world champion, Greg Merson.
A large group of friends and fans traveled to Las Vegas to watch the match, including his family. Marlene DiStefano, Mr. Sylvia's mother, lost her voice after the nearly 12-hour event.
"I did lip cheers tonight because no voice would come out," she said. "I'm so proud. My son did so well. It was his dream and it was such an accomplishment."
Ms. DiStefano sat in the front row of the Vineyard crowd along with the rest of Mr. Sylvia's family, including his father Wayne Sylvia and sisters Randi and Nica Sylvia.
Adrian Aristide, Islander and long-time friend of Mr. Sylvia's, traveled to Las Vegas from Amsterdam, Netherlands.
"I came here for this," she said in a telephone interview. "It's been ridiculous. No water, no sleep, no food, just Jesse."
The final hand was dealt at 8:45 a.m. (EST) almost 12 hours after Tuesday night's final table began. According to ESPN, it was the longest main event final table ever held in Las Vegas with a total of 399 hands being played.
"Greg [Merson] went all in and everyone was standing up and freaking out," said Ms. Aristide of the final moment. "They showed the flop, and it just wasn't for us."
The world series tournament began in early July, initially narrowing the field of 6,598 players down to nine, with Mr. Sylvia in the lead when the tournament took a two-month hiatus. On Oct. 29 play resumed and Mr. Sylvia secured a spot as one of the three finalists.
The three remaining competitors, Mr. Merson, Mr. Sylvia and Jake Balsiger, began playing the final round on Tuesday at 9 p.m. (EST) and played a roller-coaster competition throughout the night, swapping chips back and forth and each taking turns as chip leader only to be bumped back again. After eleven hours of play, Mr. Balsiger ended his run and it was head-to-head play between Mr. Merson and Mr. Sylvia.
Mr. Merson, who held his place as chip leader for the majority of the event, continued to climb his way up the chip ladder, and within an hour of Mr. Balsiger's exit took all of Mr. Sylvia's chips.
But even in defeat, Mr. Sylvia's cheering section did not stop.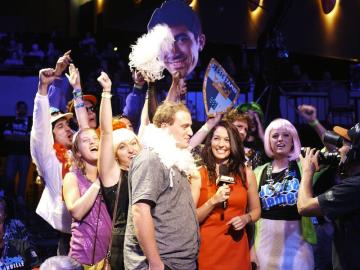 Ben Hughes, Islander and friend, could be heard blasting his trumpet in the stands, and many others wore matching black shirts with Jesse James (his middle name) written on them. The crowd started numerous chants, from simply "Jesse" to more creative endeavors like "Buy the Ritz!", a reference to a bar in Oak Bluffs.
Nate Thayer, also an Islander and long-time friend, said the group of Vineyarders wanted to make it known that Mr. Sylvia had the best cheering crowd. Commentators repeatedly spoke of Mr. Sylvia's enthusiastic group and even dubbed him Martha's Vineyard's Hero.
"It's like the most competitive sport money-wise," said Mr. Thayer. "Yet there wasn't animosity in any of the plays. It's a community, everyone was cheering for each other."
Ms. DiStefano said she thinks the support from his friends and family helped fuel her son forward to second place.
"That carried him a lot," said Ms. DiStefano of the crowd. "To have that much love. It was something we'll never forget, that's for sure."