Anything can happen in the movies, and the same could be said for a movie store — particularly if that store is Island Entertainment.
Longtime manager Jamie Alley's DVD of choice for the last hour of business each night is typically an old Saturday Night Live episode.
"It's a good way to fill the last hour, and it makes me laugh before I go home," he said in an interview on Tuesday.
"So I just put it on [one night]," Mr. Alley continued. "And around the corner comes Dan Aykroyd . . . I'm like, 'Oh, you're going to be on TV in three seconds.'"
This is not an experience easily replicated browsing for movies on Netflix.
It's this aura of quirkiness and sense of the unexpected that has helped Island Entertainment transition from the era of VHS tapes to an age when digital streaming rules nearly all, and the idea of a physical store space devoted to renting movies seems as dated as a cord attached to a telephone. With its forthcoming move from its current location next to Cronig's in Tisbury to a space in the new RadioShack building across the street, the business is taking steps to ensure it does not end up on the cutting room floor.
The impetus for the move is much the same as that of Bunch of Grapes bookstore, which relocated in May to a smaller space. Island Entertainment is downsizing from a 2,000 square foot location to a 1,600 square foot space. The smaller premises means less rent to pay, bringing down the overall costs of running the business.
"Even though business is realistically winding down, I think if we can just keep compressing what we have, there's still people who will come," owner Anne Evasick said.
Ms. Evasick took over the business in 2005, purchasing it from then-owner David Sears. Island Entertainment itself was founded 26 years ago, in 1986, by Bob Dutton, a former employee of Ms. Evasick when she was managing the Vineyard movie theatres. Mr. Dutton opened the store on Union street in Tisbury in a "very small little spot," Ms. Evasick said. He added a music section, which continued when the business moved to State Road in 1989, but it eventually went the way of the cassette.
But the movie rentals continued.
Summer draws the largest crowds of renters, but Academy Awards season also sees a peak. Movies that have screened at the Martha's Vineyard Film Festival and the Martha's Vineyard International Film Festival have their own sections on the store shelves.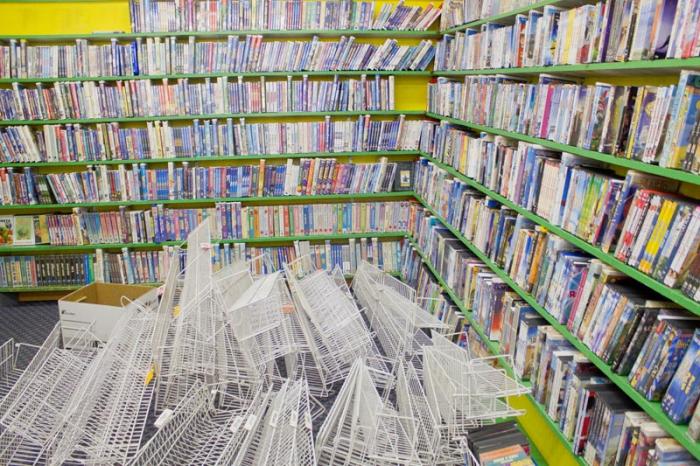 "I think we keep going because we have a really extensive library," Ms. Evasick said. "People who are film buffs know that they can find what they're looking for."
There are over 27,000 titles in Island Entertainment's vast library — and 27,000 display cases, making 54,000 parts that need to be moved across the street. The titles are not of the stock variety found in the Blockbusters of yore (although Jaws, the first blockbuster, is the store's biggest rental in the summer). What other video store offers a complete aisle of foreign releases so well-stocked that it has sections for Scandinavian (Danish), Scandinavian (Icelandic/Finnish), Scandinavian (Norwegian), and Scandinavian (Swedish)?
"We can pull out a few obscure movies for you," Mr. Alley deadpanned.
"It's a much more sophisticated filmgoer here [on the Island]," Ms. Evasick said. "We have the audience for it."
Foreign films, independent releases and documentaries keep large numbers of customers returning to the store, but the massive television section is also a huge draw. Current favorites like Mad Men and Homeland share space with HBO dramas, Canadian sitcoms, two shelves worth of British programming, and a surprising number of series from the dawn of the TV era.
"I'm a vintage TV nut," Mr. Alley said. "You're talking to someone who owns all the Irwin Allen series, plus I think I have every season of Bewitched, and Mission Impossible, and all that crazy sixties stuff."
And although there is a considerable selection of Blu-Ray titles available, Island Entertainment still holds on to many of its VHS tapes.
"Like books, [movies] go in and out of print," Mr. Alley said, and not all VHS titles have been released in digital format. Rights issues, generally regarding music use or original authors' estates, have also hindered digital releases, making the analog backup all the more important.
"We like to have our [well-known] stars filled-up, so we keep a lot of their tapes and stuff," Mr. Alley said. "So when you get nominated for your Academy Award, we can say 'Hey, we know who you are, we know where you came from . . . Jennifer Aniston in Leprechaun."
"You're not fooling us, Brad Pitt in Cutting Class," Ms. Evasick added.
Ms. Evasick isn't kidding when she says she's seen "everything from 1978 to 1991." She managed all of the Vineyard movie theatres during that time, including Edgartown, Capawock, Island and Strand, and watched all of the releases that came across the screen. Movies stayed in theatres far longer then, testing the stamina of even the most die-hard fan. By the end of E.T.'s 27-week run, Ms. Evasick said, "I wanted to boot the little critter into outer space. "
Occasional alien overdoses aside, Ms. Evasick is in the business of renting movies because she loves film.
"It's just storytelling, it's wonderful storytelling," Ms. Evasick said. "And when it's done well, there's nothing like it."
"We know so much about movies [here], we're so passionate about movies, and the people who come in realize that," she said. "They want to be a part of that."
Ms. Evasick, Mr. Alley and Chelsea McCarthy are the core staffers at Island Entertainment, with Ms. McCarthy's sister Paige and Elliott Morris making cameo appearances. Their combined cinema knowledge is formidable.
Another of Mr. Alley's favorite stories is of a dinner bet he once had to settle between two couples, who called from New Jersey seeking the input of a pro. In a scene that could only happen in the pre-Wikipedia era, Mr. Alley found himself racking his brain to figure out "which Alan Ladd movie was the one that gave him away as an American spy in New York because of his table manners." The answer he provided, for anyone looking to win their next Trivial Pursuit game, is 1946's O.S.S.
"I think between the two of us . . . Jamie being such a fan of the thirties and forties and fifties stuff, we've got a lot of these movies covered," Ms. Evasick said. "We really have seen a good percentage of what's going on the shelves."
So when actor Gabriel Byrne stopped by with a list of 14 films, Ms. Evasick "went around and picked every one off the shelf and handed them to him."
"He said, 'I've never seen anyone do that without a computer,'" she recalled.
But Ms. Evasick admits that even with her extensive mental catalog of the stock, there are still hidden gems in the library.
With the upcoming move, she said, "I am sure we're going to find stuff we didn't know we had."
Island Entertainment's new location is 426 State Road, across the street from their new location.