Martha's Vineyard followed the mood of the state and the country Tuesday when thousands of voters trekked to the polls to help re-elect President Barack Obama to a second term and cast ballots for Democratic Senate candidate Elizabeth Warren and incumbent Cong. William Keating.
As around the state and the country, voters in Dukes County turned out in large numbers. County-wide, turnout was about 80.5 per cent, with 11,003 voters casting ballots as of Wednesday morning (overseas ballots could still come in over the next 10 days). Turnout was highest in West Tisbury, with 83 per cent, and Tisbury, with 82 per cent of registered voters casting ballots.
The day was bright, sunny and autumn-like with temperatures in the high 40s. Lines began forming at Island polling places early in the day, and from Aquinnah to Edgartown campaign supporters stood outside polling places hold signs or sitting in lawn chairs, sometimes with dogs and children. In West Tisbury, Ari Dagostino, one day shy of his first birthday, emerged from the polls bundled in a stroller being pushed by his mother, a red, white and blue "I voted" sticker displayed on his fuzzy jacket.
President Obama garnered about 72 per cent of the vote, with 7,955 votes, compared to Mr. Romney's 2,789 votes, which represented 25 per cent.
The Island joined the rest of the state in backing Elizabeth Warren for Senate, with Ms. Warren getting 67 per cent of the vote. Incumbent Sen. Scott Brown, who was unseated by Ms. Warren after one special election term, got 32 per cent of the Vineyard vote.
In July, Ms. Warren came to the Vineyard to meet voters and speak at the Old Whaling Church. In an interview with the Gazette staff she said the legacy of the late Sen. Edward M. Kennedy, whom she worked with on bankruptcy issues in the 1990s, looms large for her.
"It inspires me, but it inspires in two ways. It inspires me in both the aspiration — look at Ted Kennedy, and it's like, wow, look how much good you can do . . . and it makes me feel very humble. He had incredible gifts. And so the best I can say is I just think of it in terms of keeping my heart true. If the question is can I measure up to Ted Kennedy, I'm not sure anybody could. But I can promise I can try to be true to what he did. I promise I can work as hard. I promise I can keep the vision inside,
because that's what he did." In the ninth district congressional race, incumbent Cong. William Keating was re-elected with 70 per cent of the vote. Challenger Christopher Sheldon got 20 per cent of ballots, and independent candidate Daniel Botelho got four per cent.
In the race for first district governor's council, Oliver P. Cipollini, Jr., a Democrat, defeated his brother, Charles Cipollini. The Island voted with the rest of the district, opting for Oliver Cipollini over his brother by 57 per cent to 25 per cent.
Elected without contest were state Sen. Daniel A. Wolf, state Rep. Timothy R. Madden, clerk of courts Joseph E. Sollitto Jr., and register of deeds Dianne E. Powers.
In Chilmark, a few voters voted for some unorthodox third parties: there was one write-in vote for striped bass, and another for Zorro.
The Vineyard said yes to all five ballot questions, going along with the state in approving the Right to Repair bill by 78 per cent to nine per cent, and approving the medicinal marijuana question 71 per cent to 25 per cent. The physician-assisted suicide ballot question was approved on the Island by 64 per cent to 32 per cent, though voters statewide ended up defeating the question.
Nonbinding ballot questions urging the Island's state senator and state representative to ask Congress to affirm that corporations are not people and place limits on political contributions were approved with about 70 per cent of the vote.
More locally, the Martha's Vineyard Commission will have three new elected members, though the results from Tuesday's vote show a heavy preference for commission incumbents.
Voters elected nine commissioners in Tuesday's election; current commissioners John Breckenridge, Christina Brown, Doug Sederholm, Linda Sibley, Camille Rose and Erik Hammarlund were elected. Ms. Rose was an appointed member of the commission, while the others were candidates for re-election.
They will be joined by newcomers Clarence (Trip) Barnes 3rd, Madeline Fisher and Joshua Seth Goldstein.
Fourteen candidates were running for nine at-large seats; under the MVC enabling legislation, at least one and not more than two commissioners are elected from each of the six Island towns. Susanna Sturgis of West Tisbury received the eighth highest number of votes, but with two other West Tisbury candidates receiving more votes, she was eliminated.
Ms. Brown was the top vote-getter on the Island, with 5,075 votes, followed by Mr. Barnes with 4,841 and Ms. Sibley with 4,577.
Towns tended to vote most for native candidates: Ms. Rose was the top vote-getter in her town, Aquinnah, and Ms. Brown got the most votes in Edgartown by more than 200 votes. Mr. Breckenridge was the most popular vote-getter in Oak Bluffs, and Ms. Sibley carried West Tisbury. Mr. Barnes was the top candidate in Tisbury, and Mr. Sederholm in Chilmark.
After the election Mr. Barnes said he was excited to take his commission seat and happy about the support he got from voters.
"A lot of people are opposed to the commission and they think it's a has-been," he said Thursday. "I'm inclined to agree with them because it's not being used properly." He said he saw a lack of consistency in the commission's decisions and wanted to see more commissioners who understand the Island.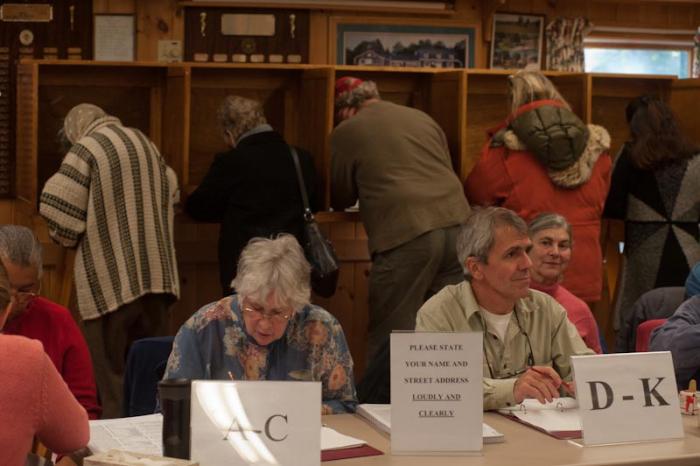 "There's not a school that can tell you what's right for the Vineyard and what's wrong for the Vineyard," he said.
"I might be able to turn the right page," Mr. Barnes added. "I hope there are people there I can work with." He said he was happy to see Mr. Goldstein elected. "It's nice to see a young person jumping in."
In the race for Dukes County commission, five people were running for seven seats. John S. Alley, Thomas J. Hallahan, Tristan R. Israel, Melinda F. Loberg and Leon Arthur Brathwaite are all assured seats on the commission, and write-in candidate Christine Todd received more than 130 votes; 25 votes were needed to be considered for the seat.
Mr. Alley was the top vote-getter with 6,541, followed by Mr. Israel with 5,797 votes.
The first county results Tuesday came from Gosnold, the chain of Elizabeth islands and smallest town in Massachusetts. There, Mr. Obama got 56 per cent of the vote with 49 votes.
And in a reversal of Mr. Brown's fortunes in the rest of the state, he won Gosnold, though narrowly: 44 votes to Ms. Warren's 43.
Two Vineyarders were elected to office in other states as well on Tuesday. Lizzie Dickerson (Elizabeth E. Dickerson), a 1982 graduate of the Martha's Vineyard Regional High School, was elected to the Maine house of representatives, with 71 per cent of the vote. She is the daughter of Michele Jones of Oak Bluffs and the big sister of George Oskan, Nina Violet and Marciana Jones of Martha's Vineyard and May Oskan of San Francisco.
In New Hampshire, David Borden was elected to the house of representatives. He is the brother of Jemima James of West Tisbury and uncle to Willy and Sam Mason.
For more Election Day photos, click here.
Election Tallies By Island Towns
| Race | Aquinnah | Chilmark | Edgartown | Oak Bluffs | Tisbury | West Tisbury | Island |
| --- | --- | --- | --- | --- | --- | --- | --- |
| President | | | | | | | |
| Obama and Biden, Democrat | 251 | 585 | 1,699 | 1,955 | 1,845 | 1,571 | 7,906 |
| Romney and Ryan, Republican | 38 | 127 | 827 | 795 | 595 | 371 | 2,753 |
| Stein and Honkala, Green-Rainbow | 6 | 8 | 14 | 16 | 29 | 16 | 89 |
| Johnson and Gray, Libertarian | 2 | 7 | 22 | 15 | 16 | 17 | 79 |
| | | | | | | Total | 10,827 |
| Senator | | | | | | | |
| Scott P. Brown, Republican | 59 | 176 | 1,048 | 958 | 747 | 485 | 3,473 |
| Elizabeth A. Warren, Democrat | 238 | 550 | 1,509 | 1,807 | 1,731 | 1,486 | 7,321 |
| | | | | | | Total | 10,794 |
| Representative | | | | | | | |
| William R. Keating, Democrat | 243 | 564 | 1,662 | 1,868 | 1,788 | 1,512 | 7,637 |
| Christopher Sheldon, Republican | 44 | 102 | 645 | 597 | 469 | 307 | 2,164 |
| Daniel S. Botelho, Independent | 12 | 33 | 113 | 127 | 109 | 67 | 461 |
| | | | | | | Total | 10,262 |