When Scott DiBiaso and his crew sailed the 65-foot schooner Juno out of Vineyard Haven harbor on Wednesday, Nov. 14, they had a single reef on the mainsail along with a fore staysail. Even with a conservative amount of sail exposed to the cold wind, the 25 knots of northeast breeze pushed the vessel from West Chop, down Vineyard Sound toward Aquinnah at a fast 12 to 13 knots. They were helped along by a three-knot current. It was cold and unlike summer sailing.
The crew was bringing the boat to St. Barts in the Caribbean, a trip Mr. DiBiaso, 40, of West Tisbury has been taking for the last nine years as captain of the Juno. The schooner is owned by Vineyard summer residents who also live in New York city. The trip south is part of an annual fall migration for many local sailors, echoing the movement of birds each autumn.
"There are boats leaving Newport and heading south all the time," Mr. DiBiaso said, just back from the Caribbean for a couple of days. On Tuesday he sat with the Gazette and talked about his trip. Juno was launched nine years ago, the largest schooner built by the Gannon and Benjamin Marine Railway. She can make the trip from the Vineyard to St. Barts in eight days of sailing, with a short layover in Bermuda.
Despite advances in marine technology and modern sailing, deep water sailing is still a unique experience. The sail to Bermuda, the first leg of the trip, took three days.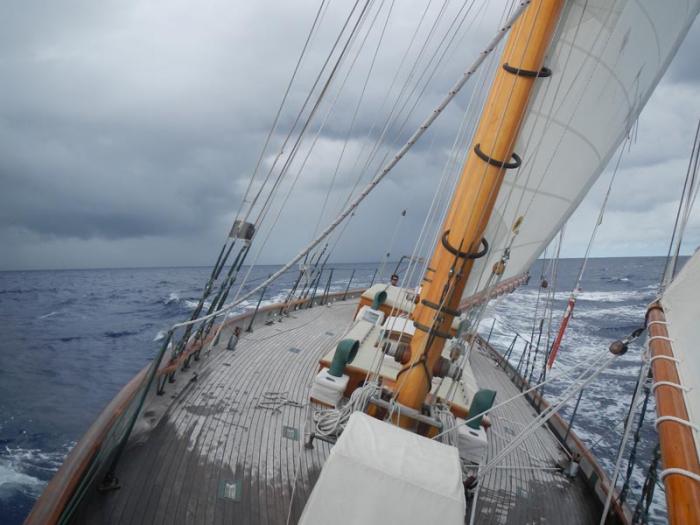 "When we leave here, every mile we make is another mile away from land," Mr. DiBiaso said. "It is an exactly southeastern course. We don't parallel the shore at all."
On an offshore trip, Mr. DiBiaso said they may be as much as 800 to 1,000 miles from land. "It is an entirely different experience. A lot more is at stake. When we go out in the Moffett Race, or race in the Vineyard Cup or the Gaff Riggers Race, we are three or four miles from land. The idea is that we are never doing stuff that we think will break the boat or have serious negative implications. When we race, we will bring it closer to the edge, more than I would ever risk on an offshore trip."
There are many safety measures taken in ocean sailing. The vessel has two life rafts and an EPIRB, a device that can call for help if needed using satellite technology.
But the greatest safety measure of all is picking the right crew. On this trip the crew consisted of Christian Cabral, Justin Pope, Christopher Crawford and Niko Ewing. "Chris has been my watch mate on two transatlantic crossings with this boat and no fewer than 15 north and south trips," Mr. DiBiaso said.
"I get offers all the time," he added, from those who would love to crew on Juno. "I have a list of eight to 10 people that I will go with and I call them. I know exactly what I am going to get and they know what they are going to get. They anticipate things. They are not just reacting, they are anticipating. Everyone has a calm nature about what they do, so that when things do start to go wrong, nobody loses their cool and everyone is there 110 per cent. There is no yelling. There is relaxed passion."
As for himself, Mr. DiBiaso said: "I sleep with one eye and one ear open. The crew will often joke about how much of a light sleeper I am. I listen for every sound, every wave. There is not a sound that occurs that I am not aware of." He said he can tell the speed of the boat just by listening to the water rush against the hull.
One of the highlights of an offshore cruise down to the Caribbean is the food. "It always tastes better," Mr. DiBiaso said. But the biggest highlight of the sail southward concerns the temperature.
"It is when you noticeably feel a change. That usually comes on day two, when you feel the moist humid air. It is that moment when you can take off your gloves, when you know you have passed the coldest part of the trip. That to me is the most satisfying. Because when you leave, it is cold. You can go out skiing in the winter. But when you are on a boat and you are surrounded by that cold water and the spray, you aren't doing much. You are not turning the wheel much. I have layers of clothing on. I have foul weather gear. I have my hat pulled down. I have boots on. The only thing exposed are my eyes. I am freezing. You are still not warm. You can do jumping jacks, but it is hard staying warm for four hours.
"You know the Gulf Stream is near when the color of the water turns from green to blue. The water is more clear. There is a very distinct change. It is a significant change, a palatable change. You can almost taste the Gulf Stream. All your senses pick up."
During the trip to Bermuda they averaged 8 to 8 1/2 knots, and a comfortable 200 miles per day.
"We had a northeast wind for several days. It was kind of a broad reach. Wind was just aft our beam. They arrived in Bermuda on the night of Nov. 17, a Saturday, and used the weekend to take care of a broken mast hoop and take on fuel.
On Monday, Nov. 19, they left Bermuda and headed toward St. Barts. They arrived at the small Caribbean island five days later.
En route, they caught and released a large blue marlin. On one afternoon, fishing off the stern, they caught a rainbow runner. Once onboard it was filleted, seasoned and seared and served on a plate with rice and lemon, served by the vessel's top chef on the trip.
"Chris Crawford is our chef du jour," Mr. DiBiaso said.
Even the safest sailboat on the water faces risk.
Mr. DiBiaso said the scariest moment he has ever had sailing Juno concerned a waterspout appearing out of nowhere.
"I remember, we were leaving Bermuda in the spring of 2011, sailing northbound. On the first morning, the first sunrise, we almost got taken out by a waterspout. It was a legitimate Wizard of Oz waterspout. We saw it forming. At first we saw smoke swirling on the water and all of sudden there was this thing. It was 30 to 40 feet in diameter. And within seconds, before our eyes, a wall of water was forming. It was less than a football field away.
"It was rainy and squally. It sounded like a thousand million bees. You could see it swirling over the water, a tapered hour glass. It was migrating toward us.
"We turned on the engine, fired it up. We passed it off our stern. It must have been blowing 70 to 90 knots inside. I will never forget it. I wondered, what if that had happened at night? It could vacuum right over you. I think about that moment a lot. It was the scariest thing I ever saw in the middle of the ocean."
There are also challenges to sailing that reside outside the boat: his family life.
When he returns to the Caribbean later this week, he will leave his wife Lila and two young boys behind. Being a captain of the vessel year-round takes him away from his family on the Vineyard. At least, he said, it isn't like the whaling captains of old, who left their wives for years at a time.
"It is challenging," he admitted.
But there are wonderful family moments aboard the schooner, too. Mr. DiBiaso said he will take his wife and kids out for an extended sail.
"We usually go to Maine for a week or 10 days," he said. The experience is reminiscent of his own childhood memories sailing in Casco Bay.
All-in-all being the captain of Juno is a great privilege, year-round, he said. Come mid-April or early May, he'll bring Juno back to the Vineyard.