In honor of Martin Luther King Jr. Day, the Vineyard Gazette presents a chronicle of selected texts from our archive pertaining to the civil rights movement and Martin Luther King Jr.
From Friday, May 31, 1963. Events in Birmingham Explained by Dr. King.
At the instance of some of the Island clergy, the Gazette here reprints the following statement by the Rev. Martin Luther King Jr. as to the demonstrations in Birmingham, Ala. Dr. King was a visitor to the Vineyard two summers ago.
". . . You speak of our activity in Birmingham as extreme. At first I was rather disappointed that fellow clergymen would see my nonviolent efforts as those of an extremist. I began thinking about the fact that I stand in the middle of two opposing forces in the Negro community. One is a force of complacency, made up in part of Negroes who, as a result of long years of oppression, are so drained of self respect and a sense of 'somebodiness' that they have adjusted to segregation; and in part of a few middle-class Negroes who, because of a degree of academic and economic security and because in some ways they profit by segregation, have become insensitive to the problems of the masses. The other force is one of bitterness and hatred, and it comes perilously close to advocating violence. It is expressed in the various black nationalist groups that are springing up across the nation, the largest and best known being Elijah Muhammad's Muslim movement. Nourished by the Negro's frustration over the continued existence of racial discrimination, this movement is made up of people who have lost faith in America, who have absolutely repudiated Christianity, and who have concluded that the white man is an incorrigible 'devil.'
"I have tried to stand between these two forces, saying that we need emulate neither the 'do nothingism' of the complacent nor the hatred and despair of the black nationalist. For there is the more excellent way of love and nonviolent protest. I am grateful to God that, through the influence of the Negro church, the way of nonviolence became an integral part of our struggle. If this philosophy had not emerged, by now many streets of the South would, I am convinced, be flowing with blood. And I am further convinced that if our white brothers dismiss as 'rabble rousers' and 'outside agitators' those of us who employ nonviolent direct action, and if they refuse to support our nonviolent efforts, millions of Negroes will, out of frustration and despair, seek solace and security in black nationalist ideologies — a development that would inevitably lead to a frightening racial nightmare.
"Oppressed people cannot remain oppressed forever. The yearning for freedom eventually manifests itself, and that is what has happened to the American Negro. Something within has reminded him of his birthright of freedom, and something without has reminded him that it can be gained. Consciously or unconsciously, he has been caught up by the Zeitgeist, and with his black brothers of Africa and his brown and yellow brothers of Asia, South America and the Caribbean, the United States Negro is moving with a sense of great urgency toward the promised land of racial justice. If one recognizes this vital urge that has engulfed the Negro community, one should readily understand why public demonstrations are taking place. The Negro has many pent up resentments and latent frustrations, and he must release them. So let him march; let him make prayer pilgrimages to the city hall; let him go on freedom rides — and try to understand why he must do so. If his repressed emotions are not released in nonviolent ways, they will seek expression through violence; this is not a threat but a fact of history. So I have not said to my people: "Get rid of your discontent." Rather, I have tried to say that this normal and healthy discontent can be channeled into the creative outlet of nonviolent direct action. And now this approach is being termed extremist. But though I was initially disappointed at being categorized as an extremist, as I continued to think about the matter I gradually gained a measure of satisfaction from the label. Was not Jesus an extremist for love: 'Love your enemies, bless them that curse you, do good to them that hate you, and pray for them which despitefully use you, and persecute you.' Was not Amos an extremist for justice: 'Let justice roll down like waters and righteousness like an ever flowing stream.' Was not Paul an extremist for the Christian gospel: 'I bear in my body the marks of the Lord Jesus.' Was not Martin Luther an extremist: 'Here I stand; I cannot do otherwise, so help me God.' And John Bunyan: 'I will stay in jail to the end of my days before I make a butchery of my conscience.' And Abraham Lincoln: 'This nation cannot survive half slave and half free.' And Thomas Jefferson: 'We hold these truths to be self evident, that all men are created equal . . .' So the question is not whether we will be extremists, but what kind of extremists we will be. Will we be extremists for hate or for love? Will we be extremists for the preservation of injustice or for the extension of justice? In that dramatic scene on Calvary's hill three men were crucified. We must never forget that all three were crucified for the same crime — the crime of extremism. Two were extremists for immorality, and thus fell below their environment. The other, Jesus Christ, was an extremist for love, truth and goodness, and thereby rose above his environment. Perhaps the South, the nation and the world are in dire need of creative extremists . . . ."
•
From Friday, March 19, 1965 on Dean Sayre's thoughts on the Selma March.
Dean Francis Bowes Sayre Jr. of the National Cathedral in Washington was one of the many prominent clergymen who on Sunday emphasized the deep concern of the church with the violence and denial of civil rights in Alabama. Dean Sayre is a long-time Vineyard summer resident and he recently invited Rev. S. Red Chatterton of Edgartown to serve as lector at a Cathedral service. Two of Dean Sayre's canons went to Selma last week to express the concern of the church.
Dean Sayre interpreted the central event of the week, the march last Tuesday, as an acting out of the "Pilgrim's progress in the world".
"By defying the federal court's injunction against marching, Martin Luther King bore witness to a higher law than any man's," he said. "But yet, when he met the wall of police, King turned back, and in this he acknoledged the precious importance of the law to human society.
"Thus we saw enacted in the tense drama of this week the position of every Christian, whose first allegiance is to the higher law of God, but who nevertheless must ever strive to embed true justice in the laws and customs of life."
One young Episcopal canon at Washington Cathedral, just returned from Selma, told spellbound thousands that he had "found Christ, not in the towered, spired churches of the town, but in a dusty street named Sylvan," in a plain brick Negro chapel whose windows had been shattered by tear gas bombs, and in the linked arms of white and Negro clergy and parishioner who faced with hyms armed men.
•
From Friday, April 9, 1965 by Dr. Belinda Straight detailing her trip to Selma, Ala. to offer medical aid to Civil Rights protestors.
Tuesday morning I drew duty with a hearse ambulance. We stationed ourselves on the business street in Selma along the route of the march. It was a brilliant sunny day. This was the white part of town. I noticed before us a large, ornate hotel.
The street was quiet. Police and troopers stationed themselves at each corner. I began to notice things — ominous little things I hadn't seen two days before. Cars drove by with groups of red-faced men, men dressed in faded working clothes. I counted 18 in the course of an hour.
On a rooftop across the street, two figures appeared from behind a chimney. I pointed them out to an officer.
"If you know what's good for you, get back to your ambulance," he said.
Again I glimpsed a figure darting across another roof.
Perhaps Selma streets have never been so still. A few people with neccesary errands hustled along, looking at no one and ducking into doorways of shops . . . .
At last the marchers came. Hundreds of reporters were ahead of them. Dr. Martin Luther King led the procession. The pace was slow, determined. I saw that the ministers and others who had come to help had been distributed through the line of march, so that no single group could be cut off and beaten down.
What happened at this confrontation is now well known. Dr. King knelt before the troopers. He prayed and then turned his people back. They came past us again, singing softly but with a jubilent note.
At the church the mood was gay. There was a great feeling of warmth as if the sun had invaded. Children dashed about with scraps of paper and even peeled sticks, asking for autographs to take home and remember us by . . . .
•
From Friday, August 28, 1998, on the occasion of the visit of Cong. John Lewis.
It's a remarkable feature of Vineyard summers that vacationers who blissfully bask in the sun and relish our range of resort pleasures also support and appreciate all manner of deeply serious programs. We have our Boston Pops and fireworks, but André Previn salts his concerts with challenging contemporary music and the Hebrew Center's discussions have been stimulating and provocative. And this afternoon at Union Chapel in Oak Bluffs, a landmark in American history will be celebrated, the 1963 March on Washington that was a defining moment in the civil rights movement.
On that summer day 35 years ago, Dr. Martin Luther King Jr. delivered his "I have a dream" speech, a rhetorical masterpiece, and both the pain and the gain of racial progress in America was impelled powerfully forward, from the civil rights marches that drew violence in the South to sweeping legislation guaranteeing basic equality under the law. One of Dr. King's closest associates in the nonviolent movement, John Lewis, then the head of the Student Nonviolent Coordinating Committee and now a U.S. Congressman, will be at Union Chapel to share his views on civil rights today, and there will be other speakers. The afternoon can be a kind of punctuation mark in President Clinton's national dialogue on race, and by coincidence the president is on the Vineyard. It's a fitting conjunction.
Dr. King's dream is still alive, still a vision and an ideal toward which our country strives. Take time from your summer pleasures to honor that dream.
•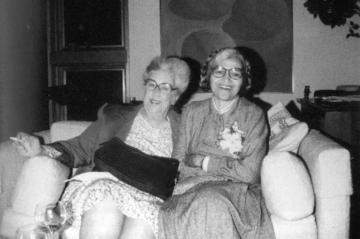 From Friday, August 11, 2006, on the publication of Freedom Writer by Virginia Foster Durr.
Early in 1956, folk singer Pete Seeger, a longtime friend of Virginia, wrote to her inquiring about the music of the Montgomery movement.
March 1956
Dear Pete:
I received the copy of Sing Out which I enjoyed so much. Thanks for sending it to me. I am no musician, but I am so much interested in folk music as the repository of the history of a people, both emotionally and politically and all other ways. I have always thought it would be fascinating to take a definite period of history and relate the events and changes that took place to the songs that arouse out of it . . . .
Now as for your questions about the music in connection with the Bus Boycott. I called Mrs. King, the wife of the Rev. M.L. King . . . She is a musician herself and sings very beautifully and knew of you and was glad to give me the information.
Yes, there is a great deal of singing at the mass meetings. Both hymns and spirituals. The hymns come mostly out of the standard hymnals, such as Broadman's Baptist Hymnal, and they sing hymns like Leaning on the Everlasting Arms, What a Friend We Have in Jesus, Onward Soldiers, Pass Me Not, O! Gentle Savior, and then they also sing spirituals.
She says the ones she remembered being sung the most are: Steal Away, Old Time Religion, Shine on Me, Study War No More, Swing Low, I Got Shoes (this has been sung a great deal and a lot of people have sent boxes of shoes here for the walkers), I Got a Home in That Rock and
Rich Man Dives lived so well,
When he died he went to Hell,
Poor Man Lazarus, poor as I,
When he died he had a home on High,
She says you are absolutely right, that these songs were and are sung as songs of struggle, and that even in the time of slavery they were, but had to be allegorical and they had to use symbolic meanings to survive, and had to conceal what they wanted to say. The church has been, and is, the center of their lives and it was only when the NAACP militants got the churches behind them that the movement developed into a mass movement.
It is still going strong and looks as though it would keep on. But they need lots of help to keep it going, money for the transport system mainly and even with that the walkers bear a big burden, and with the hot weather coming it will be heavier. I wish I could write a song about the beauty of these patient Negro women, their heads tied in scarfs, walking morning and night, to and fro. It is like some deep, dark silent spring welling up out of the bowels of the earth, and as irresistible and as compelling, some of them old, some of them fat, lots of them with their feet hurting, and walking no matter what — rain, cold, sleet, ice, heat — nothing stops them.