The prolonged, powerful winter blizzard that pounded much of eastern Massachusetts this weekend had begun to ease but only slightly on the Vineyard Saturday afternoon. Ferry and air service to the Island remainded suspended following 24 hours of snow, ice, high winds and whiteout conditions. A travel ban in effect was set to be lifted at 4 p.m. as the storm slowly began to dissipate. But Vineyard roads remained snow-covered and treacherous and highway crews were hard at work clearing them; Islanders were advised to use caution when going out.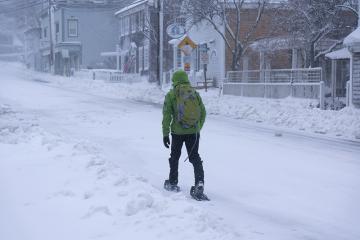 Peak wind gusts were recorded at the Martha's Vineyard Shipyard at 83 miles per hour sometime during the night on Friday, shipyard owner Phil Hale reported to the Gazette in an email Saturday morning.
Chappaquiddick ferry service was shut down Saturday morning due to extreme high tides. Ferry owner Peter Wells told the Gazette service was expected to resume again sometime in the afternoon. In emergencies people are asked to call 911 or 508-693-1212 from a cell phone.
Dukes County emergency manager Chuck Cotnoir said Saturday morning that a shelter set up at the Tisbury School would remain open for another 24 hours.
Most community events remained canceled on Saturday and into Sunday morning. The Gazette received word Saturday that Sunday services at the Federated Church in Edgartown and West Tisbury Congregational Church had been canceled; Islanders were urged to check with their houses of worship for information on services.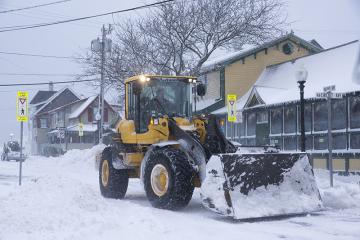 There were widespread reports of power outages the South Coast and Cape Cod; a map published online by the power company NStar showed heavy power outages in Aquinnah, followed by Chilmark, with only scattered outages across the rest of the Vineyard. Many residents of Vineyard Haven and Oak Bluffs spent Friday night without power.
NStar crews were mobilized early Saturday but would not be sent out until weather conditions were safe for the crews, company spokesman Mike Durand said.
Early Saturday afternoon the sun had begun to peek out in places, although blizzard-like conditions lingered over the Cape and Islands region with high winds, drifting snow and temperatures in the 20s. Trees and power lines were down in some places. Some Islanders began venturing out to clear cars and driveways.
Vineyard highways crews worked around the clock, scraping thick slush from the roads on Friday and then plowing deep snow and ice on Saturday, using heavy equipment. Many roads, especially in coastal areas and up-Island, were covered with wind-blown snowdrifts.
The worst-hit areas in the state were from Hull to Scituate on the south coast, as well as eastern Nantucket.
The storm arrived slowly on the Vineyard Friday with light snow later changing to sleet. By late Friday night winds were shrieking across the Island and gusting to hurricane force and snow began coming down more heavily. Islanders awoke Saturday to blizzard-like conditions.
For more photos, see our photo gallery: Blizzard Slams Island with High Winds and Heavy Snow.