Early morning voter turnout for the special state primary and town elections Tuesday was low, but, in at least one town, steady. Oak Bluffs town clerk Deborah Ratcliff said that, as of 10 a.m., she had seen more voters than expected at the public library.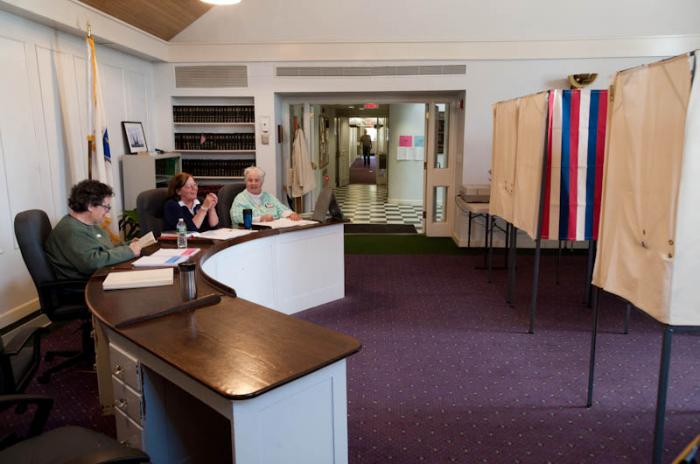 "We've had somebody here every moment," she said. Shortly after, the lone pair of voters in the ballot area left as two more walked into the polls. Still, Ms. Ratcliff said only about 40 voters had shown up to mark their ballots.
In Edgartown, voters came early, but not often. In the first two and a half hours of voting there were approximately 100 voters, said Jean Brennan, an election volunteer.
"It will be a long day," said Ann Tyra, another volunteer.
In Chilmark where voters are also participating in a town election, town clerk Jennifer Christy said they had seen "light turnout, but not too light." So far 75 of the 911 registered voters had checked in, she said. Assistant constable Tim Rich greeted voters and manned the old tally box, which was built in 1886 and has served the town for 127 years.
Tisbury town clerk Marion Mudge said the morning in her town had been "fine, but very quiet . . . just like everywhere else in Massachusetts." She estimated that 50 voters had dropped in as of 9:30 a.m., despite a concurrent town election.
The Tisbury polls had been relocated from the Foreign Legion building, where they had been hosted since the late 1980s, to the new Tisbury Emergency Management Services building.
"I do have a fondness for the Legion," Ms. Mudge said. "They were good to us for a number of years."
The nine polling volunteers had brought plenty of magazines and crossword puzzles to pass the time until 8 p.m., when the polls close.
"When it was the presidential election, it went by very fast," said volunteer Jane Carroll.