How often in nature do we see a single standing beetlebung tree? Not often, thinks Kara Taylor.
"A beetlebung alone is a really unique sight to see," Ms. Taylor said last week in her new Chilmark gallery space. "Alone, the tree takes this amazing shape. I can only remember one place where I've seen this."
So she decided to paint it.
The wood panel oil painting with 23-karat gold leaf, entitled West Tisbury Beetlebung, is one of 13 paintings in Deciduous, Ms. Taylor's first show in her new location.
"With this show I let my audience challenge me with the subject. People like my trees so I painted trees. But the paintings are really all about beginnings and endings. And about wandering through an imaginary landscape."
Metaphors are a driving force behind Ms. Taylor's thinking process when painting a series. "I always think conceptually. Everything in our world is a metaphor for something."
Which makes her recent move to Chilmark even more appropriate.
Previous to her up-Island move this past May, Ms. Taylor ran her own gallery on Main street in Vineyard Haven. Although her gallery only featured her own art, she shared the street with other Island artists and businesses. "There was a lot going on, a lot of foot traffic there all year," she remembered.
Now her only close neighbor is the Grey Barn and Farm. Her gallery, the former Stanley Murphy Gallery, is a two-room building surrounded by nature. It stands alone. It is unique. Like a single standing beetlebung tree. Her gallery will have archives in one room (the greeting room) and the series that she is featuring in the other.
In addition to metaphors, Ms. Taylor finds inspiration through nature. She is an artist who likes her paintings to look like places nobody has ever been before, yet created with Island surroundings.
"I do a lot of walking in the off-season. I try to find rare sightings."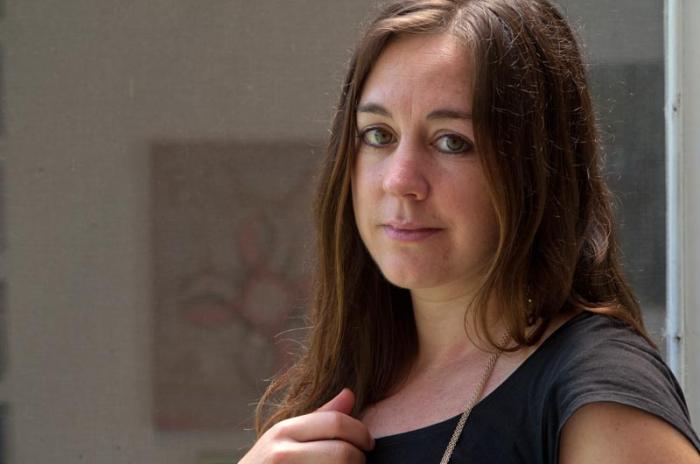 Ms. Taylor's first memory of wanting to pursue art came from a walk on the Vineyard. "I have this early memory of when I was like five. It was springtime and I was coming home from school and I had seen daffodils and wondered if I could draw them. I remember coming home and getting a sketchbook and a pencil and seeing if I could draw the daffodils."
From there, she continued using nature as an inspiration.
"I was raised on Martha's Vineyard and my grandfather was the first principal of the high school," she said. "And at the high school I was always in the art room."
Ms. Taylor's persistence and drive to pursue her passion has paid off. Her art is as unique as her inspirations. And her Vineyard-inspired oil paintings on wood panels for Deciduous are no exception.
"I wanted to make what you see and turn it into art. Art and nature have always been so comforting to me."
One question still remains. How often in nature does one see a single standing spectacular art gallery?
Visit 24 South Road in Chilmark to see for yourself.
On Sunday, July 7, the Kara Taylor Gallery grand opening reception is from 5 to 8 p.m. Visit karataylorart.com.