For years my daughter Jill lived a private, single, independent life in New Orleans, the city she fell in love with during her college years at Tulane. I knew she taught school, had many friends and was relatively content with life. We kept in touch; I didn't pry and she didn't share as she slid softly from her late twenties into her early thirties. And beyond.
Then she met Curt.
On their first date she was so nervous she threw up on the way to a Thai dinner in the French Quarter. Their next date was more relaxed and enjoyable, cruising the Mississippi on a paddle-wheeler.
Jill's life changed.
We heard good things about Curt and got to meet him last July. They were already very much a couple, although she had yet to meet his two children. We spent some time together and felt good about their relationship.
Curt was the first fellow Jill ever talked about, the first she shared with us.
Over Christmas Jill came north for a family function. She was radiant. Relatives commented on the change.
In February we took a road trip south, visiting friends in Hilton Head and Tampa before staying with Jill and Curt, his two kids, and her two dogs, in a house they had bought on the banks of the Mississippi, on the outskirts of New Orleans. Again, we sensed the power of their passion, the harmony and sense of family.
Curt proposed in March, but a wedding would be a year off.
Then, this past spring Jill's mother received a challenging medical diagnosis. Jill didn't want to postpone the wedding.
Jill's sister Amy, husband and three kids already planned to come east, to Maine, in early July. Jill wanted Curt's kids to come to Maine to play with Amy's kids; Curt's parents had an RV and were eager to drive from Illinois to Mt. Desert Island, Me. The pieces of the puzzle began to fit together, but it was not until June that Jill and Curt decided to get married in Maine. In July.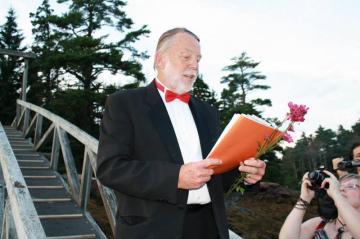 And she wanted me to officiate.
I was caught off guard. A whirlwind of activity erupted. I contacted the town clerk in Northeast Harbor, Me. Because I was too late to apply for a one-day state-authorized permit to perform the marriage, the town clerk suggested an online ordination. I leapt at the option, and was quickly ordained as a member of the clergy of the Church of Spiritual Humanism. No charge. Lifetime ordination. Legal.
For days I anticipated how to officiate at my daughter's wedding. Jill wanted it on a float, off a small island in Somes Sound. Just immediate family, no friends. Her two dogs had to be there, their collars would be blue. Rather than walk her down the aisle, Jill wanted me to row her across the harbor to the float on the little island. The ceremony would have no onerous religious overtones. The bride would get what she wanted.
Joyce and I spent a couple of days ordering flowers, drinks and food. It was a last-minute, shoestring coordination but it all came together.
The night before the wedding, the so-called rehearsal dinner, we ordered pizzas. Amy's husband Brian asked if we planned to rehearse anything. "No big deal," Curt said and we let it go at that.
The morning of the wedding dawned with rain which segued into an overcast sky around noon. By late afternoon the sun burst through the clouds, clear and bright. The evening of the wedding began with a lobster dinner at the main house: clam chowder, corn on the cob and salads for 26 people. It was relaxed, jovial and memorable. Following dinner some changed attire for the ceremony. I donned my tuxedo. Jill and Curt wore sneakers. The four young children were primped and primed for the occasion. Guests were motored across the harbor to Sheep Island, gathering on a small float which rocked gently with the crowd.
My brother George and his wife Margaret serenaded the throng with Here Comes the Bride as I rowed Jill the half mile across the harbor. The early evening sky was clear, with patches of pink reflecting on the stillness of the water.
We reached the float. Flower girls had scattered daisy stems. Programs were passed about. Jill gathered her bouquet.
I stood on the gangway, facing Jill and Curt.
It was a potent moment, a chance to share my feelings, an opportunity to welcome Curt into our family and Jill into his. I felt small in this position of prominence. Yet it felt right.
I opened with the pride in having been asked to marry my daughter. I noted that whether it was destiny, fate or Match.com that brought them together, we are very happy for them.
I brought up Della Hardman's timeless adage to savor the moment.
A few eyebrows rose as I observed that many of the assembled group had been married before, but we returned to the altar because we recognized the power of love and the importance of marriage. I suggested that communication, whether via Facebook or texting or even sitting down at the kitchen table over a cup of tea, is the key to a healthy marriage.
Amy read meaningful messages from the songs: In My Life and Grow Old Along with Me. Alan Jarand, Curt's father, spoke movingly about his personal appreciation of Jill as an extension of his family. Joyce evoked a Native American custom where a vessel of wine is shared between the bride and groom. Curt's children were included in the recitation of the wedding vows, making the circle complete.
Then Curt and Jill faced each other and spoke. Their impromptu comments delivered more sincerity and love than anything I said. Their passion and commitment were evident. Their acceptance and attachment brought us all together.
As the sun set and evening shadows enclosed our little island celebration, Joyce busied herself with photographs of the wedding couple. The rest of us migrated up the gangway from the float and into the cottage, where we shared champagne and blueberry pie with ice cream. The sound system burst into life and the first dance got underway. Two five-year olds enjoyed their own first dance.
All too soon it was time to leave. We bid adieu to the newlyweds and motored back across the darkened harbor through calm waters.
Jill and Curt remained in the little honeymoon cottage, alone but together, happy and in love.
And I felt comforted that good things can happen to those who are patient.
Gazette contributor Tom Dresser lives in Oak Bluffs.