This fall, as the weather cools and many turn indoors poised to pick a book off the bookshelf and lose themselves in another world, Aquinnah resident Philip Weinstein hopes it will be a Faulkner novel.
His wish is likely to be granted, with more than 60 Islanders signed up for a course he's offering this fall at the Vineyard Haven Library. Discovering Faulkner's Fiction begins on Sept. 24 and will explore three of Faulkner's best-regarded works over a series of six classes.
Mr. Weinstein admits he's not chosen the easiest of authors to introduce to the general public. He's expecting a class full of people who have experienced some frustration with the reading. It wasn't love at first read for him, either. He recalls being confused in high school, and missed the charm of the Faulkner sensibility altogether.
"I couldn't read him, he was too hard," he said at his home in Aquinnah. It wasn't until later that he developed a deep adoration for the writer.
At the height of his career, Mr. Faulkner was under-appreciated, especially in his home state of Mississippi. "They didn't know what to make of him," Mr. Weinstein said.
Mr. Weinstein hopes to help his students get past their initial feelings of confusion to discover the allure of the great writer.
"Most of them, when they go at him again, will feel how powerful he is," he said.
Mr. Weinstein speaks from experience. He has been teaching Faulkner at Swarthmore College for nearly four decades. He has also written three books about him, and has served as the chair of the Faulkner Society, which holds annual conferences on Faulkner's fiction in Oxford, Miss.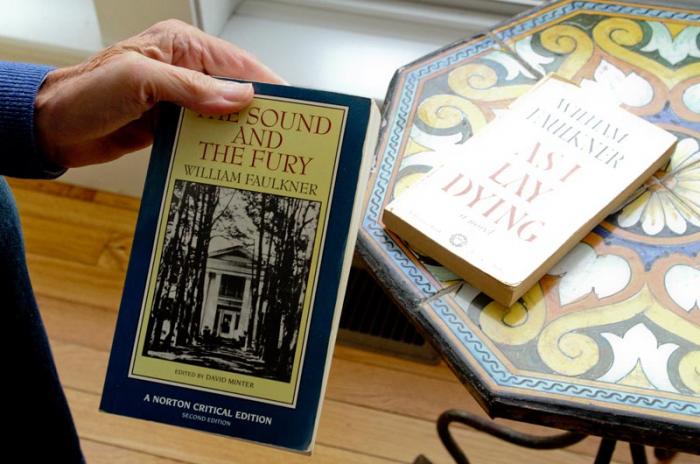 Mr. Weinstein said that the unorthodox narrative style of Faulkner is in part due to the writer's desire to keep his readers in the dark. Whereas many novels allow the reader to piece things together as they read, Faulkner wished to portray that the present is often confusing, and an assault of the senses which we can only make sense of in retrospect.
"He wants you to share the dark that his characters are in longer than any other author [of his time] is comfortable doing," he said.
As such, Faulkner's books are the sort that are best read in the company of others. Guidance can be useful, too, in piecing together the narrative.
"People want to get into novels and they want to get into novels more difficult than they are likely to do without a social event where it's mutual," he said. "People try to help each other and I try to help all of them."
Mr. Weinstein has been teaching free courses on the Island for several years. In the past he's taught Fictions of Race in America, a class on colonial and post-colonial writings, and the Century of American Short Stories from Hemingway to Olive Kitteridge. This year, he's opting to focus on one author, with the hopes of providing a deeper exposure to that writer. "Since Faulkner is my guy, this is where we are starting," he said.
When he talks about his love for Faulkner, Mr. Weinstein points first to the creative maneuvering of consciousness, influenced by James Joyce's Ulysses.
"He found a way in The Sound and the Fury to write inner distress, what it feels like to be out of control, to not be able to master your situation. So one thing that got to me was that I had never seen consciousness done this way."
He also emphasizes Mr. Faulkner's insistence, despite the unpopularity of the subject among his contemporaries, in engaging with issues of race in his writing. Mr. Weinstein grew up in Tennessee in the era of segregation and appreciates Mr. Faulkner's candor on the subject.
"As a white person, I feel keenly a debt to pay," he said. Mr. Faulkner seemed to understand this dilemma. "I think that Faulkner writes white brutality, white indebtedness and white guilt...more powerfully than any of his peers," he said.
The first two novels of the course showcase Mr. Faulkner's creative exploration of stream of consciousness-style narration. As I Lay Dying, the first read, uses 15 different narrators. Mr. Faulkner worked as a night-time supervisor of a power plant while he wrote As I Lay Dying, finishing it within six weeks, writing between the hours of midnight and four in the morning. Knowing nothing of power plant operation, he wrote while his coworker did all the work.
The Sound and the Fury, a longer work, explores the concept of multiple points of view with fewer characters.
The third book, Light in August, deals most prominently with race. The main character is a man who looks white, but isn't sure if he actually is. This insecurity about racial identity creates internal and external violence for the man, as the Southern society Faulkner captures places a high premium on clear-cut racial classifications, Mr. Weinstein explained. Each of the three novels is set in the fictional Yoknapatawpha County, which is based on the actual Lafayette County in Mississippi.
The considerable interest in his Faulkner series has given Mr. Weinstein hope that he will be able to continue to teach these types of courses going forward and that in retirement he will not have to give up his great love: teaching.
"This is what I've wanted to happen," he said. "I didn't want to retire...and the only way I can countenance it is to continue to teach. I don't need to get paid, I just need to teach. This is a calculated bet that I can keep teaching."
For Mr. Weinstein, Faulkner is a family affair. His twin brother, Arnold, is also a Faulkner scholar, and a professor of comparative literature at Brown University. His brother's island home is on Block Island, Mr. Weinstein said, but that island offers fewer opportunities for teaching.
"I am not sure he can get this undertaking to work as I have been lucky enough to do," he said.
At home in Pennsylvania, Mr. Weinstein has 120 Faulkner books, as well as many more concerning Mr. Faulkner's life and work, including his own most recent book, Becoming Faulkner: The Art and Life of William Faulkner, published in 2009, which won the C. Hugh Holman Award. While he does believe an understanding of Faulkner's biography can be helpful, Mr. Weinstein warns his Swarthmore students against over-reliance on such material.
"You are closer to him here," he said pointing to his 1964 paperback edition of As I Lay Dying. "That said, books come out of people's lives, and the main thrust of Becoming Faulkner is that the chaos in the life got brilliantly reconfigured into the chaos of his books."
In his own life, Mr. Faulkner stumbled constantly. He suffered through a failed marriage, alcoholism and lied about serving in the Army, even going so far as to claim he was wounded while working as a fighter pilot.
"It's just a series of mistakes and the courage of Faulkner is to respect those mistakes without sentimentally forgiving them, to understand that people are not smart in the present tense, that smarts involve retrospect," Mr. Weinstein said. This sensibility to human imperfection is felt in his fiction.
Mr. Weinstein and his wife, Penny, bought property in Aquinnah in the late 1990's, and began part-time residence here.
"We didn't want to come this far, it's just that this knocked out all of the alternatives," he said. "It would have been so much easier to go to the Jersey Shore," or the Delaware or Maryland Shore. "[The other places] just didn't have the spaciousness or the charm of this," he said.
Having established that there's in fact a year-round population of voracious readers, he's here to stay.
The first installment of Discovering Faulkner's Fiction is Sept. 24 at 7 p.m. at the Vineyard Haven Library. The class is currently full, with a waiting list. Call 508-696-4211 for more information.