In rooms filled with his colorful, fantastical artwork, friends and admirers gathered Sunday to tell stories about Richard Lee. It was a fitting tribute for the kind of artist who found canvases everywhere — from panes of glass to the trees in his yard — and the kind of person who had a story for everyone, who found hidden beauty that others overlooked.
A dancer, a mystic, an artist who painted fish swimming through the sky, anything was possible in Richard Lee's world.
Mr. Lee died in June 2012 at the age of 79. A retrospective of his work curated by his wife Claudia Canerdy and their son Hudson Lee opened Sunday at Featherstone Center for the Arts.
The gallery featured a selection of Mr. Lee's paintings, done in a unique reverse glass painting style displayed in frames that Mr. Lee found and then gilded, painted or marbled. The artwork spanned the years: 1963, 1987, 2011. One corner featured paintings in a blue palette; painted animal skulls were displayed on pedestals and tables that Mr. Lee finished himself.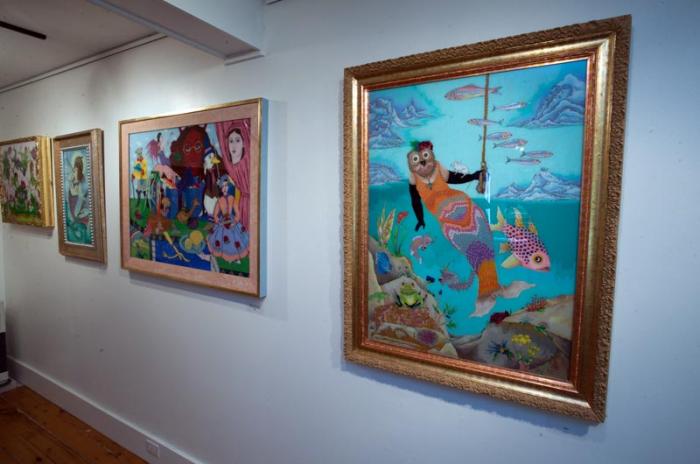 On another wall were two intricate colored masks adorned with feathers, part of a project Mr. Lee began with artist Willa Shalit in New York city. They made the masks for department stores and held mask parties in the woods in West Tisbury, Hudson Lee recalled.
Mr. Lee's life, like his artwork, wove together unexpected elements. He was born in Pullman, a small town in eastern Washington state and first came east for a Martha Graham dance program. He earned a dance scholarship at Bennington College, a girl's college in Vermont that needed boys for its dance program. He later went to New York and then traveled around the country and the world; he lived in Hawaii and California, had one-man shows in Beverly Hills, Munich and Paris and danced on German television. He gathered feathers in the Alaska wilderness and made masks with Eskimo villagers.
But it was on the Vineyard where Mr. Lee found and made his home.
Mr. Lee came to the Vineyard in 1976, and soon after was persuaded by friends to run the Dessert Gallerie in West Tisbury, a restaurant that featured cakes, pies and desserts and which was decorated with cut-out costume decoupages from Gone With the Wind. In 1982 he married Ms. Canerdy, owner of the Claudia jewelry stores in Edgartown and Vineyard Haven, and in 1984 Hudson was born.
"Why did I paint on glass?" he said in a 1977 Gazette article. "I began because I wanted to paint a picture for a friend and I didn't have any paper or canvas, just glass and a lovely frame. So that was my first."
The technique was far from easy. The entire painting would have to be sketched out and then painted using cel-vinyl paint on the glass. The foreground was painted first and the background last. There was no margin for error. "No way you can fix your mistake," Hudson said. "It's an absolutely . . . non-reversible art form." The work would take place over a scale of days or weeks, with sometimes many paintings unfolding at once.
Despite the degree of difficulty, said Hudson, Mr. Lee "was good at continuing his work when people came to chat with him" — which they did often. Mr. Lee's studio at his West Tisbury home doubled as a salon, with people from all walks of life stopping in to pay their respects. Each guest was welcomed with a hug, a snack and a yarn. "I don't know how he did that," Hudson said.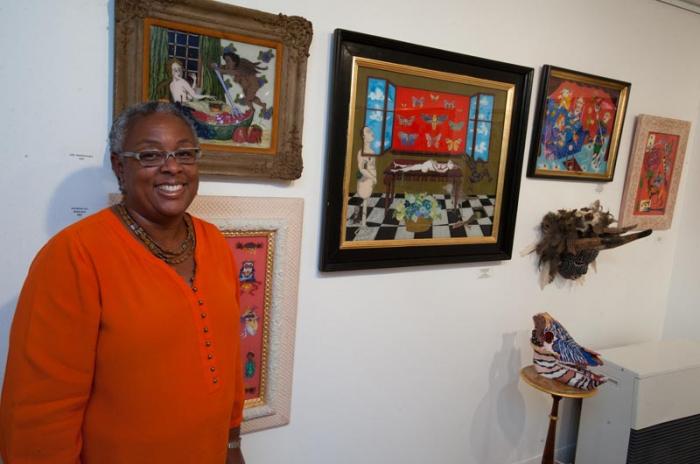 When beginning a painting, Mr. Lee chose the frames first, said Hudson. Intricate works of art themselves, they were often found on the Island at estate sales and thrift shops. He preferred to use the old original glass.
For the show, Hudson said he picked artwork that spanned colors, years and genres. "And that were easy to move here," he added, an important consideration for artwork done on glass that must be moved over bumpy dirt roads.
He pointed to some favorites: 3 Skies and a Rose for John Lennon for its bright colors, one of the pieces from the blue period, and Dinner at the Oyster Bar. "I just like it," Hudson said.
Mr. Lee's artwork, full of details and zoomorphic characters, invites these sort of immediate reactions, as well as prolonged discussion. On Sunday, the gallery packed to near capacity, both were on display.
"Everything has so much. It's so busy. Look at this bear," one guest said.
"It's very interesting that he painted on the reverse side of the glass," said Island artist Donna Straw . "He's so detail-oriented . . . it's fun to look at the work."
"It makes you wonder what Richard was thinking about when he got up in the morning," Clarence A. (Trip) Barnes 3rd said. "He was a wonderful guy."
Longtime friend Elise LeBovit recalled that at Mr. Lee's remembrance ceremony, someone asked, "Who here thinks they are Richard's best friend?"
"And everybody raised their hand," she said.
"He was amazing at crossing over boundaries," she said, recalling Kahlua pie at his dessert shop, where he would serve tea and dessert to elderly women while walking barefoot. "There were so many people who knew and loved him. He made a big difference in so many peoples' lives."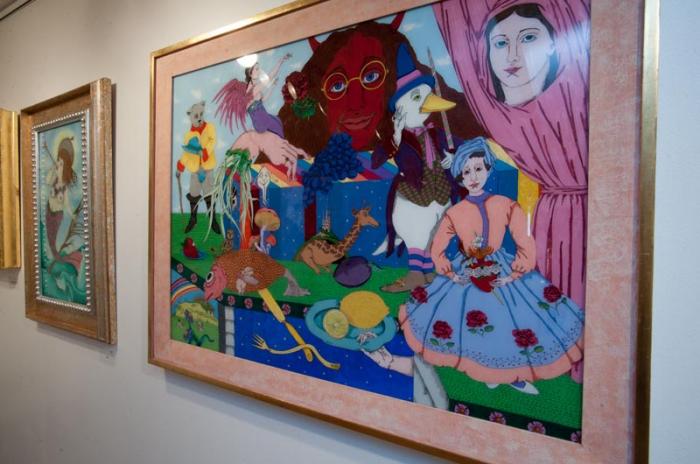 "We were probably friends for 25 years. He was one of my best friends," Bob Gothard said. "Richard is a person who lived in a different way — his world was a cross between fantasy, Tolkien and . . . ", he paused for the right descriptor. "Disney Tolkien."
"The way he thought was certainly different from everyone else," he added. "He was a mystic. He loved everyone and everything."
"No matter where you took him he would find beauty in anything and incredible items that everyone else would overpass," he added: items in junk stores, rare sunrise shells in Hawaii, "fossilized shark teeth that I've walked over a million times."
"He was just remarkable in that way," he concluded. "He could see things no one else could see."
Some said their encounters with Mr. Lee were chance but memorable. Richard Barbieri said he first encountered Mr. Lee's artwork in the restrooms at the old Oyster Bar in Oak Bluffs, and later met the artist during a studio tour. "He was the best storyteller on this Island," he said. Mr. Barbieri's dream, he said, would be to have a house filled with beautiful art and Mr. Lee at the dinner table, telling stories.
"He was a lovely person," Abby Bailey said, looking around the gallery and recognizing a piece that had hung on the walls of the Lee home. She said it was fun to see the assortment of art: "when he got into the blues, to see the really old stuff . . . It's such a feast for your eyes, and this is just a fraction."
"He was incredible," she added, and remembered the first time she met Mr. Lee: she and her husband wandered into Claudia's store in Edgartown during their second visit to the Vineyard. The store was adorned with his "amazing painted masks" and Hudson was in a playpen, and the adults discussed life on the Vineyard.
Later, the children became good friends and the adults were reacquainted. "He was a special person," she said.
Camels with antlers, a duck wearing a wizard's hat. Mr. Lee's friends and admirers of all ages said he was one of a kind.
"We hung out with him all the time . . . it was so much fun," Maggie Dempsey said, recalling long nights playing cards with Mr. Lee. "We were in our 20s, he was well into his 70s. He matched our energy."
One night, she said, he recounted his time as a dance therapy instructor in a mental institution in Tuscalooosa, Ala., in the 1950s, a wild tale of improbable circumstance alighted by humor.
"He had a story for everybody," she said, "and I got the sense that this was so special, the re-telling."
"There's such a void with him gone," she said. "There's really nobody like him."