Althea Freeman-Miller looks to plants to describe her journey as an artist. A morning glory represents her childhood on the Vineyard, a black-eyed Susan the person she was in college, and a tree her future.
Metaphor extends to her family, too, but it isn't confined to botany. An iris and an anchor symbolize her mother, and a bird with a heart as a body captures her father. Her inner purpose is a beaming candle.
But these descriptions are not limited to the mind. As an artist, Ms. Freeman-Miller specializes in linoleum block printing, also called linocut, a type of relief print in which a design is etched into a piece of linoleum. Her collection, a menagerie of animals and vegetables, sunglasses and sea surroundings, also tells the story of a girl who grew up on Martha's Vineyard.
"I lived in every town," she said. "We moved around a lot, which was cool because I was able to see all parts of the Island." As a child she would go on walks with her father to the Scottish Bakehouse and eat cookies. "We didn't have a car," she remembered. "It was nice."
Today her block prints nearly cover the walls of the Bakehouse.
Ms. Freeman-Miller is the daughter of Island artists Lesley Freeman and Laurie Miller and sister to jewelry designer Emily Aza Freeman-Miller. After she graduated from the Martha's Vineyard Regional High School in 2003, she attended Johnston State College in Vermont to study education, but her creative roots kept calling her. She picked art as her education medium in college.
"I liked watching kids understand things and I liked the creative parts of designing lessons."
She also took a printmaking class.
"I did a set of prayer flags on fabric," she said. "Each flag represented something important to me, something or someone."
Yet college was not for her and she left school to bartend and pursue art more directly. "And then I started hanging out at a funny little coffee shop," she said. The Vermont cafe was half coffee bar, half pottery studio.
"Eventually I rented studio space there," she said. In November 2011, Ms. Freeman-Miller had her first show. "People actually bought stuff. So I thought, I should keep doing this."
Her print making process requires roughly 10 steps.
"Drawing is the first part," she said. "And the hardest part. I spend most of my time drawing, just sketching things to see if there's something I like." If she likes a drawing she then traces it onto a linoleum block and moves on to step two: etching with Japanese carving tools. "Once I get carving I usually can't stop. That part takes a while."
Step three involves preparing the oil-based ink. "I get a big piece of glass to roll the ink out on and with a brayer, a roller, I roll the ink out on the glass. It spreads the ink out to get an even amount on the roller." Then she rolls the ink onto the etching.
For the actual printing, she puts a piece of paper on the block and smooths the paint out using the back of a wooden spoon. One day Ms. Freeman-Miller would love to have a printing press. "But they're really heavy, like a piano, so if I can print with a spoon it will always be easier to move," she said.
After smoothing with a spoon, she carefully pulls the paper up and lets it dry in her studio. "I have a set of two ropes with clothespins. It can take a day to dry."
When dry, the prints are mounted on pieces of wood collected from nature. She uses a jigsaw to create the desired shape and sands them in batches. After mounting, another two days are needed for drying and then a clear-coat finish is applied. Finally, she stamps the back with her name and hammers on hooks for hanging.
"And then I sell them."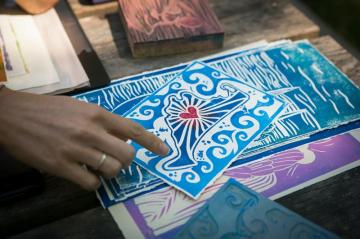 Ms. Freeman-Miller had been living in Vermont for many years but has recently returned to the Vineyard. In addition to the Scottish Bakehouse and other stores around the Island, including Coffee Culture in Edgartown, Ms. Freeman-Miller takes some custom-made orders. She recently completed signs for the Vineyard Playhouse restrooms and offices, as well as a new logo for Kitchen Porch Catering.
"Coming back to the Island has been huge," she said. "It's been really nice to use the Island as inspiration again. You have to leave sometimes. People who have stayed here for a long time know how special it is. Coming back, it just felt like a big hug."
It also provided an audience with a different sensibility.
"It's funny because people in Vermont didn't quite get all of the prints," she said. Regarding her tick prints: "People either hate it or love it. In Vermont people would point to it and be like, 'Gross!' But on the Vineyard I hear a lot of people say, 'Cool!"
She has kept her studio space in Vermont, though, and frequently travels back and forth between her two workspaces, gaining particular inspiration from both settings.
"I miss the mountains, then I miss the ocean, then I miss the mountains, then I miss the ocean. Both communities are great to be an artist," she said.
No matter where Ms. Freeman-Miller is, though, her linoleum block etchings are always close by. She has close to 100.
"I always feel like I don't have enough until I move them somewhere."
Back at the Scottish Bakehouse, the results of Ms. Freeman-Miller's work decorate the walls, including prints of hammers, cowboy boots, roosters, swans and many, many different types of plants.
"This place is the best," she said. "It's the best place to buy a print because you can buy a print and a peanut butter cookie as well."