Nathan Gould is on a mission to prove that all hotel food is not created equal. The bland chicken breast is out and a sous vide Good Farm chicken roulade is in.
"We're continuously moving towards sourcing locally, which a lot of hotels don't," Mr. Gould said walking through the doors of the Harbor View Hotel where he is the new executive chef. "A lot of hotels that have to do volume rather than take the time to have a relationship with Island farmers and fishermen, they'll go to a corporate account and get stuff moved in from wherever. Hopefully, we can change that."
"Oh hey, there's my oyster guy right there. Do you know Nick from Honeysuckle Oysters?"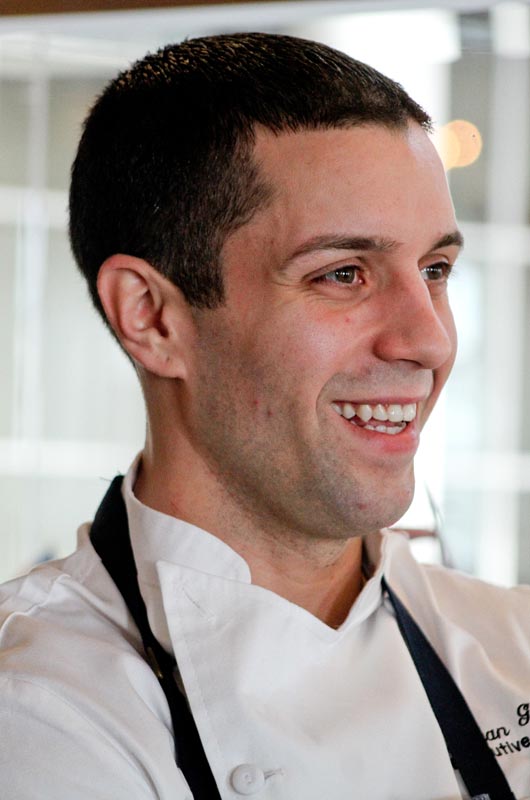 Mr. Gould became executive chef of the two Harbor View Hotel restaurants, Water Street and Henry's, in September. He was previously executive sous chef for two years. Mr. Gould's cooking has taken him from his hometown of Princeton, N.J., to the Virgin Islands, and next week to the Martha's Vineyard Food and Wine Festival.
Mr. Gould is one of the presenting chefs at the annual eat and drink festival, alongside Top Chef Master Suvir Saran and Andy Husbands of Tremont 647, as well as Tony Maws of Cragie on Main and Tim Cushman of O Ya in Boston. The weekend-long event begins Thursday night with a Fresh from the Farm event at the Martha's Vineyard Agricultural Hall, with wine tasting events, cooking demonstrations and tasting events held through Sunday.
Mr. Gould plans to prepare the sous vide chicken from the Good Farm of Vineyard Haven for the Grand Tasting on Saturday.
Long before he landed himself as one of the leading chefs at the food festival, Mr. Gould began his cooking career like many others — watching his grandmother prepare his favorite soup.
"My grandmother was always cooking when I was younger, and she would make it with smoked ham leg and tomato and noodles. I always remember it," he said, smiling.
Even as a kid Mr. Gould always knew he wanted to be in the service industry, he said.
"I used to set the table for my parents and I would pretend I cooked the dinner," he said. "I love the gratification I get from people when they eat my food. I can see that instant happiness."
A Johnson and Wales University graduate with a background in nutrition, Mr. Gould applauded the resources available on the Island.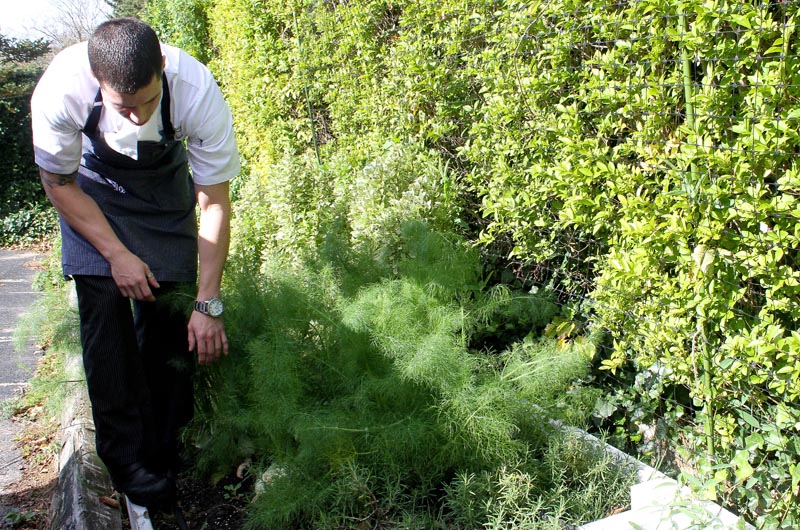 "It's the one place where if you can spend the time you can figure out where to get everything you need to run an amazing restaurant as far as ingredients, sourcing and talking to people," he said. "Everyone knows someone."
On his days off Mr. Gould enjoys foraging and spear fishing. Hunting is next.
"I haven't gotten into hunting yet but I did a few classes with a few of my buddies here on butchering venison. I have the culinary side of it and they have the hunter/forager side."
While Mr. Gould is building a "signature style" of well-rounded culinary backgrounds, everything from French to Japanese, he's focusing on true food.
"If there's anything I can do, it is to promise our guests that these ingredients are true to the source," he said. "I really want to push the hotel cuisine world. . . . I want to put Water Street on the same page as all the other free-standing restaurants on the Island. It gives us an opportunity to show what we do."
For a full schedule of events and tickets to the Martha's Vineyard Food and Wine Festival, visit mvfoodandwine.com.