The year in weather saw average temperatures and rainfall, but heavy snowfall.
The Vineyard received a total of 36 inches of snow this year, almost a foot above average. A huge blizzard impacted most of the northeast corridor back in February. Boston received 25 inches of drifting snow, but only five inches fell in Edgartown. This remains the worst storm of the year, and on the mainland it approached the worst blizzard of the decade.
With still a few days left in the year, the Vineyard has so far received a total of 45.12 inches of rainfall, which is just .6 inches below the average.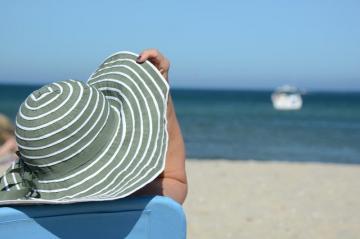 No hurricanes visited the Island this year. Tropical storm Andrea taunted the eastern seaboard on June 6 and 7, but it was more worry than windy. Some thought this meant a busy tropical season was headed our way, but this was not to be the case.
Summer was hot and sunny, but not a complete scorcher. The thermometer at the National Weather Service Cooperative station in Edgartown reached a high of 90 degrees three times — July 15, 16 and 18.
It was a dry summer and even a drier fall. August had 2.34 inches of rain, half the average, and September was the driest month of the year and one of the driest on record with .31 inches. October had .7 inches of rain.
In stark contrast, June was a soaker with 6.62 inches of rainfall, more than twice the average. May had 5.4 inches of rainfall.
Snow fell in the first three months of the year and in the last two months. It has been three years since the Vineyard experienced above average snowfall. The last two winters, for example, gave us half the expected average snowfall of 24 inches — 11.5 in 2012 and 12.6 in 2011. An average amount of snowfall, 25 inches, fell in 2010.
Fog rolled into the Island thick and heavy early and late in the year. More than a month of days were foggy and there were at least nine days of thunder.