Hardy bay scallopers were grounded, plumbers were on 24-hour call and hardware stores were doing a brisk business in space heaters, hand and foot warmers as the Vineyard was gripped by a deep freeze along with the rest of the East Coast early this week.
After the winter snowstorm last weekend was washed away by rain, temperatures plunged into in the teens on Tuesday with a bitter wind chill factor below zero.
"We're getting bundled up," said Leo McHugh, a roofer and owner of Leo McHugh Builders. "We try to do gross motor skills — rough framing and demolition you can kind of do but on the really bitterly cold days you can't do much with fingers.
We wear a couple layers, two or three, including long underwear."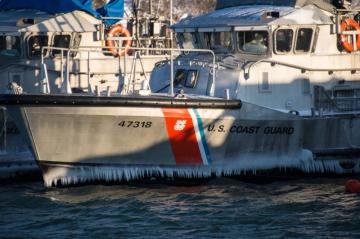 William Mueller of Mueller Plumbing and Heating said his company has been busy responding to calls for freezeups. "More so than usual, nothing that couldn't be handled, couldn't be repaired . . . they're all back and running," he said.
Debbie Healy at Shirley's Hardware in Vineyard Haven said space heaters and hand warmers are selling fast.
"That's pretty much what we're selling now," she said. "Even people that are working indoors are buying handwarmers for tile work, plumbing work."
Coast Guard Station Menemsha was called out for a mission in the icy cold Tuesday to assist in the rescue of three duck hunters who went overboard in the Westport River. The crew made it to Penikese Island before the search was called off and they were no longer needed in the mission.
"It was very cold out there, the boat was iced up when we got back [to Menemsha]," petty officer Jason Chapa said.
Captains on the Chappaquiddick ferry were bundled head to toe on Tuesday morning, when the temperature was struggling to break 15 degrees and the wind was steady out of the west at 20 with gusts to 25 (wind chill of minus two to minus four). Capt. Brad Fligor said he was wearing three or four layers of clothing and — for the first time in months, maybe even years — his survival suit. He looked as substantial as an astronaut going out on a spacewalk. He also had hand-warmers in his gloves. "The hands are the only real issue," he said, because he must remove the gloves every trip to take tickets and make change.
On Tuesday afternoon, with the temperature and winds the same and with icicles now hanging off the bow of the On Time III like a row of shark's teeth, Capt. Becca Hamilton reported that every time she has skippered the ferry in the last several months, it has rained or snowed or been blisteringly cold. "Only a few more hours," she said of her shift at 3 p.m. "I'll make it."
Frigid temperatures made their first appearance last weekend just after the first snowstorm of the new year.
On Saturday morning, the temperature dropped to minus one degrees at the National Weather Service Cooperative Station in Edgartown.
The Martha's Vineyard Airport recorded minus seven degrees. There were other reports of below-zero temperatures from residents who lived around frost bottoms.
Weather data at the Edgartown station has been recorded going back to 1946. Below-zero temperatures are rare on the Island.
According to the Northeast Climatic Center in Ithaca, which tracks weather statistics from the Vineyard and the rest of the region, the coldest temperature recorded at the Edgartown weather station was minus nine, recorded twice on Feb. 2 and 3, 1961. The next coldest temperature on the Vineyard, minus seven, was recorded on March 4, 1950 and Feb. 21, 1950.
The last time the temperature dipped below zero was minus six degrees, recorded on Jan. 16, 2004.

Ivy Ashe, Remy Tumin, Tom Dunlop and Mark Lovewell contributed.