Taylor Toole was working for his father as a carpenter on the Vineyard one summer when his thoughts turned to murder.
It wasn't about his dad or the summer job though, just the wandering mind of a young filmmaker while lifting bundles of shingles and swinging a hammer.
The result was Jimmy Was a Carpenter, a romantic thriller in which a carpenter who is also a killer searches for a way to bringhis girlfriend back from the dead. Written and directed by Mr. Toole, the movie premiers at the Martha's Vineyard Film Center on Saturday at 7:30 p.m.
"There are certain types of deaths that happen in a tourist community like a moped accident or someone getting caught in a riptide," Mr. Toole said in a recent interview. "These deaths look like they're those types of things, but is that what's happening?"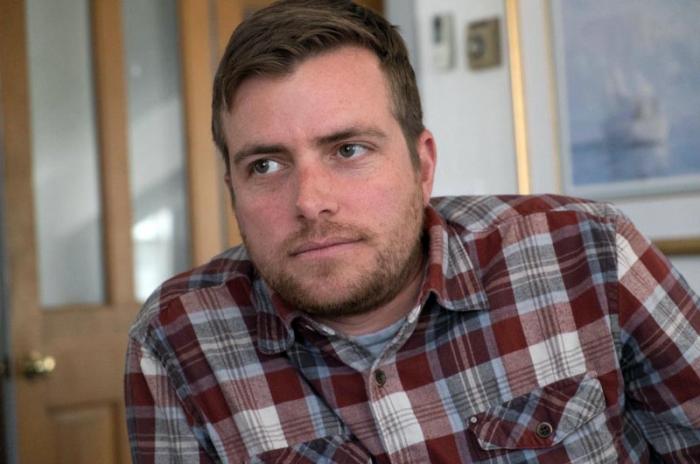 The film stars Islanders, including Mr. Toole as the carpenter, along with Jess Phaneuf, Rob Myers, Diana Waring and Scott and Amy Barrow. Mr. Toole's real-life fiance, Jen Hirsch, plays his on-screen girlfriend.
Mr. Toole grew up on the Vineyard and spent his summers acting at the Vineyard Playhouse. At the Martha's Vineyard Regional High School, he was active in theatre and then became interested in film and camera work.
"In the very beginning I ran around Vineyard Haven with a VHS camera with my friend Ryan Begley making videos," he recalled.
He studied film production at Emerson College; after college he moved to Los Angeles for a few years where he worked on Deadwood and Project Greenlight before moving to New York city. He now lives in Cambridge and works for Boston University producing videos for their news network on alumnae, professors and student life.
He said his filmmaking always brings him back to the Island, where his parents are year-round residents.
"Whenever I've done a substantial project I've been inspired by the Vineyard, and I've come back to the Vineyard to do it," he said.
Those films include Mow Crew, a feature length film which Mr. Toole also wrote and directed in 2009. The movie involved a large fundraising campaign, an off-Island cast and full crew. The movie won awards at the Woods Hole Film Festival, Boston International Film Festival and Kent Film Festival.
Jimmy Was a Carpenter was done differently and with a low budget.
"There is no crew," Mr. Toole laughed. "Everybody who is in the movie helped set it up, do sound, operated cameras. There's no crew."
When Mr. Toole is on screen, the camera is either on a tripod or being operated by Ms. Hirsch.
"A lot of what I do is documentary style and being able to go out and capture good images and good audio, I felt confident that I could do the movie at the production level that would be good and that wouldn't take away from the story," he said.
A few scenes for the movie were shot in an Edgartown cemetery, and Mr. Toole recalled a funny real-life moment during filming.
"There is this one scene toward the end of the move and it's pretty dramatic," he said. "We're shooting the scene and this kid from the Boys & Girls Club came running over because he thought someone was getting murdered."
The film was shot using small, high-definition cameras that are relatively inexpensive.
"I think it's kind of cool that the cheap stuff is informing the high production value movies," Mr. Toole said. "You're able to use natural performance and capture little moments, rather than setting up with a lot of big lights. It's an exciting time for film."
And an exciting time for Mr. Toole.
"It's so neat that I can do something I take so much enjoyment in, be creative, show it here and have people show up and watch," he said. "I feel like I've built up a little bit of a reputation around here and people know some of my movies and it feels really good. What's better than that?"
Jimmy Was a Carpenter premiers at the Martha's Vineyard Film Center on Saturday at 7:30 p.m. with live music by Jellybone Rivers. Tickets are $9 for members and $12 for general admission. For information on the film, visit jimmywasacarpenter.com.