It's safe to say the evening would have been great regardless.
It was Saturday; a perfect early-summer day was fading into a crisp late afternoon. Tad Gold, a Vineyard Haven resident, member of the regional high school class of 2009, recent graduate of Endicott College, and even more recent division three baseball player of the year, was back on the field where he'd played baseball for years, roaming center field first as a Vineyarder and then as a Martha's Vineyard Shark. His Sharks teammates and coaches from last year were there with him, catching up as they waited for the start of the ring ceremony, where they'd be presented with their championship hardware from last season, when the Sharks had won the Futures Collegiate Baseball League title for the first time ever.
To make it better, it was Tad Gold Night, honoring the Vineyard native for his three years with the Sharks. For his first two seasons, he was the lone Islander on the team. Rally towels printed with TG3, his jersey number, were given to fans as they entered the park.
The game hadn't started yet and the ring ceremony was still a while away. Gold answered a cell phone call from his old Endicott baseball coach.
"I was just completely taken by surprise," he recalled on Monday morning. "It was something from a storybook — so unbelievable."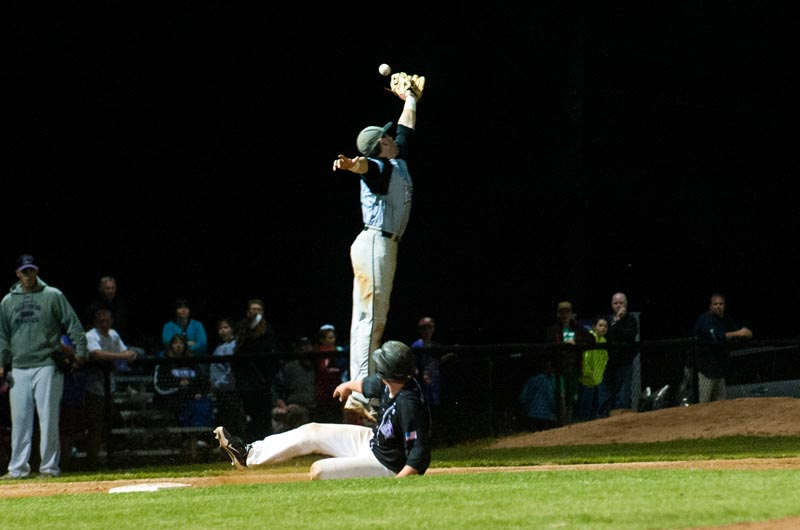 Tad Gold had been drafted by the Baltimore Orioles.
Each year, more than 1,200 players are taken in the Major League Baseball draft, which stretches over three days and 40 rounds. Two Sharks players had already been taken this year in the early rounds. Gold got the call on the third day of the draft, in the 35th round. He was the 14th player from a division three school to go, according to a release from Endicott. Most players come from division one programs, or straight out of high school.
But it wasn't that long ago that Gold was on his way out of the game, set to take a job after graduation that had more to do with his business degree and less to do with the sport he'd been playing since he was a three-year-old learning how to throw in his backyard.
He'd continued with baseball right through the Island youth leagues and into high school, moving up to varsity as a sophomore. A lefty, Gold batted leadoff, impressing his coaches with his bat control.
"His hand-eye was tremendous," high school coach Gary Simmons said. "He was swift; he could steal bases . . . he pitched a tiny little bit [too], but he was more valuable to us in the field." Gold was named most valuable player three years in a row.
When the high school's new baseball field opened his sophomore year, Gold hit the first home run in the park.
After finishing high school he did a post-graduate year at Bridgton Academy in Maine, where he played both baseball and hockey. A two-sport athlete, Gold had been a varsity hockey forward in high school. He kept up with the sport at Endicott, joining the club hockey team.
When the first wooden-bat college league came to Vineyard in the summer of 2011, Gold was part of the inaugural Sharks squad. General manager Jerry Murphy had played summer softball with him before and had a sense for how good the centerfielder was.
"When I was putting the roster together, several people told me you gotta have Tad on the team," Mr. Murphy said. "It was really the prompting of the guys that played softball."
"The nice thing about having the Sharks in town is he was able to play at home," Mr. Simmons said. "He would have had to go find a summer league somewhere else."
During a phone interview, Gold thanked the Sharks organization for their help fostering his career. His family's support had been invaluable, he said, as had that of the entire Island.
"The Vineyard community — all of the Sharks fans, and just the people here . . . it's really just such a special place," he said.
But though he's from one, no man is an Island, and Gold was quick to acknowledge "all the teammates I've ever had."
During Gold's final season at Endicott, the Gulls won their conference champions and came within one game of the division three College World Series ("two years in a row," he said somewhat ruefully).
Still, the team won their conference championship and advanced to regional competition in the postseason. And his Endicott teammates, Gold said, were a huge reason for his own success.
"If they didn't have the season they did, I wouldn't be where I was," he said.
Gold posted a .429 batting average, scoring 60 runs and batting in 45. He stole 28 bases, and holds the Endicott record for all-time bases stolen (66). In the field, Gold posted a career .995 fielding percentage.
"He has a rare ability, which . . . probably 99 percent of baseball players don't have, to read a ball of the bat," Jerry Murphy said. "So when a batter is up and he hits a ball, [Tad] can read with the sound, and watching the ball, to go to a spot and know the ball's going to be there."
"I think he's achieved this level because he doesn't let anything bother him," Mr. Simmons said. "Baseball's such a mental game; you take your bad at-bat into the field, and you're going to make an error . . . the successful players are the ones who just let it roll off their back."
Gold found out he was the division three player of the year in a very millennial way. He clicked a link on Twitter, shortly after the rosters for end-of-season honors has been posted online. He'd already been named New England player of the year.
"I was really hoping I'd be first team All-American," Gold said. "And I opened up the link, and it was like Tad Gold, player of the year. That was really cool."
"[It] was such an honor in itself," he said. "And I decided it was okay for me to keep playing. I just wanted to see how far I could go." He was set to join an independent league later in June, and play for the Rockland Boulders. After graduation, while on vacation in Australia, he e-mailed a few times with a Baltimore scout.
"I thought maybe I might get signed after the draft or get [a tryout] with a team," he said. But he wasn't expecting to get the call.
"I didn't think he would, and I don't think he thought he would," Mr. Murphy said. "But being the best player in D-three, you should get drafted."
The first thing he did after he got the news was call his dad.
"He was actually walking in to [the park,], and I was walking out, and I ran right into him," Gold said. "I have him a huge hug, and then I called my mom. And she was coming right in, too. There were a lot of tears, a lot of hugs."
The rest of the night was surreal, he said.
"There was so much going on," Gold said. "It was such an overwhelming feeling — the best night of my life."
Texts and phone calls poured in throughout the game, from "teammates from the past, and friends from the vineyard, friends from school, all over the place." Congratulations, they said. Congratulations.
Oh, and he also collected that championship ring, purple and black and engraved with his name and batting average engraved on it.
On Wednesday Gold will officially sign a contract with the Orioles. He'll find out where his next stop will be and when he'll have to get there.
"I move to wherever they tell me I need to go," he said. That will most likely be Sarasota, Fla., where the Orioles rookie team plays.
"So it'll be first on the minor league roster," he said. "And then trying to find my way to Baltimore, eventually."