Ruth Epstein will turn 89 in a matter of days and she has spent the better part of her life creating works of art — whimsical fabric dolls with antique hats and handbags, woven wall hangings made from wool she spun herself, and collages that hold a world of meaning within each scrap of paper and fabric. Decades worth of artwork, some of it moved to the Vineyard from Florida by Trip Barnes, will be exhibited at the Pebble Gallery at Featherstone Center for the Arts from June 22 to 29.
Ruth moved to the Vineyard in 2009 after her husband Bill's death. She lives in her daughter Lisa's guest house in West Tisbury, the wooded setting a comfortable haven.
From 1984 to 1990, during the summer, Ruth and her sister had a shop called Metro Arts on Dock street in Edgartown, a boutique where they sold antiques, handmade objects and arts and crafts.
Admittedly, Ruth said she "always has to be doing something."
During her photography phase, Ruth had a darkroom in the furniture store. Her daughter Lisa remembers an antique Swedish loom in the basement of the house she grew up in. Their dining room table, a wormy chestnut treasure that Ruth still works on in West Tisbury, was always covered with a project.
"My husband bought me a Formica table, but I didn't want that," Ruth said. "I put this table together in 1960. This is the table where I did my artwork, fed my kids. It has followed me everywhere. You can't get wormy chestnut like this anymore."
Ruth's art came in stages. She loves to sew and knit and worked as an interior decorator. In the early 1970s she was inspired as she watched a weaver make the tallit for an upcoming bar mitzvah. "Everything I wove had a lot of texture," she said.
Then there was the doll period.
She created muslin dolls stuffed and dressed with bloomers, lacy slips and colorful stockings, their chubby feet placed into antique children's shoes, and there was also a series of art dolls with jewels and little felt hats.
Ruth's alabaster sculpture period filled the 1990s in Boynton Beach, Fla., where she used heavy equipment to fashion gleaming melon-colored pieces from what was once a big block of stone. She also created mosaics, one of which decorated her daughter Lisa's bedroom as she grew up, and now hangs in her granddaughter Leah's room.
"My mother painted the illustrations in the Madeline books," Lisa added looking at a scrapbook at her mother's table. "They were better than the ones in the book."
It was Lisa who suggested her mother pull pieces from her life together for an art show.
"I always thought of a show as advertising your life and your work and I never felt like I needed to do that," Ruth said. "I did my work for my own satisfaction . . . to make myself happy. But when Lisa suggested this show, since I am almost 90, it sounded like it would be a fun experience."
Since moving to the Vineyard, Ruth has focused on collage. It all started when she sent postcards to family and friends announcing her move. Ever the artist, she made a collage with words and images about her move from Western Massachusetts to the Island. She enjoyed it so much, she kept going once she arrived.
An avid collector of antique hats dating back to bonnets worn during stagecoach rides, Ruth made the decision to leave most of her beloved objects behind when she left her family home for the Vineyard. She has created a collage filled with images of hats and shoes, some of them photos of the hats in her collection — a way of keeping a part of that collection with her.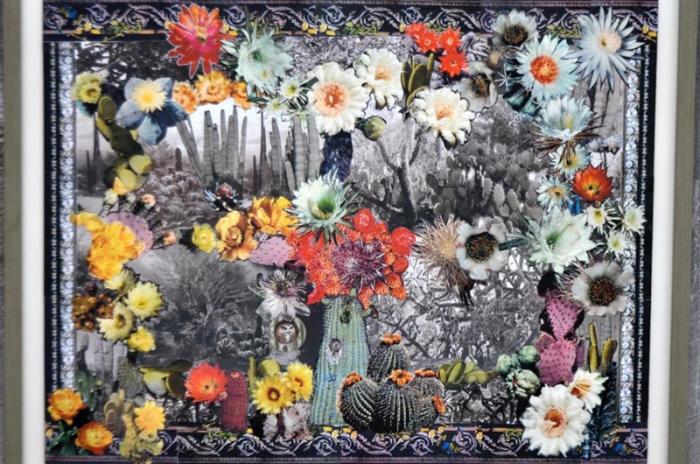 Ruth has also honored her husband and her mother through art, creating collages filled with objects representing their lives. Her husband's picture peeks out of layers of memories — surrounding him are their wedding photo, a poem and roses.
"I made this to honor him and it makes me feel better about coping with his death," Ruth said. "I read the poem sometimes. You have to be strong enough to move on. That's the hardest part."
Perhaps her most compelling collage is one that depicts the effects of the Holocaust on her family. Her mother came to the United States from Poland when she was 21 years old. The collage is made up of family letters written in Yiddish found in an old shoe box. In the center is a photo of her grandmother with her mother when she was a little girl. Halfway down the collage, the Holocaust takes over and is depicted through maps of some of the sites Hitler invaded. Ruth covered these sites with chicken wire and scraps of twisted red felt.
"The red represents fire to me," she said.
Recently, she made a prayer shawl for her granddaughter Leah's upcoming bat mitzvah. It's made of creamy silk with shades of blue embroidery trim recycled from an antique dress. Ruth had never been asked to make one before.
"So many times I've said I've never done that before — like the prayer shawl. But I adapt. If I don't know how to do it, I figure it out. It becomes a challenge and I always like the challenge."
Mrs. Epstein's opening reception at Featherstone is on Sunday, June 22, from 4 to 6 p.m. at the Pebble Gallery. The exhibit runs through June 29.