They met while swimming laps the day the YMCA first opened, back in 2010.
"We came out and sat and had a cup of coffee and talked and talked and talked, and said, we must get in touch," Doris Lubell said with Ilka List at her side this week at the A Gallery in Oak Bluffs, where the two will exhibit their work for the next two weeks.
Neither kept the promise.
Their friendship got a second chance nearly two years later, when the artists met again at the pool.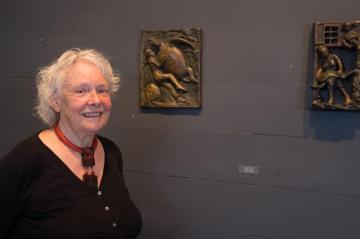 "I screamed, Ilka!, and she said, Doris!" Ms. Lubell recalled.
They discovered then that they had a lot in common. Both had recently moved to the Island full-time to be near their adult children, who happened to know each other already. Ms. List's son, Jonah, works at the Charter school with Ms. Lubell's daughter, Claudia.
"Our children were so happy we had a play date," Ms. Lubell said, laughing. "It's very cute."
Now dear friends, the two artists have decided to show their work together in a visual arts show at the A Gallery. Ilka is 78; Doris is 82. They say they are each experiencing a renaissance in their artistic lives. "Ilka and I have been very lucky to meet each other," Ms. Lubell said.
The show, Deep Diving: Paintings, Drawing and Sculpture, will hang from July 5 through July 17. Two other artists will also show their work. An opening is planned for Saturday from 5 to 7 p.m. at the Uncas avenue gallery.
Ms. Lubbell and Ms. List said they had nowhere to show their work on the Island before Tanya Augoustinos opened a gallery to sell contemporary art. But when the A Gallery opened, they became motivated to bring their work out again into public view.
Both white-haired free spirits, Ms. Lubell and Ms. List often finish each other's sentences, if not always the way they'd like each other to.
But they are fiercely independent when it comes to the creative process.
Doris paints and draws in her spacious Edgartown studio, while Ilka sculpts on a table in her small Oak Bluffs apartment."But, boy, you should see what comes out of it!" Ms. Lubell said. Much of Ilka's recent work has been smaller bas reliefs, while Ms. Lubell paints on vast canvases, some of which she can't reach her arms around.
"I call her little Hercules," Ms. List said, while Ms. Lubell flexed her arms to illustrate.
While she works, Ms. Lubell paints and draws to Joan Baez, Judy Collins and Bob Dylan. "I have not outgrown the 60s," she said. Ms. List sculpts to language tapes; she's learning Thai for a trip in the fall.
Her work has been chiefly inspired by her own unusually lucid dreams, which she depicts in dynamic clay and bronze bas reliefs. In one such relief, titled, Save the Shoes, she sculpted a woman struggling to lift a pair of shoes above ocean waters which threaten to envelop her. In the relief, her children look on. In another, called Eternal Loaves, she sculpted herself beside an oven, where she had encountered four loaves of bread, perfectly baked, behind the casseroles she had been cooking. Her friend, a Jungian dreams specialist, interpreted the loaves as the representation of the eternal nature of the soul. Though her sculptures are necessarily static, they incorporate a sense of imminent movement. In one relief, a woman trapped in a castle tower scrambles to free herself, stretching one foot to reach the next step. These days she does not remember her dreams, and instead recreates powerful scenes from photographs she has studied.
"If I sit down with a piece of clay and I look at some of the images I have collected from here or there, then something from the unconscious emerges in response to those images and what I put together is almost like a dream itself," she said.
She works with clay because she loves touching, she said. "I love the feeling of clay, and I seem to have a facility for finding form in clay."
Ms. Lubell works in two media; oil paint and fine crow quill pen with ink. With oil, she paints large, expressionistic paintings with sweeping brush strokes, rich with color and possibility. But with pen, she works in nearly microscopic detail, creating complex mythological landscapes full of intricate patterns and small human forms. She jokes that only a lunatic would do what she does with pen and ink.
It all started in school, when she'd doodle on the back of index cards where she should have been taking notes.
She begins a new drawing with a blank sheet of paper and no plan, methodically and yet unpredictably filling the empty space. "There is this blank page and it is telling me what to do, here and there," she said. "And I have to go with what it is telling me, and it takes on its own life."
Each drawing is a quest for the unknown, she said, the results of which are often mysterious, even to her. In one drawing, a woman stands holding onto a star.
"Where did she come in to pull a star out of the sky?" Ms. Lubell asks.
In many of her detailed drawings, the human figures, etched tightly together, form an organic part of the landscape.
It is in the exploration of the subconscious that the artists' worlds come closest to a collide. Ms. List and Ms. Lubell practiced art therapy for decades, and see their art as a manifestation of their inner lives.
"There is no writer or artist who would ever be able to do their work if they were afraid to express their feelings," Ms. Lubell said.
The two other artists in the show are Carol Barsha and Ria Ray.
Ms. Barsha's light-filled paintings and drawings feature flowers in their most sublime forms. Several depict pastoral scenes at Beetlebung Farm in Chilmark; others focus on a single central theme like a boat, nest or a striking role of tape. Her pieces closely examine form, shape and color.
Ms. Ray, a former Vineyarder who now lives in California, paints often monochromatic and textured works in acrylic and oil. Her work, though optimistic, comes from a place of incredible loss. When she was 27 working in the fashion industry in New York, her entire immediate family died of carbon monoxide poisoning in their home.
Her work, which often incorporates subconscious messages, appeals to those in need of some sort of healing, said Ms. Augoustinos, the gallery owner.
"All of them are completely new to my vocabulary," she said. "Between the four of them, they cover so many bases."
The A Gallery is located on Uncas avenue in Oak Bluffs. For more information about the 2014 season, visit agallerymv.com.