Little wind led to a slow start for the 91st annual Edgartown Yacht Club Regatta last week, but two days into racing southwesterly breezes prevailed and excitement grew around the one-design racing.
"One of the important factors this weekend was the varying winds that we saw over three days," said yacht club manager Bill Roman, speaking to the Gazette by telephone Monday. "Thursday was very light, and that hindered our ability to get races off, but on Friday the wind was a little stronger so we got at least a few races off for each class. On Saturday the traditional southwesterly sea breeze allowed for a spectacular day of racing."
This year, the Wianno Senior class celebrated its centennial year, and prior to the race the yacht club honored the long history with a few speeches. Jack Hamilton of the Hyannis Yacht Club took home first place in that event with one first place and one second-place finish.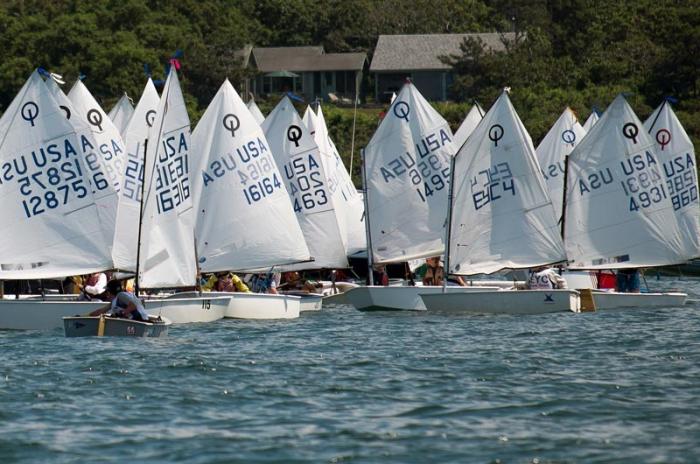 William Berry of the Beverly Yacht Club won the Shields series this year. The other three adult series, the Hereshoff 12.5, the Rhodes 19 and J70 all went to the Edgartown Yacht Club, with John Stevens, Jan Romanowsky and David Murphy respectively winning their events.
In the junior races, Jack Howard of the Hyannis Yacht Club won the Optimist series, while Deason Brown of the Falmouth Yacht Club won the Optimist green series. Parker Loftus and Geoff Owens of the Stage Harbor Yacht Club took first place in the club 420 series, beating out more than 60 competing boats.
In Vineyard Haven the annual Vineyard Cup races sponsored by Sail Martha's Vineyard also took place over the weekend. Sail MV executive director Brock Callen echoed the sentiment out of Edgartown about shifting winds and currents.
"It was challenging and changing all weekend," he said. "There was no wind, then there was wind, there was lots of current, there was no current."
Race results for the Vineyard Cup had not been posted at press time Monday.