First things first: A dozen oysters, six Sweet Necks, six Honeysuckle. Then after that, come the drink orders.
It's Tuesday night at the Port Hunter and before the little hand hits the seven mark, the restaurant is packed. The day's catch is scrawled on the specials board, and over the house music the sound of clinking glasses toasting anything from tasting the first oyster on vacation to securing a year-round job to getting out of work early can be heard.
Across the dimly-lit dining room, high heels and flip flops dangle from the row of long-legged chairs lining the bar. Among the cocktails garnished with limes and lemons and bottles of beers, there are also briefcases and bike helmets, books, bifocals and maps of Martha's Vineyard.
And somewhere in the midst of this mix are the Courtney brothers, Ted and Patrick. On a typical night, one is expediting every dish that comes out of the kitchen (Ted) while the other is either at the bar navigating the crowd or outside greeting people (Patrick).
This is the third season for the Port Hunter, owned and operated by the Courtney brothers, and according to Patrick is the result of a question they kept hearing but couldn't answer.
For years while working at Backwater Trading Co., their retail store down the street from the Port Hunter, people would pop in and ask where they could get a good seafood dinner, oysters in particular.
"It was incredible to me that nobody in this town was taking advantage of the 12 oyster farms within a half mile of here," Patrick said. "I mean, these are some of the best oysters in the world and nobody in downtown Edgartown was shucking fresh oysters."
It was a niche he and Ted had to fill. So when space on 55 Main street opened up, Patrick said they made it their mission to find an answer to what he calls "the seafood question."
"And you know what? We aren't doing this to try and get rich, we are just doing it because we think this is what people in downtown Edgartown need," he added.
Other Island business owners have followed suit. The surge of new restaurants in Edgartown and Oak Bluffs have filled new niches to expand offerings outside of the norm, from a take-out pizza place that serves gluten-free offerings to a whiskey bar.
A couple blocks up the street and around the corner from the Port Hunter is Isola, opened this week by Peter Sullo, former owner of Rocco's, a pizza place in Vineyard Haven. The space that formerly housed Lattanzi's now offers three different variations from the Sullo family: an Italian restaurant with homemade pasta offerings, a pizzeria and the Healthy Habit.
Twenty-four-year-old Gabrielle Sullo, the youngest of the four Sullo kids, is in charge of the healthy take-out addition of the business, which offers gluten-free cookies, zucchini noodles, kale salads and other vegan and raw treats.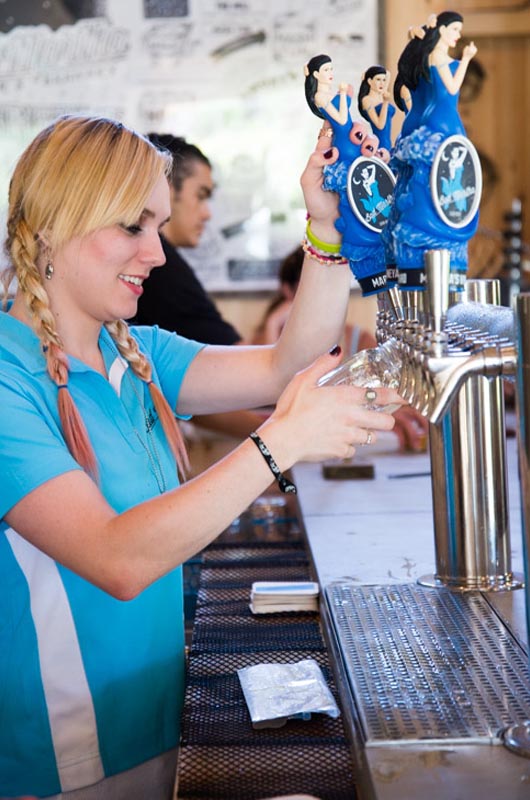 "I've always wanted to do this," Ms. Sullo said on Wednesday, sitting outside the new restaurant. "My dad really gave me a great opportunity. The healthy community is growing, people are looking for gluten-free and paleo options, which have been limited."
She added that elsewhere in the world, restaurants offer completely gluten-free menus, and servers don't hesitate to accommodate a dairy allergy. "And there really wasn't anywhere on the Island that had that," she said.
"I think pizza brings some people in," she admitted. "But it takes time to catch on."
Farther down the road, all the way to Upper Main street, general manager and master brewer of Bad Martha Beer, Jim Carleton, stands inside the new 1,905 square-foot brick and mortar brewery, filling another void in the Island's food and beverage industry, along with owners Peter Rosbeck and Jonathan Blum.
"We're not just a bar with beer," Mr. Carleton said. "We have a beer garden with outdoor seating and hop plants, we're dog-friendly and kid-friendly in the outdoor area. It's been great, people have a place to go before the beach and after the beach."
Simply driving by the brewery won't reveal as much as pulling into the parking lot. "We want people to come in and see what we're doing here," Mr. Carleton said. There are also lawn games, and in the near future live music.
Oak Bluffs has also been experimenting with new ideas, including a hybrid coffee bar by day and adult cocktail lounge by night.
Renee and John Molinari, owners of Beetlebung on Circuit avenue, said their experience pioneering restaurants that specialize in coffee led them to open up their newest location.
"We were never able to get people to come in past five or six o'clock at night," Mr. Molinari said about their other Beetlebung locations. The Molinaris opened up a coffeehouse nine years ago in Vineyard Haven, but relocated it to Menemsha last year.
"It was very clear that in order to get people to come at night you had to have one thing, you had to have alcohol," he said.
What the town needed, the Molinaris decided, was a lounge. "So we thought, let's create a lounge just like a coffeehouse and let's serve excellent food," he said. They hired two separate staffs, one for the coffeehouse and the other for the lounge, with no overlapping.
Beetlebung's cocktail list is long. Most call for fresh fruit, all are made to order. The most popular, he said, is the trade secret, Beetlebung's take on a margarita — tequila, orange liquor, fresh lime juice, agave and the kicker: lime foam. Without being intentional, in their expansion to Oak Bluffs the couple also filled another void in the Island's culinary scene: a place for people to eat small plates of creative ethnic food. Options include Moroccan lamb lollipops, miso cod, samosas, and curry lobster sliders garnished with ginger pickled cucumbers.
"We're doing something new here," Mr. Molinari said.
There is also something new on Kennebec avenue closer to the harbor — a whiskey bar. 20byNine is owned by four friends who together have decades of Island restaurant experience: Doug Abdelnour, Dave Gaffey, Adam Jaime and Steve Ansara.
Mr. Ansara has managed Nancy's Restaurant and Snack Bar for the past few years. He said that he and the other three owners were inspired to open up a new place because of an annual culinary trip they take together to Washington, D.C.
"We started seeing so many cool cocktail food bars and kept saying to ourselves we should start something like this or like that on the Vineyard," Mr. Ansara recalled. "We wanted to fill that niche of a place with a staff really knowledgeable on whiskey and bourbon and craft beer, so we did."
20byNine doesn't have vodka, gin or tequila. There's no Budweiser on the menu either. "We only have small batch bourbon and whiskey, and all the small plates are made from scratch, sourced as local as possible," he said. "That's what we wanted. We wanted it to be an experience for people to come in and eat."
The scene inside, dimly lit with a knotty-wood feel and a staff wearing facial hair and dressed in lodge-style uniforms of plaid button-downs, has a nonchalance similar to hanging out with, say, four guys after the dinner shift in Oak Bluffs. Since their opening this summer, Mr. Ansara said it's been a bit of a learning curve, both for the owners and the customers.
"We've had to say, sorry, we don't have Bud Light, but we do have this really nice light beer from Maine." And the same goes with the food, he said. Customers are slowly getting used to the lack of ribs and mashed potatoes and getting introduced to cheese plates, dried meats and pickled vegetables served on slate. "The idea won't appeal to some people, but so far people are loving it," he said.
At the end of the shift, it's not uncommon to see Mr. Ansara or one of the other owners mingling with friends, drinking a bourbon or sucking back some Katama Bay oysters the 20byNine way — with a watermelon mignonette, hibiscus, chili and basil, because, hey, they had to put it on their menu. Nobody else was offering it.