The smoky smell of barbecued burgers wafted through Beetlebung Corner Wednesday evening as hundreds of adults and kids flocked to the Chilmark Community Center for the town's annual volunteer firefighter association's Backyard Bash.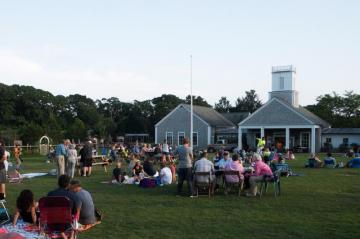 Each year, friends and neighbors haul lawn chairs and coolers from their cars and off their bicycles to the Chilmark Community Center's open ball field for a chance to socialize with one another and get to know the town's first responders. It's a tradition that stretches back 14 years, and possibly farther, but not as a cookout. Before 2000 the association's fundraiser was an organized auction at the Chilmark town hall, not an outdoor barbecue.
This year's grill master Jeremy Bradshaw, who is also the president of the association, said he was pleased with the turnout. "We're feeding a lot of people here," he said.
And while the department doesn't keep track of exactly how many people they feed, they have a good system for estimating numbers.
"We have 625 plates," said Ken Cottrill, a seven-year veteran of the department. And he didn't stop there. "Nine watermelons, eight gallons of New England clam chowder from the Net Result, 376 burgers from Reliable Market, 96 veggie burgers donated by the Galley, 200 hot dogs, 180 ears of corn, 20 pounds of American cheese, 10 key lime pies, 23 cases of water, 72 Cokes, 24 Diet Cokes, 24 orange sodas, 24 root beers, three grills, three propane tanks donated by Island propane," he rattled off, smiling.
"Don't ask me how I know this," Mr. Cottrill said, standing among three dozen volunteers clad in navy blue, neon yellow and traffic cone orange Chilmark fire department T-shirts. "Oh and new this year is chicken; we've never had chicken before!"
How much chicken? "Two-hundred-and-seventy skewers of chicken," he said. Then with a big grin, he took his hands and cupped them around his mouth like a megaphone and shouted, "Guys! What's the most popular item?"
"Chicken!" the firefighters yelled in unison.
So people ate chicken — lots of chicken — and kids kicked soccer balls and raced around fire engine number two, which was parked on the grass for anyone who wanted a closer look. And under blue skies with big white clouds like puffs of smoke, a band without a name played tunes.
Taurus Biskis, volunteer firefighter and Island musician, was on the drums and performed with a rotating group of musicians, including surprise guest, actor Jim Belushi.
"This is the big bash! The best bash in Chilmark," Mr. Belushi told the Gazette.
"You gotta love it here," he said, adding that the event is "all for a good cause."
Firefighters don't charge admission, so all money raised comes from concession stand profits, T-shirt sales and a 50/50 raffle. Whatever they raise is used toward high school scholarships and for the association's relief fund for firefighters, Mr. Cottrill said. "This is money we raise for fallen firefighters, for firefighters in case they get hurt."
"This is something all Island departments do. We're all volunteer, we all have an association," he said, and then he paused, smiled, and added: "Edgartown does a pancake breakfast, that's coming up next!"
The annual Edgartown Firemen's Association open house and pancake breakfast is August 24 from 8 a.m. to noon at the Edgartown fire station.