President Obama and his family arrived on the Island Saturday to begin their two-week Vineyard vacation.
The president, first lady Michelle Obama and their daughter Malia landed at Martha's Vineyard Airport in Marine One at about 12:40 p.m. under clear blue skies on a picture-perfect August day. The presidential motorcade then whisked the First Family to their rental home off Prospect Hill Road in Chilmark, overlooking the north shore.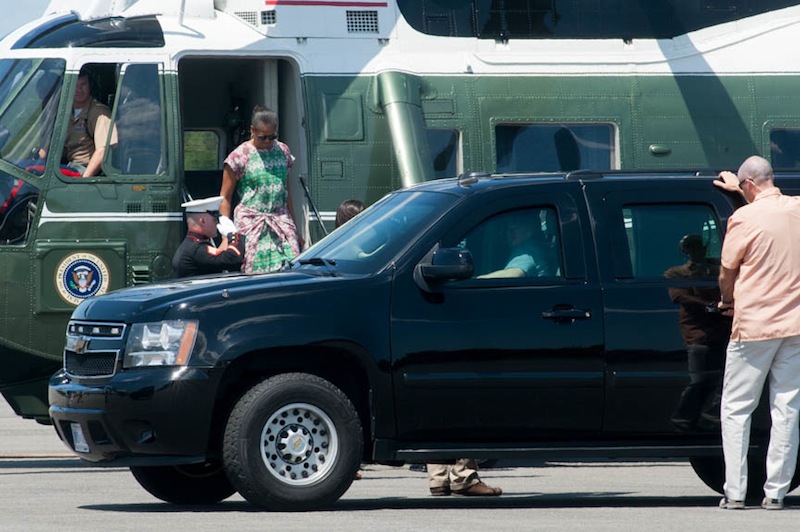 By 2:30 p.m. Saturday President Obama was back out again and on the links at Farm Neck Golf Club in Oak Bluffs. His golfing partners included Ahmad Rashad, a sportscaster and former football player, and Ray Allen, a former basketball player with the Boston Celtics and Vineyard visitor.
The president left Washington, D.C., on Air Force One late Saturday morning after delivering an address from the White House lawn on the situation in Iraq.
National Security Advisor Susan Rice, Deputy National Security Advisor Ben Rhodes and staffer Marvin Nicholson traveled with the president to the Island. The family's Portuguese water dogs, Sunny and Bo, are also joining them on the vacation. Daughter Sasha was not with the family.
During the trip, the president spoke with German chancellor Angela Merkel about the situation in Ukraine.
Air Force One landed at Coast Guard Air Station Cape Cod at 12:16 p.m. Greeters on the tarmac were Capt. Stephen Hartley Torpey and Capt. Michael Andrew Clyburn, Coast Guard commanding officers from Air Station Cape Cod; Col. David Vincent McNulty, Massachusetts Air National Guard commander; Col. William J. O'Brien Jr., Massachusetts Air National Guard commander; and Lieut. Col. David R. Anderson, U.S. Air Force commander.
The Obamas shook hands with those on the tarmac before boarding Marine One for the quick helicopter flight to the Vineyard.
The arrival was relatively quiet this year.
Shortly after 12:30 p.m., a crowd of about 50 people had gathered at the Martha's Vineyard Airport.
Some stood plastered up against the fence, aiming their smart phones at the landing area in the distance. But a pair of yellow school buses blocked the view.
Only helicopter rotors were visible above the buses, and legs walking underneath them.
A police officer paced slowly along the other side, making small talk with the onlookers.
"Can you see anything with those?" he said to a young boy peering through a pair of binoculars.
Connor Perriello, a 10-year-old visitor from Billerica, wore an orange Nike cap that he hoped the president would have time to autograph.
"They want to see a glimpse of the president," said his mother, Kristen Perriello.
"They are very excited. They have been waiting all day."
While Connor agreed that the Island was a good choice for a presidential vacation, he wanted to make an alternative suggestion. "Ocean City is the best family destination in the country," he said, repeating a slogan he'd heard while vacationing there himself.
When the first helicopter flew in to secure the area, Connor put his hands over his ears and ran toward the sound.
Brandon Jefferson, 11, was scheduled to leave on an 11:30 flight to Columbus, Ohio. But an hour later, he stood at the airport with his friend, Julian, craning necks to scour the airspace above them.
When the first official-looking aircraft landed, Brandon approached it and took "thousands of photos," he said.
Then he asked a police officer if it was an imposter.
"He told me that was just for security," he said, looking slightly disappointed.
Julian's mother, Roberta Meacham, marveled at the patience of the crowd, many of whom were waiting for delayed flights.
A short time later the presidential motorcade made its way down the Edgartown-West Tisbury Road, turning right at the intersection of State Road. There were few onlookers in the area.
No crowd was gathered either near Alley's General Store this year, aside from the usual afternoon customers milling about or relaxing on the porch. Outside the store was a blackboard sign to greet the First Lady. A Mermaid for Michelle, it read, accompanied by a chalk drawing of a mermaid. On the reverse side of the chalkboard was a message for former First Lady Hillary Clinton, reading A Tunic for Hillary.
On North Road, a group of eight people and one dog waited for the president to go by.
Susie Houghton said her family was visiting from Woods Hole for a wedding. President Obama was invited to the wedding, too, but he sent an official reply politely declining.
The group waited an hour for the motorcade to pass. Mrs. Houghton, along with Phebe and Penny Houghton, kept waiting and watching. When the full motorcade finally passed by at 1:08 p.m., they kept looking down the road until another bystander explained that the president had already gone by.
"That was it?" Mrs. Houghton said. "Oh, well. He saw us."
The family is scheduled to stay on the Island until Sunday, August 24. President Obama will briefly leave the Island from Sunday, August 17, to Tuesday, August 19, to attend White House meetings.
Except for a Democratic Senatorial Campaign Committee fundraiser Monday night in Vineyard Haven, there are no public events scheduled.
Olivia Hull, Meg Robbins and Ivy Ashe contributed reporting.