President Obama interrupted his vacation Monday afternoon to address the nation on escalating political tensions in Iraq.
Speaking from a grassy clearing near his rented home overlooking the north shore in Chilmark, Mr. Obama reiterated that there is no American military solution to the problems and said Iraq must form an inclusive government. But he called the appointment of a new Iraqi prime minister a "promising step forward," and said he and the vice president had both telephoned Prime Minister Haider Al-Abadi to offer their support and congratulations.
"There will be difficult days ahead," the president said.
The brief address came at the end of a day that began with a beach outing by the First Family at a remote south shore location in Edgartown that they have visited before.
Following his address, Mr. Obama traveled by motorcade to the Vineyard Haven home of Roger Brown and Linda Mason for a Democratic Senate Campaign Committee fundraiser. Mr. Brown is president of the Berklee College of Music. The setting on a warm, clear summer evening was under a tent on the lawn of the Victorian-style home overlooking the Lagoon Pond.
Mr. Obama framed his opening remarks by praising the Vineyard and recalling his earlier hours on the beach.
"It's really wonderful to be at Martha's Vineyard, especially when the weather is this good," the president said. "And Michelle and the girls are having a wonderful time. And we were hanging out with some seals this afternoon who came by and said hello . . . It couldn't have been nicer."
Massachusetts Sen. Edward M. Markey attended the event, along with Colorado Sen. Michael Bennett.
"I've got a lot of old friends here, in addition to Linda and Roger, so I'm not going to give a long speech at the front end," Mr. Obama said. "On a day like today, in a setting like this, I think a conversation works better."
He entered to the song Signed, Sealed, Delivered, played by some Berklee students.
His short remarks struck a serious tone too.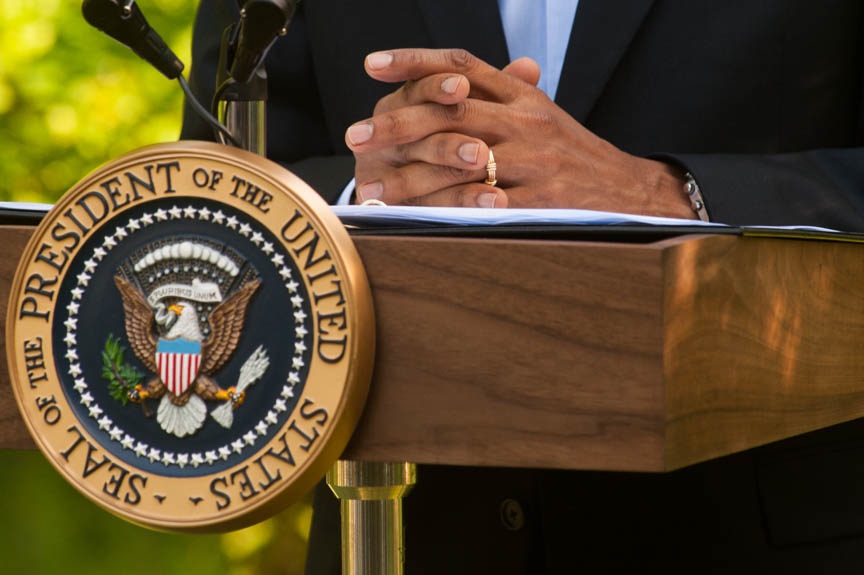 "Obviously, we are at a very challenging time," he said. "When I first came into office, the big challenges were economic. And we were still in the midst of two wars, but we also had an immediate crisis where the financial system had melted down and that it affected Main Street in all sorts of ways. People were losing homes, losing jobs. It wasn't clear where the bottom was going to be. And we had to act quickly. And as a consequence of the resilience and the strength of the American people, but also some good decisions that we made early on, and the help of a strong Democratic Senate, we were able to right the ship." He later continued:
"So in all sorts of ways, we are not just stronger than when we — where we were when I first came into office. It's fair to say that America has the best cards when you look at other countries around the world. There's no other country you'd rather be than the United States. We are best positioned. And what will determine success in the 21st century is all the stuff that we're best at — knowledge, innovation."
The DSCC later said tickets to the fundraiser ranged from $15,000 to $32,000.
The Obamas arrived on the Island Saturday for a two-week vacation. But this year is not all down time for the president. Mr. Obama is scheduled to return to Washington, D.C., for two days on August 17 for business meetings. He is scheduled to return to the Vineyard August 19 and to stay until August 24.