Within the ephemeral confines of time, the value of a place that provides refuge from a tirelessly moving reality is always a welcome respite. For artist and painter, Irving Petlin, Martha's Vineyard is that place.
At his basement studio in Chilmark, the sounds of nearby South Road fade behind the shelter of double-glazed glass doors. Bits of effervescent color lie restless in their boxes.
"The first time I picked up pastels was in 1961," said Mr. Petlin. "The balcony in Arles around the South of France overlooking the bull ring was dusty with the heat. I needed a material that could capture that. Pastels were the answer. They became my summer medium. In the winter I paint with oils. In the summer I work in pastel. I associate still with heat, dust and a certain kind of light. The Vineyard is perfect for that."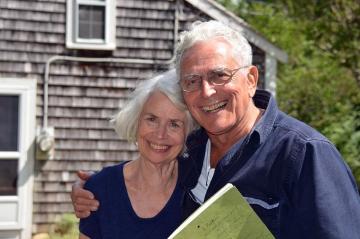 In his 55 years of creative endeavors, Irving Petlin's work has carried him from place to place: his childhood home in Chicago, art exhibitions at the Museum of Modern Art in New York, to his studio in Paris overlooking the city and a sea of rooftops, chimneys and spires.
Mr. Petlin has made an annual pilgrimage to Martha's Vineyard with his wife and children for 38 years. And yet he has never had an exhibit on the Island — not until this weekend when his show, Mythology and the Island, opens on Saturday, August 23, at the A Gallery in Oak Bluffs. There is a reception from 5 to 7 p.m. on Saturday, and Mr. Petlin will give a talk on Wednesday, August 27, from 6 to 7 p.m.
"The reason I've never shown here is always the same. I always viewed this window of three months that artists have on the Vineyard as theirs."
Mr. Petlin's stance was not shared by local artists. "They [the artists] started to tell me, 'You know Irving, we would love to see it here.'"
A trickle of an idea began to percolate.
"As I thought about it at a distance in Paris, I realized the Island has a very strong symbolism for me because it was the very first place in the world where I owned something myself. It became for our children an absolute meeting point, where we all met no matter what. It has taken on this magnetic pull that you cannot explain rationally. With my children I experienced the passage of time, from childhood through adolescence to adulthood. Now their children come, too."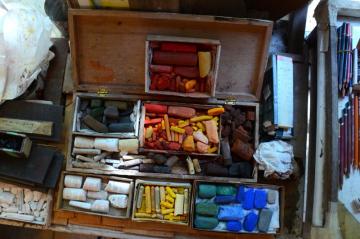 It is this momentary pause in the passage of time that the artist returns to over and over again, reflecting on the journey that brought him to the shores of this Island.
"It is an anchor and a refuge in its own way," he said. "That doesn't mean that I don't think about the world that I live in and what's going on out there. I can never not think about it. It does provide a moment that you could characterize as a pause. Here it seems I just take a moment to reflect a lot and enjoy the human condition close to home."
His work, from the medium through the process to the product, falls into a cohesive web of culture and continuity. The pastels he works with carry with them an historic weight that brings an added value to the color they create. They are made by the House of Henri Roche, one of the oldest and most prestigious producers in all of France.
"They were the family that made pastels for Degas and for Ensor and Redon. The color goes wherever I go."
Although colors are a constant, Mr. Petlin's surroundings haven't always been the subject of their hues.
"What doesn't go wherever I go are some of the specifics like you'll see in the exhibition, some versions of my cottage in a dreamlike state. There are some aspects of my upcoming exhibition which are very dreamlike, yet nonetheless based on the architecture here. It's the first time I've touched that in my work."
The exhibition carries with it an understanding that time passes. In Mr. Petlin's work familiar structures appear and reappear in the haze of his color-strewn backgrounds. Never quite the same but not starkly different, his world of memories, recollections and realities distill rather than instill an understanding that experiences are abstract. The figures who populate this world morph and grow, their appearances ebbing and flowing with the tide that carries these travellers onward.
The A Gallery is located at 8 Uncas avenue in Oak Bluffs. Call 917-378-0662 or visit agallerymv.com for more information.