On Friday afternoon, about a half dozen high school football players arrived at the First Baptist Church in Vineyard Haven. Prayer time before the big game? No, they were there to help distribute food for the Family to Family program which helps local families in need receive a Thanksgiving meal.
Running back Austin Chandler led the way. "I just asked to see if anyone wanted to help and they all volunteered," Austin said.
The football players and other volunteers had a lot of work to do. There was 1,000 pounds of potatoes, 700 pounds of butternut squash, countless carrots, apples, onions, turkey, and bags of stuffing mix and spinach to pack up. Some of the vegetables had been donated from Morning Glory Farm and a benefactor had purchased CSA shares from Whippoorwill Farm. Most of the food also been purchased at a discounted price from Reliable Market, with some donations coming from Cronig's. The Farm Institute provided some turkeys. The Island Gleaners helped get the vegetables from the fields to the church, and The Center for Living and the Daybreak program from Community Services also provided volunteers.
In each bag there was a special potato, too, grown by preschoolers from First Light Child Development Center. The kids from Elizabeth Bonifacio's class began growing the potatoes last spring at the community garden at Island Grown Initiative's Thimble Farm. All summer long they visited the farm and tended to the potatoes, and harvested them this fall. The kids brought the potatoes to the church in hand-decorated bags.
"It's part of our mission to be active members of our community," Ms. Bonifacio said. "We bake cookies for the volunteers at Christmas, and next week we'll be delivering pies that we make to the food pantry."
The children understand there are people in the community who might need a little help getting through the holidays, Ms. Bonifacio said. "When we donate we tell them we are giving to the friends we don't know yet."
As the volunteers packed the bags to be distributed later that afternoon, organizer Betty Burton reminded everyone to put the heaviest items on the bottom and the stuffing mix on top.
"All of this food has been donated by this community," she told them. Her husband John Sundman was on hand to help, too.
Ms. Burton said she was happy to see so many young volunteers. Uma Datta recruited two high schoolers, Karn and Krishna Datta, from her family to help bag up the goods.
For the football players, it was a good way to give back to the community who in turn will help them out on Saturday, cheering from the sidelines of the Island Cup game.
"It seems like every year our community comes home from all over the country to go to this game," said linebacker Liam Smith.
"People see you on the street and say good luck,'" added Andy DiMattia, a defensive lineman for the Vineyarders. They all nodded in agreement when asked if they feel supported by the Island community.
And about that game on Saturday? "All good things," they said. "We're ready and all we need is for the fans to get loud, real loud."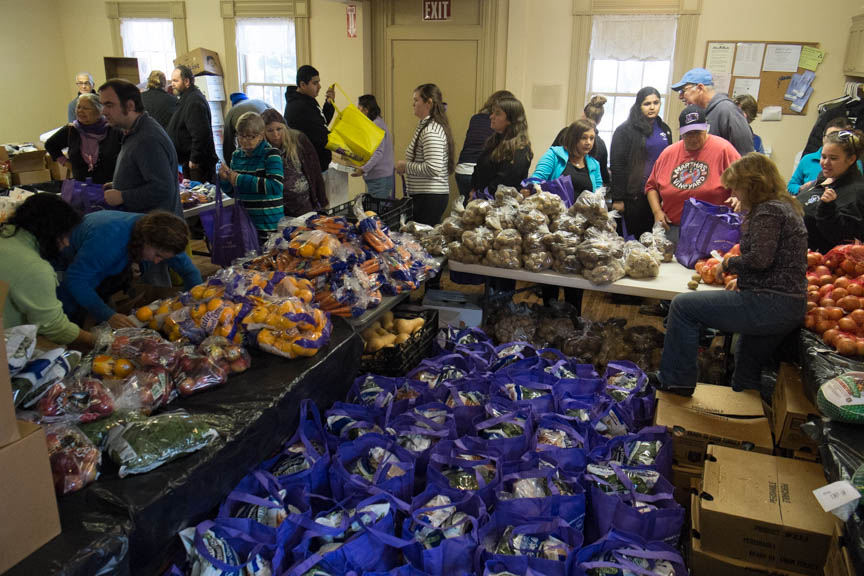 Family to Family also collects donations for Christmas dinner and Easter dinner. Ms. Burton needs about $21,000 in donations to carry out the program each year. Donations can be sent to: Family to Family, P.O. Box 4685, Vineyard Haven, MA 02568 or call Ms. Burton at 508-693-5339.