Tributes and expressions of sympathy were heard around the country and around the world this week for Norman Bridwell, the acclaimed illustrator and children's author who delighted multiple generations with his Clifford the Big Red Dog books.
Mr. Bridwell died Dec. 12 at the Martha's Vineyard Hospital. He was 86 and had lived year round in a modest house on High street in Edgartown for more than four decades.
The Clifford books generated a television show, a line of products from toys to tableware, a movie, a musical and a series of subway posters in Tokyo encouraging riders to use good manners. There are more than 126 million copies of his books in print in 13 languages. But his earliest manuscripts were rejected by a publisher 15 times.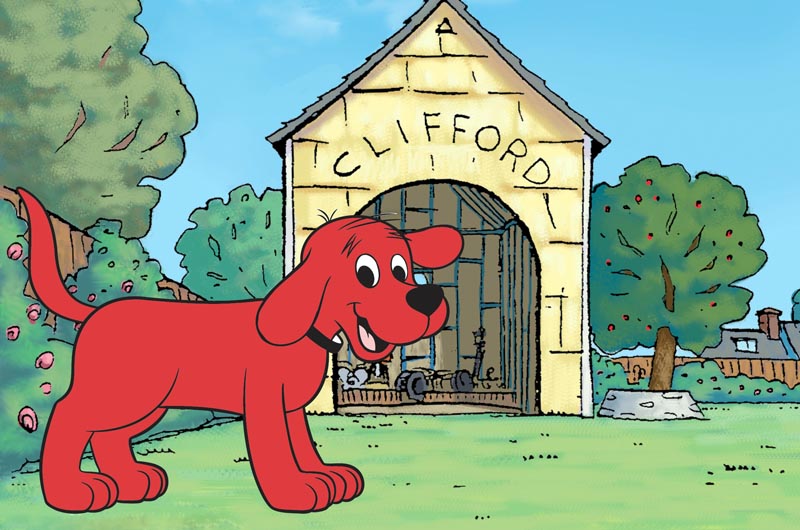 "The whole reason I'm doing the books . . . . is because a certain lady was at a certain publisher's on a certain day and saw the little book dummy of the manuscript I'd dropped off and took it to Scholastic," he told the Gazette in a 2002 interview. "If she hadn't been there that day I wouldn't be doing what I'm doing."
Of his main character Clifford, he said: "He's kind of clumsy but well-meaning. He makes a lot of mistakes, but he's always forgiven. I think that appeals to children."
A native of Kokomo, Ind., Mr. Bridwell was educated in public schools there and went on to attend the John Herron School of Art in Indianapolis, and Cooper Union in New York city. He and his wife Norma came to the Vineyard on their honeymoon in 1958, and returned in 1967 to buy a house in Edgartown.
"Originally it was just supposed to be a summer place," he told the Martha's Vineyard Magazine in an interview in 2000. "My freelance art business in New York was going very slow and the book royalties were only just starting to build up. We thought, well, maybe we could just live here and save the New York rent. So we moved here."
Life on the Island was an adjustment at first. "At first we didn't feel like we fit in," he recalled in an interview. "But then people were very helpful and understanding. If they caught fish, they'd bring us fish. We were just getting by in the beginning, and I don't know if they knew how badly we were doing. I went to speak in one of the local schools in the early years, and as I ended my talk one of the little boys held up his hand and I expected a question. And he said, 'My father makes more money than you do.' And I thought, there are no secrets here."
Norma Bridwell came up with the name Clifford, drawn from an imaginary friend she had as a child. Daughter Emily, who was about a year old when her father wrote the first Clifford book, was a main character in the books.
In the magazine interview he recalled: "Quite a few years ago my son asked me, 'How come you never put me in a book? You put Emily in a book.' I said, 'Because when I first wrote the book you weren't born yet. By the time you came along, the books were already established.' I started to make it up to him by calling every little boy in the neighborhood Tim."
He drew his illustrations free-hand with a ballpoint pen on an 11-by-14-inch pad. Color was added later by the publishers.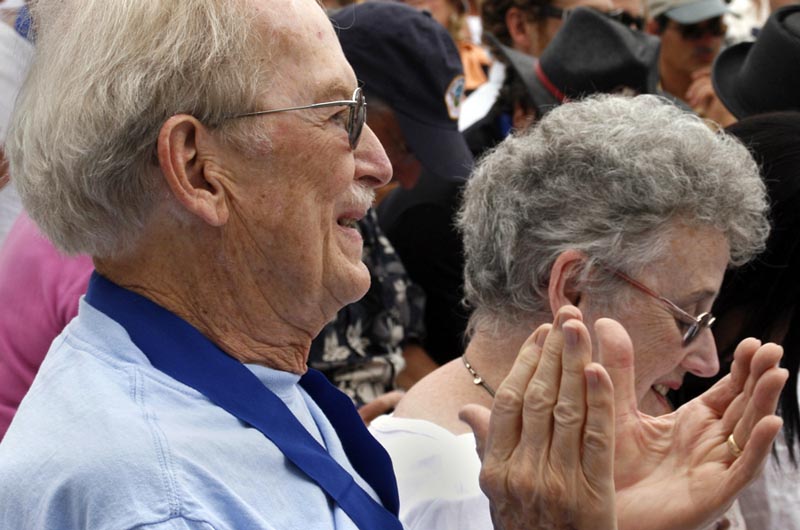 The Scholastic books, where the main character, a lovable big red dog, was always getting into and out of scrapes of various kinds, were a huge success among children and educators. Clifford turned 50 in 2012, and through the years Mr. Bridwell was honored with many awards and citations. In 2002 he was an honored guest at the National Book Festival sponsored by the Library of Congress.
Despite Clifford's high-profile success, Mr. Bridwell continued to live quietly and modestly. Asked in an interview with the Gazette what it was like to be known around the world, he replied:
"I guess it means we can eat out a lot. But we've always lived in the same surroundings in the same way. There's not much we would do otherwise . . . I never ran out and had business cards printed, because I thought there would be nobody to hand them to and I'd be stuck with them."
In the 2000 magazine interview, he said he only hoped his work would have staying power.
"If somebody were to pick up a book after a hundred years, I hope they'd think Clifford was the kind of dog they'd like to have," he said. "I hope the world won't change so much and people become so cynical that they can't see Clifford as a loving friend. I hope they still have that capacity to appreciate goodness in a dog or in other people."
Mr. Bridwell is survived by his wife of 56 years, Norma (Howard) Bridwell, and their two children, Tim Bridwell and Emily Bridwell Merz.
A memorial service is being planned for the summer of 2015. Arrangements are under the care of Chapman, Cole and Gleason in Oak Bluffs. Visit ccgfuneralhome.com for an online guestbook.