On the last night of Ronald and Margaret (Peggy) Jackson's ownership of the Ocean View Restaurant and Tavern, one thing was clear — the Ocean View was not just a restaurant for their customers; it was part of their family.
For the past 36 years, the Jacksons have been at the helm of the Oak Bluffs restaurant and from that perch have seen their children, their staff and their devoted clientele grow up. In December, the Jacksons sold the restaurant to local restaurateur and Oak Bluffs selectman Mike Santoro.
Sue Fennessy started working for the Ocean View 31 years ago. "I was young, I was pregnant, I had my kids, now I have grandchildren. We went through a lot of changes," she said. "It's always been a nice family restaurant. I'm definitely going to miss them, they're good people."
All five of the Jacksons' children — Ronnie, Sharon, Bob, Mike and Bill — have worked at the restaurant and on Saturday night, daughter Sharon tended to a full bar as her parents sat close by at a table filled with family.
"I have mixed emotions," Sharon Jackson said. "Thirty years. It's bittersweet."
But there were no tears, just an abundance of smiles and hugs as customers shared fond memories and thank-yous with the Jacksons.
"We're gonna miss ya," said retired teacher Quinton Bannister as he gave Peggy a hug. "We want to thank you."
"Back in my day when I was bartending, it was a lot of regulars," remembered the couple's oldest son Ronnie Jackson Jr.
"Oh, wasn't it something?" said Mr. Bannister.
"We had so much fun," said Ronnie Jr. "So much fun."
"It's a big change," said Ron Sr. "It's going to be a transition for us. Everybody's sad. It won't be the same."
"I'm going to know what it's like to be a tourist on Martha's Vineyard," added Peggy.
"It's been a long journey but what I'll say as I leave, it's been a dyn-o-mite journey," said Mr. Bannister. "I'll be seeing you around."
It was the warm atmosphere and familiar faces that customers said kept them coming back again and again.
"Rick and I met here at the bar 33 years ago," said Jeri Brown. "When we moved back we bought a house right up the street thinking well, we could walk here."
The Browns, their daughter Emme and friend Doreen Marino shared a table in the tavern just as they have for years.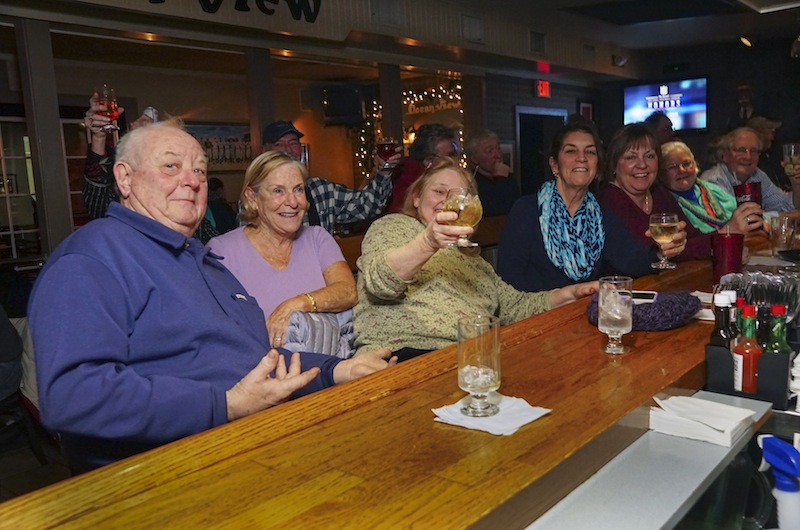 "We've probably come in two or three times this week to make sure we could have all of our favorites," said Emme Brown, now age 30.
"We've sat here in big storms, even when the power goes out," said Ms. Marino. "It's not a restaurant, it's an institution."
"And failing that . . . there's the chicken pot pie," said Rick Brown, who enjoyed his favorite Ocean View dish for perhaps the last time.
Saturday night seemed like what every night must have been like at the restaurant. Ron Sr. added logs to the brick fireplace, Oak Bluffs police officers stopped in for takeout, seats emptied and quickly filled back up in the bar. The adjacent dining room hosted several large groups watching football on the big screen televisions, with both rooms erupting in cheers when the Patriots clinched a win in the final minutes of the final quarter.
There were no grand gestures, no balloons, no speeches. And that's exactly how Peggy wanted it.
"We had a great run and we just very quietly want to sail off into the sunset and wish Mike Santoro the best wishes. We think he's going to do a great job," she said. "Now come on over here and meet the family."