Last weekend Craig Miner began spray painting the side of the 1930s house that resides at 6 Water street in Vineyard Haven. The derelict building, sagging and sad, is situated directly across the street from the Vineyard Haven Steamship Terminal. What Mr. Miner will eventually create is anyone's guess, including his own.
"People will walk by one week and then see something different there the next," he said. Mr. Miner, whose own artwork tends to be bold and colorful, will lay down the painting's foundation himself. "I'll get out there and start drawing everything out in chalk and figuring out what I want to do and then I will abandon all of that and literally let the building tell me what to do."
A crew of volunteers will help him with the associated labor, and he plans to showcase work by five other Vineyard-based artists on the front porch of the building. He'll mount sheets of plywood over the front of the house and they will serve as figurative canvases for fine art pieces. Painters Traeger di Pietro, with whom Mr. Miner has collaborated in the past, Terry Crimmen, Lauren Coggins-Tuttle and Dan VanLandingham will contribute their time and talent. Of course, with any public art project there is the possibility of theft or vandalism.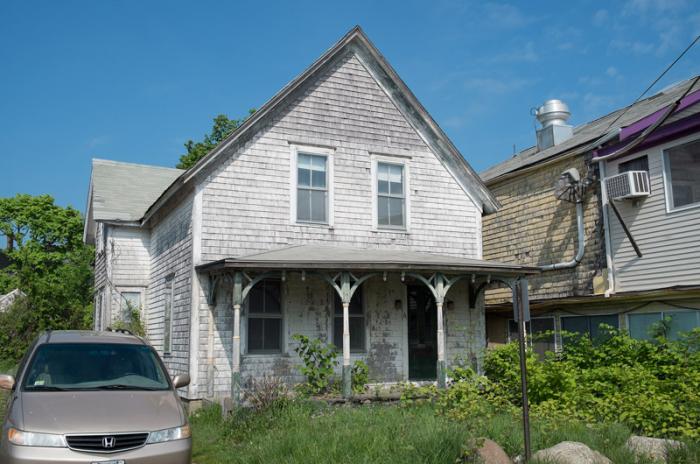 "Everybody involved with our project knows they are going in with the risk that it could just totally fall apart or it could get stolen or ripped off or vandalized or whatever," said Mr. Miner.
The project is the boldest yet undertaken by Whatever The Outcome (WTO), an arts organization started by Mr. Miner in 2013. Founded locally, WTO strives to engage communities through an artistic process that is participatory. Mr. Miner likes to demystify art by giving professionals and amateurs alike a hand in the creative process. He hosts parties that are akin to gallery openings, in the sense that work is showcased. Unlike gallery shows, however, guests contribute to what's up on the wall. A popular WTO series is the magnetic canvas series, for which an artist contributes a completed work of art on a large, magnetic canvas, which Mr. Miner then takes a knife to. Pieces of the canvas are distributed, and it is up to the recipients to put the canvas back together to reveal a complete image.
For this project, art is merging with community development — and destruction. The house will be demolished in the fall, and rebuilt as low-income rental units as soon as sufficient funds are raised.
In 2012, the house was purchased and donated to the Island Housing Trust by Steve Bernier, owner of Cronig's Market. Philippe Jordi, the executive director of IHT, has since worked to develop plans to replace the structure with a building that accommodates six affordable housing units. He expects that the existing building will be razed as early as this fall.
"We're optimistic about raising the initial funds needed by the end of this summer and being able to finish the project by next spring," said Mr. Jordi.
The collaboration between Mr. Miner and Mr. Jordi began at a WTO event held at State Road restaurant back in April 2014. For the event, Mr. Miner had asked Mr. Jordi's wife, Randi Baird, to photograph a group of people sitting around a partially set dining table at the restaurant. Next, Mr. Miner commissioned 12 artists from his stable to work in pairs to design plates, painted on magnets, to complete the setting. Later, guests arranged the magnets as they saw fit on a life-sized replica of the photograph, which had been mounted on a sheet of metal.
Mr. Jordi appreciated the transient nature of WTO's work, and its mission to demystify art through participation. He suspected Mr. Miner would be interested in the opportunity to work on the building at 6 Water street, given the impermanence of the structure. Also appealing to Mr. Miner was its central Vineyard Haven location, providing plenty of eyeballs for whatever kind of hybrid creation will grace its exterior.
"Vineyard Haven has been designated a cultural district by the state, and our organization likes to promote local artists," said Mr. Jordi. "We work hard to make housing available to people year round but we also like to have fun. This project is perfect because it allows us to engage the public and support our artists at the same time."
Mr. Miner doesn't lament the fact that what goes up will eventually come down. Rather, he's excited about the fact that the installation will be uniquely tied to summer 2015 on the Vineyard.
"I'm trying to revive the spirit I felt when I first came to the Island," he said.