With a goal of cultivating one million oysters a year, Chilmark officials are working to expand the town's available aquaculture grants for Menemsha Pond and install a tide-powered upweller for nurturing young oysters.
Shellfish constable Isaiah Scheffer has proposed four new areas for commercial oyster farming just east of the existing six areas in Menemsha Pond. Each new area — a long parallelogram — would cover about 6,000 square feet.
"They are basically the same exact layout as the existing grants," Mr. Scheffer said at a public hearing before the selectmen on Tuesday.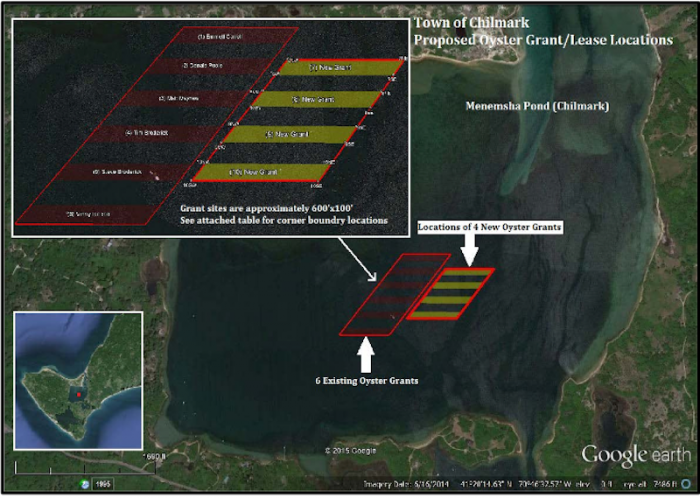 Another area off the West Dock in Menemsha Channel would allow for offsite culling and include the upweller, which Mr. Scheffer has designed to rely on tidal power, rather than electricity. It would provide a steadily flowing source of nutrients to the young oysters, and hopefully allow farmers to buy smaller seed to begin with and save money.
The upweller will be paid for by the Menemsha Fisheries Development Fund and built locally. The town's former upweller, no longer in use, will likely be sold or donated.
Both the grant and culling areas still require state approval, including an underwater survey of native eelgrass and shellfish beds. Mr. Scheffer hopes that work will be completed this summer.
The selectmen enthusiastically supported the plan on Tuesday, citing its potential to add value to the town's commercial fishing industry. Harbor master Dennis Jason and harbor advisory committee member Andy Goldman also endorsed the plan.
Mr. Goldman believed that expanded oyster farming in Menemsha would help preserve the "fiber and character" of the town. "This is the kind of thinking that hopefully will allow us to maintain our commercial harbor for years to come," he said. People have already begun applying for the grants, which are available to Chilmark residents only.
The new grant applications are available at town hall.
"Our goal right now is to see if we can produce a million oysters out of Menemsha Pond," selectman Warren Doty said. He estimated that one million oysters would bring in between $500,000 and $700,000.
The 2014–15 scallop harvest in Chilmark brought in about $530,000, according to a report by Mr. Scheffer. Taking into account the flow of money through the economy, Mr. Doty believed the actual value to the town was closer to $1.5 million.
"Working on the bay scallops, working on the oysters, is a way that we can still keep a viable economic climate on the dock in Menemsha," he said, noting the decline in swordfish and other fisheries over the years.
But monitoring all 10 grant locations may be a challenge. Mr. Scheffer noted that all of the buoys in one area have disappeared. "There is no activity out there, so I know that they sank," he said. Using a grappling hook, he pulled up a cage full of dead oysters. "It's a town resource," he said of the fishery. "I want to see it being used."
The selectmen planned to visit the existing sites on Friday.
At Mr. Scheffer's request, the selectmen also approved a new annual review process that requires grant holders to report how much oyster seed they bought and how many adults they sold, along with what gear is on site. Grant holders who do not report by Feb. 1 will lose their licenses for the following year. The regulation would provide a better idea of what is coming out of the pond, Mr. Scheffer said, and allow him to include that information in the town reports.
The selectmen also agreed to consider finding a new spot for the town boat, along with an indoor heated space for boat and gear maintenance, and whether to approve more hours for the position of assistant shellfish constable.
"I think increased productivity and the success of your program warrants additional help," Mr. Rossi said in response to the request for more hours.